"De trend is bullish maar een pull back is zeer waarschijnlijk". Zo eindigde ik de column afgelopen week. Niet veel later begon de koers van bitcoin aan haar retrace. Een pull back die aanvankelijk even hard ging maar ook weer snel support vond rond de $7450, waarna de koers stabiliseerde rond de $7800. Hoewel de retrace nog niet echt heeft doorgezet verwacht ik niet dat het hier ophoudt. Vandaag wil ik bespreken waarom en op welke niveaus ik interesse heb mijn long posities te vergroten. Let's go!
Afgelopen week hadden we het erover wat jouw visie is voor bitcoin. Het is je visie die leidend moet zijn voor je strategie. Is je visie dat bitcoin helemaal niets waard is in de toekomst dan is deze column dus niet voor jou, want dips dien je dan niet te kopen maar tops dien je te verkopen (short selling). Daarnaast dien je jezelf ook af te vragen hoe je wenst te verdienen aan jouw visie. Wil je dit bijvoorbeeld doen door te traden (dagelijks de grafieken bestuderen en korte termijn posities openen) of wens je bijvoorbeeld een buy and hold strategie aan te houden? Het lijken kleine nuances maar ze maken een groot verschil want iedere strategie kent een specifieke aanpak. Ik ga het vandaag hebben over op welke niveaus ik mijn long posities wens te vergroten. Dit is voor een buy and hold strategie waarbij de coins uiteindelijk niet op een cryptocurrency exchange staan maar op een hardware of paper wallet. Dit betekent geen stop-losses maar gewoon ouderwets naked long.
Voor een dergelijke strategie wens je goede entries te hebben en dien je veel geduldiger te zijn dan bijvoorbeeld traders. Laten we eens kijken hoe de markt ervoor staat en waar potentieel prachtige entries liggen!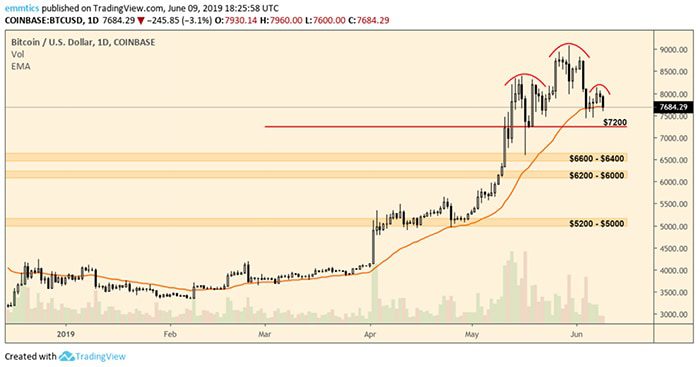 Afbeelding 1: dagelijkse bitcoin-grafiek op Coinbase
In afbeelding 1 heb ik de dagelijkse grafiek van bitcoin op Coinbase weergegeven. Op de dagelijkse grafiek is goed te zien dat we op dit moment een head & shoulders patroon aan het maken zijn (bearish) met dalend volume. Daarnaast is ook te zien dat we op het punt staan een close te maken onder de 30 dagen EMA. De 30 dagen EMA (exponential moving average) heeft de afgelopen maanden als belangrijk support gefungeerd en een break door dit niveau, tezamen met het head & shoulders patroon en dalend volume laat zien dat de trend op de korte termijn bearish is. Daarbij komt ook nog dat op de wekelijkse grafiek (afbeelding 2) de momentum-indicatoren eindelijk aan het omrollen zijn en laten de wekelijkse candles een doji gevolgd door een bearish engulfing zien. Vrij bearish dus allemaal, maar indien je visie is dat de medium en lange termijn trend bullish zijn, dan is dit juist iets om voor te juichen want deze situatie zorgt voor potentieel prachtige entries!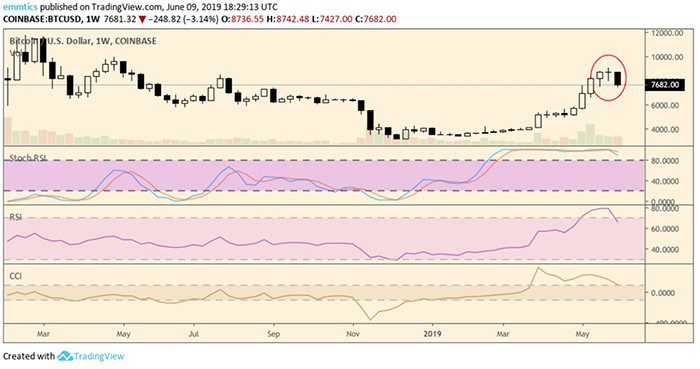 Afbeelding 2: wekelijkse bitcoin-grafiek op Coinbase
Voor een buy and hold entry kies ik niet voor de eerste beste dip. De huidige situatie laat kansen zien voor traders om long te gaan op bijvoorbeeld $7200 aangezien daar een support niveau is te zien (rode lijn afbeelding 1) en er een korte termijn bounce kan plaatsvinden zodat er snel winst kan worden gemaakt of – indien de koers toch doorzakt – met een strakke stop-loss het verlies kan worden beperkt. Dit is uiteraard een aardig spel, maar voor mijn naked longs wil ik echt wat beters hebben en blijf ik geduldig wachten. Geduld is goud! Als ik naar de grafieken kijk dan zie ik een eerste mooie kans rond het niveau van $6400 tot $6600. Dit is overigens ook het niveau waarop een aantal weken geleden de koers snel haar support vond. Mocht de koers toch nog verder doorzakken dan zou ik interesse hebben in koersen laag in de regio van de $6000. Dit is wel afhankelijk van de snelheid en kracht van de potentiële pull back. Mocht de koers ook nog door de $6000 heen breken dan wordt ik wat defensiever en wordt mijn interesse vooral gewekt rond het niveau van $5200-$5000. De manier waarop ik met een dergelijke dip om ga is om van tevoren te bepalen met hoeveel kapitaal ik mijn posities in deze dip wens te vergroten en dan tevens te bepalen hoeveel procent van dit kapitaal ik wil uitgeven per zone. Persoonlijk hou ik ervan om 20% bij de eerste buy zone te investeren, vervolgens 30% bij de tweede zone en de overige 50% bij de derde zone.
Er is uiteraard een kans dat de koers helemaal niet bij de eerste, tweede of derde zone uitkomt (bad luck!) maar dan kan dat kapitaal bij een nieuwe dip op andere zones weer worden ingezet. Blijf je emoties de baas en hou het hoofd koel. Voor succesvol investeren is geen ruimte voor FOMO (Fear Of Missing Out). De reden dat ik de voorkeur geef aan een trapsgewijze schaling van de vergroting van mijn posities is omdat de posities die ik open niet gedekt worden door stop-losses, en ik daarom op een defensieve manier de buy and hold posities open. Stel de koers zakt helemaal door naar de $5000 dan heb ik gemiddeld een zeer mooie gewogen entry van rond de $5600 omdat ik aanvankelijk niet te agressief instapte.
Er is uiteraard ook een scenario mogelijk waarbij de koers verder zakt dan $5000. Daar dient ook rekening mee te worden gehouden en vanwege dit scenario is het belangrijk om helder en verantwoord te bepalen met hoeveel kapitaal je jouw totale portfolio wenst te vergroten. Als je niet meer kunt slapen van onrust indien de koers van bitcoin minder waard is dan $1000 dan is jouw positie te groot. Hoewel het heel ver weg lijkt dat de koers van bitcoin een waarde van $1000 haalt, is dit nog steeds een scenario waar rekening mee dient te worden gehouden (vooral bij buy and hold). Indien je daar niet mee kunt leven zul je misschien toch voor een andere strategie moeten kiezen zoals bijvoorbeeld het traden waarbij je met stop losses kunt werken en het geld op een exchange laat staan. Beide strategieën hebben hun voor- en nadelen maar het is vooral belangrijk om jezelf af te vragen welke strategie het beste bij jou past. Op dit moment heb ik mijn strategie bepaald en blijf ik rustig wachten totdat de mooie entries zich voordoen. Als ze niet komen dan zal ik bij een volgende pull back mijn buy zones opnieuw bepalen maar vooralsnog heb ik mijn ogen op deze play. 
Tot volgende week!
Wil je op de hoogte blijven van het laatste nieuws? Abonneer je dan op onze push-berichten, 
Facebook
– of Twitter. Meediscussiëren? Meld je dan aan voor ons Telegram kanaal.
[ci-widget-v2]