De 200 dagen moving average (MA) moet stand houden als de koers van bitcoin (BTC) haar bullish momentum van de afgelopen week wilt voortzetten en een kans wil maken op een nieuwe yearly high binnen afzienbare tijd. Dat is waar ik afgelopen week mijn column mee afsloot en dat is wat er tot op heden is gebeurd! In afbeelding 1 heb ik de dagelijkse grafiek van bitcoin op Coinbase weergegeven (geen glitch zichtbaar op deze grafiek ;-)) en hierop is te zien dat de koers van bitcoin de afgelopen week (inclusief vandaag) tot vier keer toe support vond op de 200 dagen MA. Afgelopen donderdag wickte de koers nog even onder de 200 dagen MA, maar maakte vervolgens een close ruim boven dit niveau. Zoals ik al meerdere malen heb aangegeven is het mijns inziens niet erg als de koers even onder de 200 dagen MA komt zolang deze maar een close maakt op de dagelijkse grafiek boven dit niveau. Maar goed, de koers vindt dus meerdere malen support op deze belangrijke MA en dat is positief, maar tegelijkertijd is het volume enorm aan het afnemen en zien we de koers van bitcoin vooralsnog niet uit de consolidatie komen.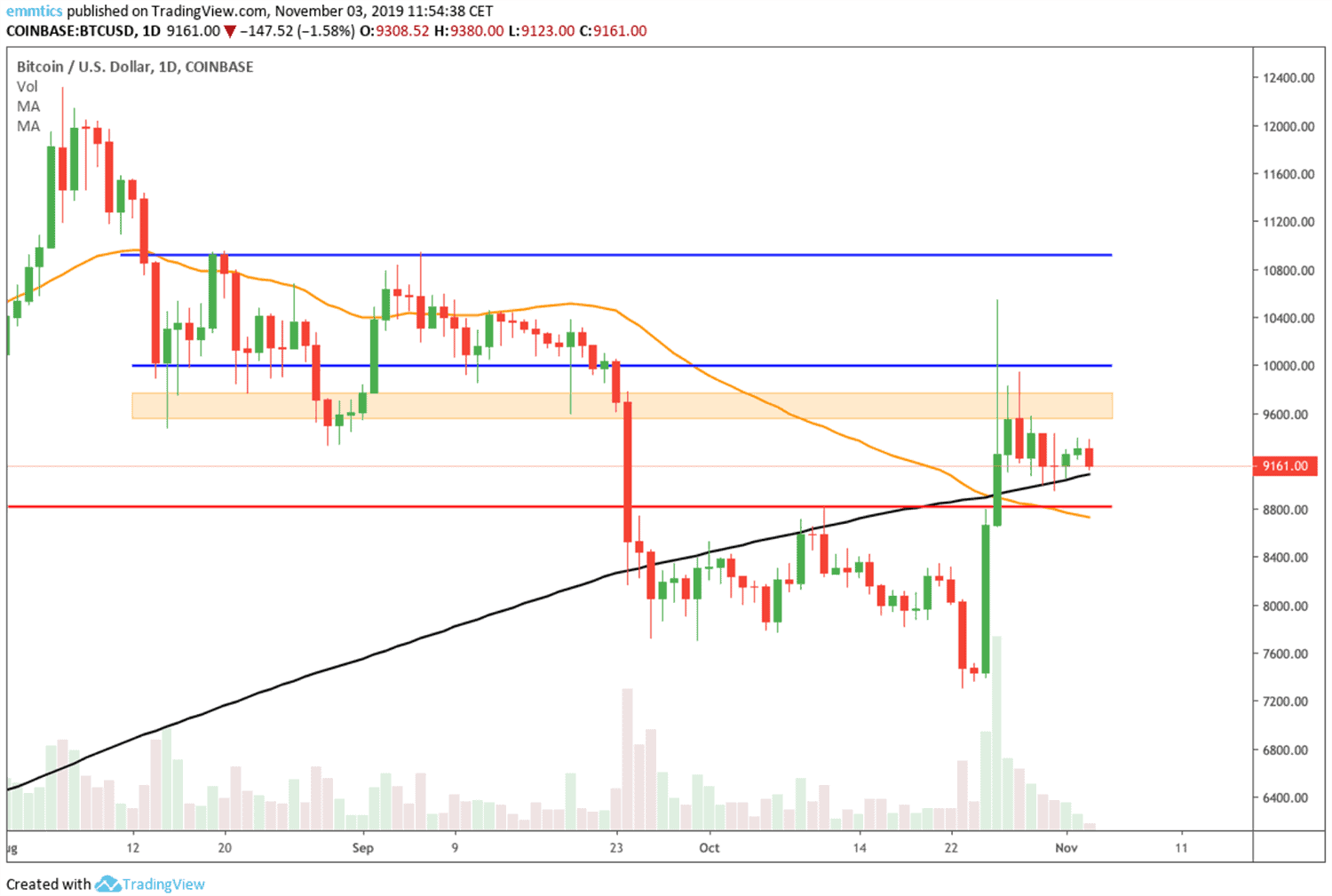 Afbeelding 1: dagelijkse bitcoin-grafiek op Coinbase
Markten bevinden zich het merendeel van de tijd in een consolidatiefase in plaats van een trending fase en dit is een van de aspecten wat succesvol traden zo lastig kan maken omdat consolidatiefasen voor veel onduidelijkheid en onzekerheid kunnen zorgen. Inzichten in het volume, verschillende (momentum) indicatoren, technische patronen, support- en weerstandslijnen en visie kunnen een technisch trader in staat stellen scenario's te formuleren om hier verstandig mee om te gaan. 
De huidige situatie laat kansen zien maar ook een aantal gevaren. Laten we die eens bespreken. De markt is bullish en het feit dat we de 200 dagen MA hebben gebroken en daar tot nog toe support op vinden is een zeer positief signaal. Op de weg naar boven zie ik als eerste een weerstand op de $9.500, vervolgens op de $10.000 (dit komt tevens overeen met de belangrijke 21 weken MA) en de $11.000. Zodra de koers van bitcoin de 21 weken MA breekt ($10.000) dan zijn in mijn optiek alle belangrijke MA's gebroken en als de koers tevens de $11.000 breekt, dan ligt in mijn optiek de weg open voor een nieuwe yearly high.
Aangezien de koers tot op heden meerdere malen support vindt op de 200 dagen MA geeft dat aan dat bovenstaand bullish traject niet ondenkbaar is en een gedegen kans van slagen heeft. Echter, het feit dat de koers van bitcoin tot op heden haar support vindt op de 200 dagen MA is totaal geen garantie voor dit traject. Er is namelijk een belangrijk onderdeel dat tot op heden nog mist bij het support-verhaal van de 200 dagen MA en dat is volume. We vinden weliswaar support, maar het is absoluut stil in de straten van bitcoin. Als je kijkt naar de dagelijkse grafiek van bitcoin in afbeelding 1 dan is enorm duidelijk te zien hoe het volume de afgelopen anderhalve week afloopt naar nagenoeg niets. Ok, het is weliswaar weekend, maar dat het volume buitengewoon laag is (zelfs voor een weekeinde) valt in mijn optiek niet te ontkennen. 
---
Wil je meer van David lezen, horen en zien? Surf dan naar members.crypto-insiders.nl voor onze meest waardevolle content. Denk aan koersupdates, trading signals, educatieve video's, geschreven uitleg, Ask Me Anything-sessies en meer! Maak nu een lidmaatschap aan en probeer de eerste 30 dagen gratis! Bekijk hieronder een voorproefje:
---
Na de afgelopen extreme rally was de markt duidelijk overstrekt en sloegen alle momentum indicatoren flink uit. Een consolidatie was dus zeer wenselijk en vooral wanneer daarbij support wordt gevonden op de 200 dagen MA, maar vroeg of laat dient dit support te worden beklonken met sterk volume en tot die tijd blijft de kans aanzienlijk dat we toch door de 200 dagen MA breken. Na iedere support-vorming op de 200 dagen is de high tot op heden steeds lager geweest en voor diegene die zich dit nog herinneren zagen we dit ook bij de vorige rally toen we consolideerden rond de $10.000. Hoewel er in dat scenario ook andere factoren aanwezig waren was er wel de overeenkomst dat een belangrijk supportniveau stand hield, maar dat tegelijkertijd steeds lagere highs werden gemaakt en het volume tevens opdroogde. Uiteindelijk brak de koers zoals we weten naar beneden. Nu zeg ik niet dat dit daarom ook nu gaat gebeuren, maar ik wil mijn lezers wel attenderen op dit risico: Als het support niet wordt beklonken met volume en de koers zoals we nu zien steeds lagere highs maakt, dan zakken we vroeg of laat door de 200 dagen MA. 
Mocht dat gebeuren dan zou ik als eerste kijken naar het support rond de 50 dagen MA, die zich op dit moment bevindt rond de $8.700, hoewel er uiteraard ook een supportniveau is te zien op de $8.800. Indien de koers – na een break door de 200 dagen MA – support zou vinden op de 50 dagen MA dan zou dat nog een redding kunnen vormen voor de bulls, maar het zou het gehele plaatje wel een stuk negatiever kleuren. Te meer ook omdat het dan nog wel eens heel goed mogelijk zou zijn dat de 200 dagen MA als een weerstand gaat fungeren en daarmee een overhead resistance kan creëren die het vertrouwen van de bulls langzaam afbrokkelt.
Terug naar de huidige situatie. Het zojuist beschreven risico scenario is uiteraard nog niet van toepassing en tot op heden is het geheel in mijn optiek nog steeds bullish. Je kunt ook slim gebruik maken van deze situatie door een eventuele stop-loss (indien je long bent) onder de 200 dagen MA of onder de 50 dagen MA (als je niet mogelijk wil worden uitgewicked) te plaatsen. Aan de andere kant kan de bearish trader een short plaatsen onder de 200 dagen MA met een stop net daarboven.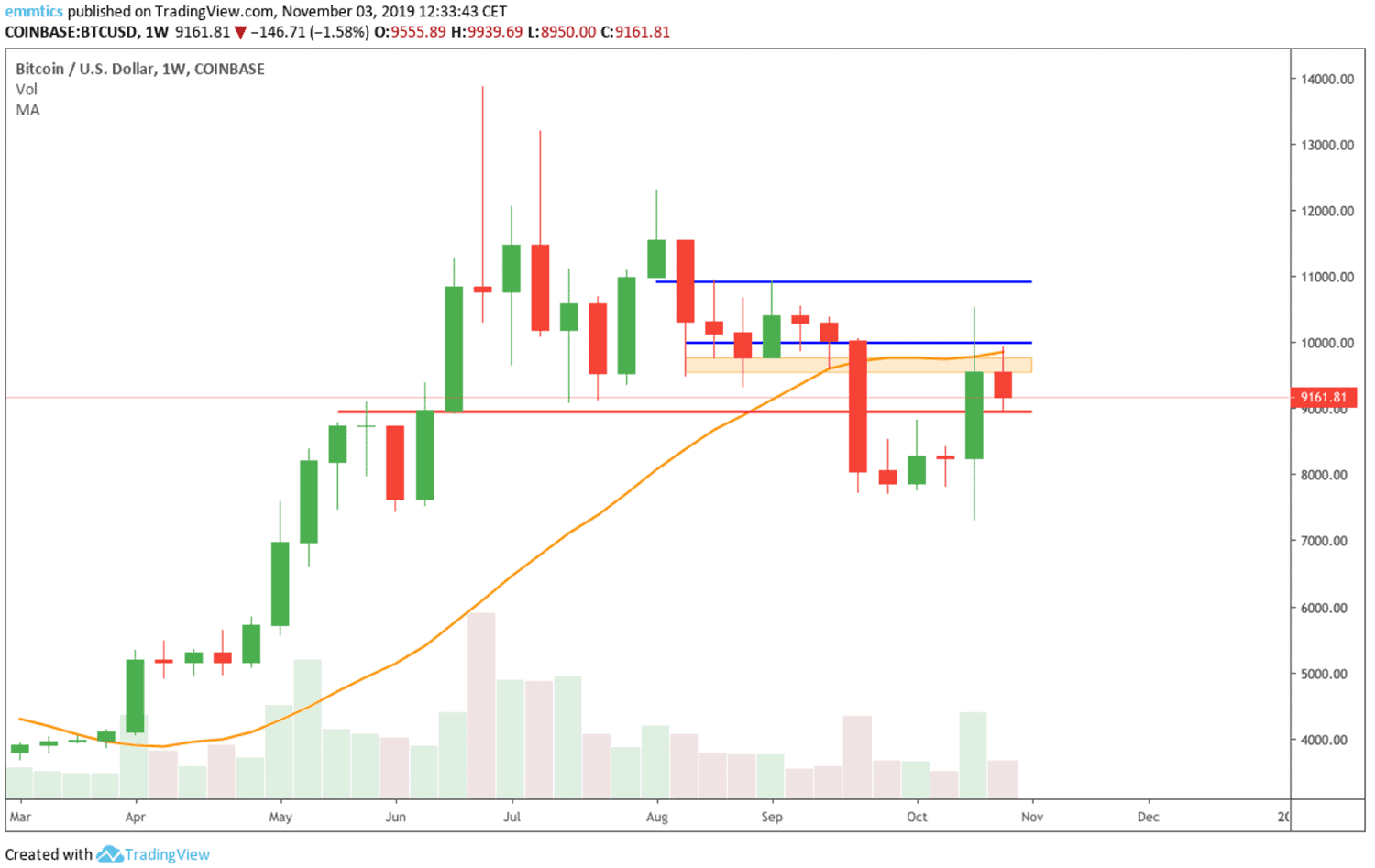 Afbeelding 2: wekelijkse bitcoin-grafiek op Coinbase
De wekelijkse grafiek van bitcoin (afbeelding 2) ziet er in mijn optiek erg goed uit en daar is de consoliderende actie van afgelopen week volledig normaal. Er is mogelijk een bullish flag te zien. De enige 'smet' die ik daar zie is de lange wick van de groene candle van twee weken geleden en de rejectie van de koers afgelopen week op de 21 weken MA. Dit laat zien dat de overhead resistance sterk is maar tegelijkertijd is de consolidatie op deze wekelijkse grafiek een goede situatie zodat de markt zich kan hergroeperen en klaar maken voor de volgende push naar boven. Al met al vind ik het een goed-ogende positieve grafiek. De momentum indicatoren op de wekelijkse grafiek zien er bijzonder goed uit en op de dagelijkse grafiek bevinden zij zich weer op gezondere niveaus dan de week daarvoor. Mocht je nog geen positie open hebben staan en zit je dagelijks achter je scherm gekluisterd dan zou ik persoonlijk wachten totdat de koers van bitcoin gaat bewegen met aanzienlijk volume. Dat is het moment dat de remmen los gaan en de echte richting wordt bepaald en daar liggen vaak zeer mooie kansen verborgen. De basis ligt er voor de bulls en nu is het wachten op een katalysator voor het volume. Het kan nog even duren maar ik heb eigenlijk wel zin in een nieuwe yearly high dus kom maar door. Ik blijf de koers nauwlettend in de gaten houden en hou jullie op de hoogte via ons gratis discussiekanaal op Telegram, onze omgeving voor members en Twitter.
Tot volgende week!
Wil je op de hoogte blijven van het laatste nieuws? Abonneer je dan op onze push-berichten, Facebook– of Twitter. Meediscussiëren? Meld je dan aan voor ons Telegram kanaal.