De koers van Bitcoin bevindt zich al weken tussen de $6.000 en de $6.800 en begeeft zich al maanden in de descending triangle zoals te zien is in afbeelding 1. De afgelopen weken heeft de koers van Bitcoin scherpe dalingen én stijgingen gezien en waren de analyses van veel 'experts' voornamelijk bearish of bullish na iedere sterke move. De koers van Bitcoin is de afgelopen weken zeer oninteressant en met haar lage volatiliteit is het wachten op een echte break-out. Vorige week verwachtte ik al meer actie in de koers van Bitcoin en hoewel we weer een scherpe daling meemaakten en gisteren weer een scherpe stijging, bevinden wij ons nog steeds binnen de grenzen van $6.000 en $6.800; niet interessant dus. Maar de descending triangle loopt op haar eind en na een periode van lage volatiliteit met weinig volume komt een periode van hoge volatiliteit met hoog volume net zoals dat na regen, zonneschijn komt en andersom.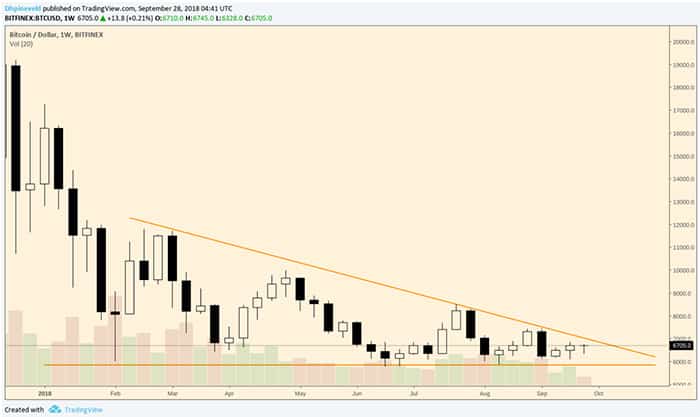 Afbeelding 1: Wekelijkse grafiek Bitcoin
De huidige situatie van laag volume en een lage volatiliteit is naar mijn mening niet lang meer houdbaar. Ik geloof dat een break-out uit de descending triangle gepaard zal gaan met een hoop actie en volume (ongeacht de richting). Ondertussen is ook de grote discrepantie tussen Bitcoin longs en shorts verdwenen zoals te zien is in afbeelding 2. Op Bitfinex staan nu ongeveer 29.500  Bitcoin shorts open en 28.000 Bitcoins long.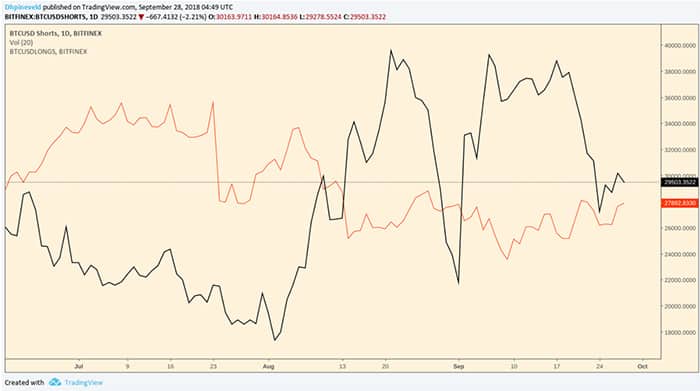 Afbeelding 2: Bitfinex longs VS shorts – Dagelijkse grafiek
Met een lage volatiliteit, laag volume en een nagenoeg gelijke hoeveelheid longs en shorts staat de markt weer in een stand-off. Kijkend naar de situatie is dit niet heel gek, maar de grote vraag is natuurlijk in welke richting de koers van Bitcoin zal uitbreken? Er zijn goede argumenten te geven voor zowel de bulls als de bears. De bulls hebben in hun voordeel dat de fundamenten van cryptocurrencies de afgelopen maanden sterker zijn geworden door middel van allerlei startups en groeiende interesse vanuit grote bedrijven en instituten. De infrastructuur omtrent cryptocurrencies ontwikkelt zich in een snel tempo en dat zorgt er dan ook voor dat het vooruitzicht voor Bitcoin, op in ieder geval de lange termijn, er goed uit ziet. Daarnaast is ook het support rondom de $6.000 zeer sterk gebleken en is er nog steeds voldoende FOMO in de markt om een rally snel te doen escaleren. Maar is dit ook voldoende voor de korte termijn en een break-out uit de descending triangle? Persoonlijk geef ik in dit geval het voordeel van de twijfel aan de bears. We moeten namelijk niet vergeten dat de trend nog steeds neerwaarts is. Daarnaast merk ik ook dat het vertrouwen in de markt zeer fragiel is op het moment. Dit is uiteraard te begrijpen maar vormt een grillige basis voor een mogelijke rally. Zodra er een negatief nieuwsbericht naar buiten komt en een bepaalde weerstand de rally even tot een halt roept zullen veel 'beleggers' direct hun Bitcoins van de hand doen. Ik blijf van mening dat er nog een 'shake-out' nodig is van dit soort beleggers alvorens Bitcoin opnieuw kan beginnen aan een duurzame rally en ik geloof dat een neerwaartse break-out van de descending triangle daar een goede katalysator voor kan zijn. In dit geval maakt het echter niet uit wat mijn of een ieder ander zijn mening is. De markt zal de richting bepalen en zodra er een break-out plaatsvindt uit de descending triangle zullen wij een hoop meer te weten komen over de richting van Bitcoin op de korte termijn. Wees voorzichtig en 'enjoy the ride'.
Goed weekend allemaal!
Wil je op de hoogte blijven van het laatste nieuws? Abonneer je dan op onze push-berichten, 
Facebook
– of 
Twitter
 pagina.
[ci-widget-v2]