De markt houdt haar adem in en het einde van de consolidatie is in zicht. Dit was de zin waar ik afgelopen week mijn column mee begon. Ik beschreef hoe de koers exact op de 21 weken Moving Average (MA) lag en de stijgende trendlijn (onderkant van de triangle) waar we ons al maanden in begeven. Ik beschreef dat dit het moment van de waarheid was. Het moment waarop de bulls zich diende te bewijzen. Er was een kans van slagen, want de koers lag op support en de momentum indicatoren waren oversold, maar ik zei ook dat we uiterst defensief diende te zijn want keer op keer maakte de bulls geen hogere highs en dat is een sterk teken van zwakte. Ik hoop dat men defensief is geweest de afgelopen week want dat was hard nodig. Indien we door de 21 weken zouden heen breken gaf ik aan dat er nog wel eens wat vuurwerk kon ontstaan en dat was precies wat er gebeurde. Massaal werden longs geliquideerd, stops geactiveerd en shorts geopend. Op Coinbase haalde de koers van bitcoin een dieptepunt van $7.712 (afbeelding 1) en werd heel voorzichtig mijn buy-zone aangeraakt die ik beschreef tijdens mijn wekelijkse Macro Update-video op dinsdag in onze members-groep.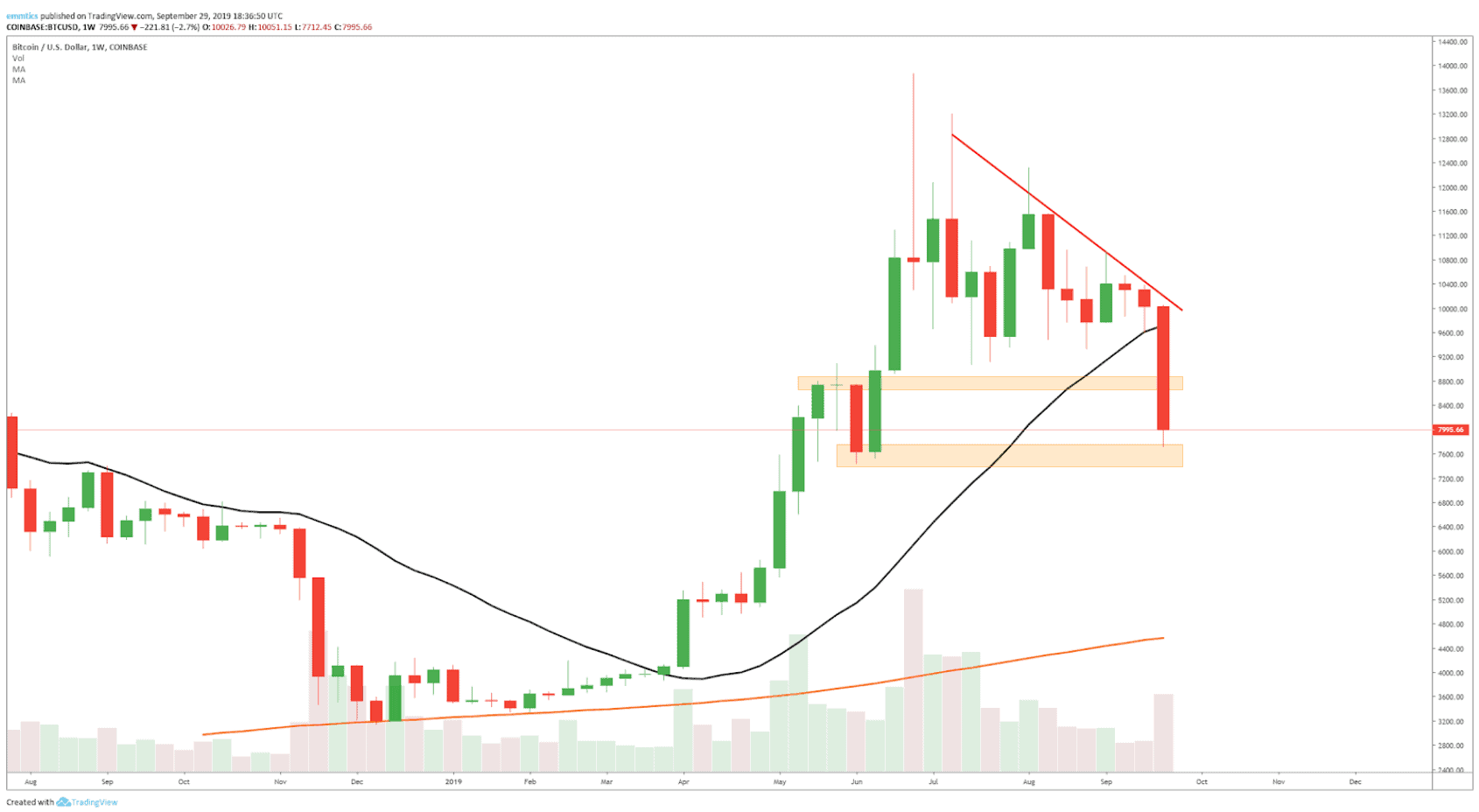 Afbeelding 1: wekelijkse grafiek van bitcoin (BTC) op Coinbase
Het ging allemaal erg snel en als gevolg hiervan negeerde ik per direct mijn eerste support-zone (de zone tussen de $8.500 en $8.800) en focuste ik op op de tweede support-zone die zich in mijn optiek bevindt tussen de $7.400 en $7.800. De koers is nu op adem gekomen en heel licht terug geveerd naar een niveau van rond de $8.000, maar de grote vraag is uiteraard: Wat nu? Laten we eens kijken naar de grafieken en wat mogelijkheden bespreken om hier mee om te gaan.
Op dit moment is het geheel bearish en geloof ik niet dat de huidige daling al op haar eind is. De daling is weliswaar even gestopt, maar dit lijkt meer op een pauze dan een sterke reversal. Er is namelijk nauwelijks sprake van een opleving en vooral op de wekelijkse grafiek (afbeelding 1) ziet dat er waardeloos uit. Een dergelijke candle zoals op de wekelijkse grafiek (een lange rode candle met nauwelijks wicks) is de meest bearish candle die er bestaat. Op de 4 uur-grafiek in afbeelding 3 (ja, je gelooft het bijna niet maar soms kijk ik ook naar kortere tijdframes 😉 ) lijkt zich mogelijk een descending triangle te vormen: De koers maakt constant lagere highs en vindt tot op heden constant support op een niveau rond de $7.900. Dit blijft waarschijnlijk niet goed gaan dus vroeger of later is de kans groot dat de koers nog verder naar beneden uitbreekt.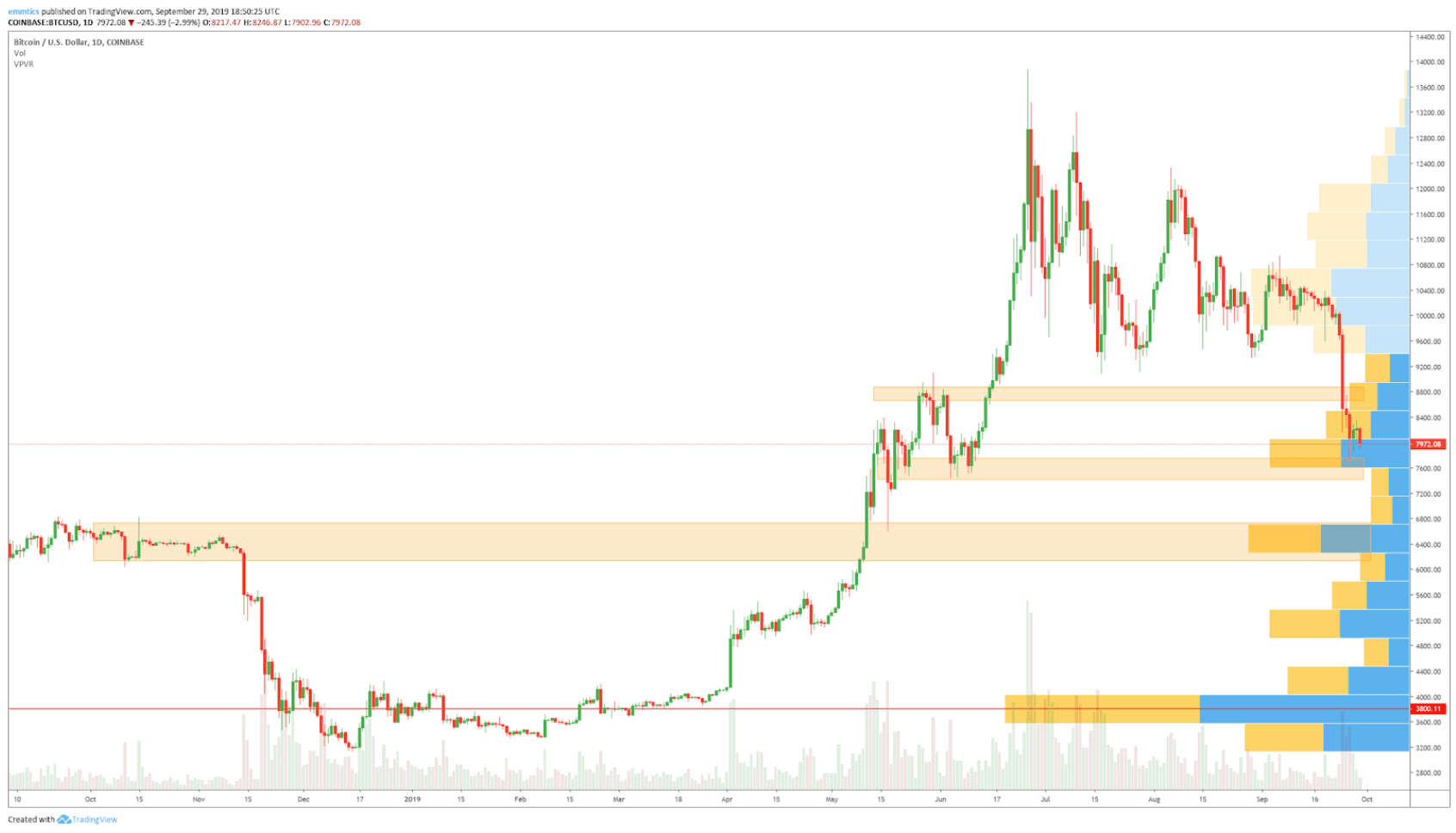 Afbeelding 2: dagelijkse grafiek van bitcoin (BTC) op Coinbase met volumeprofiel en support-zones
Maar indien de koers verder naar beneden breekt, hoe ver zouden we dan gaan? In afbeelding 2 heb ik op de dagelijkse grafiek het volumeprofiel en de sterkste support-zones weergegeven. Het volumeprofiel is een indicator die weergeeft op welk niveau de meeste buy/sell orders staan geplaatst. Indien een koers door een bepaalde sterke zone heen gaat dan maakt de koers vaak een beweging tot de volgende sterke zone (dit geldt voor zowel naar boven als beneden). Toen de koers door de $9.000 heen brak ging het regelrecht op weg naar laag in de $8.000 en zelfs daaronder en dat kwam overeen met een sterk support op het volumeprofiel en tevens een heldere support-zone op de dagelijkse grafiek (van $7.500 tot $7.800). Dit soort synergieën, zoals ik ook kort besprak in mijn eerder benoemde Marco Update, zijn belangrijke en krachtige zaken en hebben bij mij altijd sterk de interesse. Hoe meer synergie des te beter. Zoals goed is te zien lijkt de zone tussen de $7.500 en $7.800 vrij sterk te zijn. Dit was een aantal maanden geleden al meermaals een goed support-niveau en het huidige volumeprofiel bevestigt dit ook. Mocht dit niveau toch breken dan zou een verdere daling tot in de $6.000 zeker niet uitgesloten zijn. In deze zone bevindt zich uiteraard het historische support-niveau van 2018 en we zien ook hier dat dit wordt bevestigd door het volumeprofiel. In mijn optiek zou deze support-zone lopen van $6.100 tot $6.700. Dit is uiteraard vrij breed maar mocht de koers daar in de buurt komen dan zullen de kortere tijdframes meer inzicht bieden over meer exacte niveaus. Op de wekelijkse en dagelijkse is dit de regio waar ik naar zou kijken. Er ligt uiteraard ook een support-niveau rond de $7.000, maar deze wordt niet bevestigd door het volumeprofiel en dat is een van de redenen dat ik meer interesse heb in het niveau daaronder (mocht de koers haar daling verder vervolgen) dan dit niveau,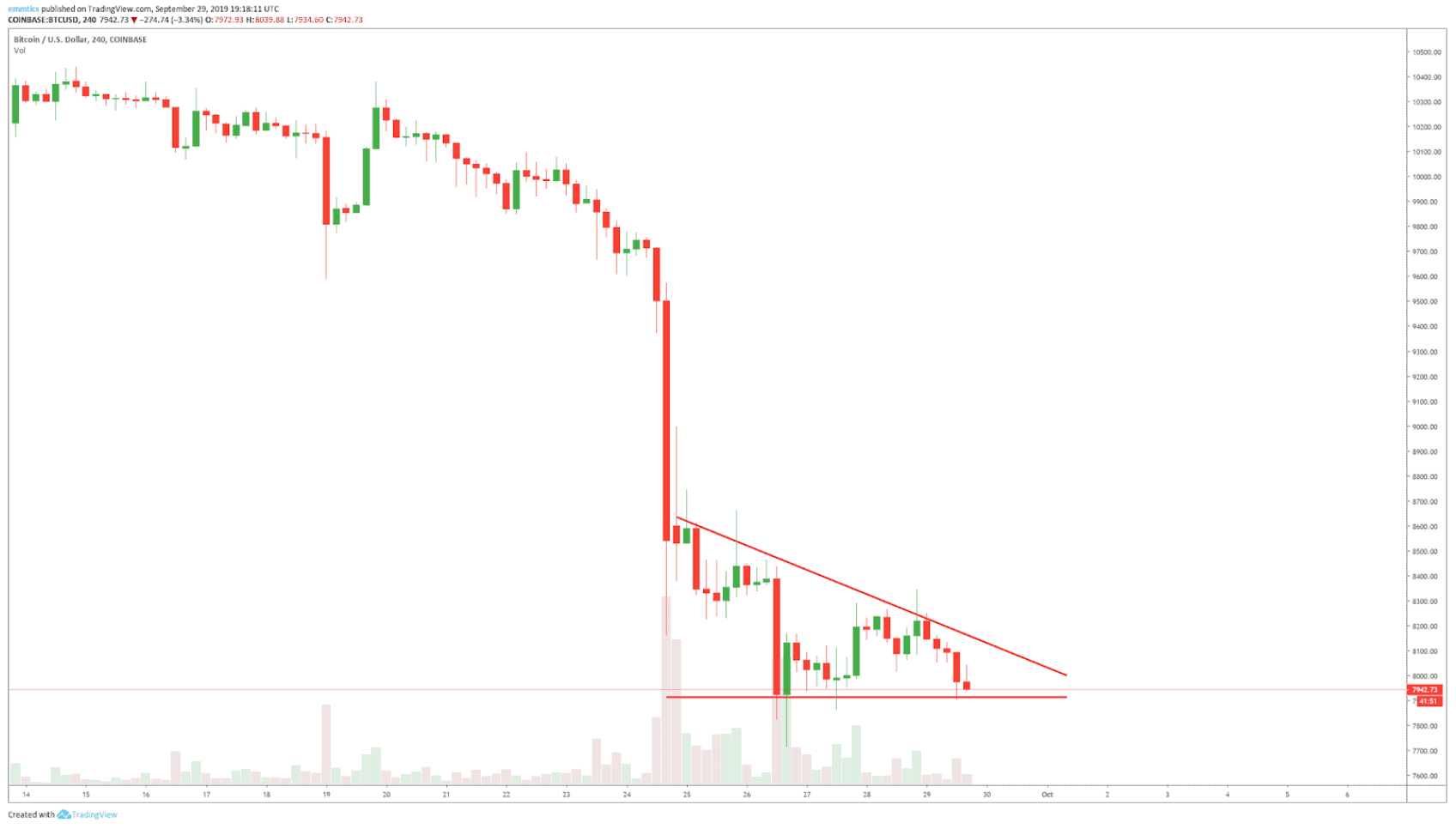 Afbeelding 3: 4 uur-grafiek bitcoin (BTC) op Coinbase met descending triangle
Maar goed, het is niet alleen maar kommer en kwel. (bijna) Iedereen verwachtte wel een daling dus het is niet heel gek dat die er ook is gekomen en nu we een sterke daling hebben gehad is de koers tot rust aan het komen. Het goede nieuws (voor de bulls): er zijn veel shorts gesloten en de daling kan uiteraard ook het gevolg zijn van het feit dat extreem veel longs werden geliquideerd en dat dit voor een korte over-reactie zorgde. Enige tegenargument is dan uiteraard dat indien deze sterke daling louter het gevolg was van een long squeeze we in dat geval waarschijnlijk een sterkere opleving hadden gezien, maar dat is juist niet het geval. De koers hangt nu stil en doet niet veel. Desalniettemin (en de casus is daarvoor overigens niet sterk) zou dit nog wel eens een hele flinke shake out kunnen zijn. Het zou positief zijn als de koers hier een tijdje blijft hangen en/of maximaal dipt tot een niveau van $7.400, maar dus wel in de huidige support-zone blijft. Het zou uiteraard helemaal positief zijn als de descending triangle op de 4 uur-grafiek van afbeelding 3 toch naar boven uitbreekt en hier een double bottom-formatie wordt gecreëerd op de $7.900. Maar goed, dit is tot op heden voornamelijk wishful thinking en de realiteit is dat de grafieken er vrij bearish uit zien.
Voor nu zou ik twee zaken in de gaten houden:
Indien de koers rond dit niveau blijft met een dip tot bijvoorbeeld max $7.400, dan zou het een mooi moment kunnen zijn om long te gaan. Maar geen haast: laat de markt zichzelf maar even bewijzen en zet je stop-loss in dat geval strak. 

Indien de koers toch verder zakt, dan geloof ik dat we sterk support zullen tegenkomen in het vrij grote en sterke support-gebied van $6.200-$6.800. Hier hebben we in het verleden uiteraard ook veel support ervaren en het volumeprofiel zoals te zien in afbeelding 2 bevestigt dit ook.
Voor nu zou ik afwachten. Indien de koers toch weer begint te stijgen (want verrassingen zijn altijd mogelijk) is het belangrijk dat de rally voortzet en voorbij de $9.000, $10.000 en vooral de 21 weken Moving Average (MA) 50 dagen MA komt.
Succes en wees voorzichtig! 
Ook onze analist Michiel schreef van het weekend een interessante column. Mis 'm niet!
Wil je op de hoogte blijven van het laatste nieuws? Abonneer je dan op onze push-berichten, Facebook– of Twitter. Meediscussiëren? Meld je dan aan voor ons Telegram kanaal.