Waar staan we nu werkelijk? Aan de vooravond van de grooste bull run ooit of een apocalyptische ineenstorting van de economie? Dit blijft de million dollar question. Ik ga jullie proberen een inkijkje te geven in mijn plan A en visie.
Het begint allemaal met een visie voor de komende jaren en hierop een plan te baseren. Zodra je dit voor jezelf duidelijk hebt is het vooruit plannen met orders. Hoe meer je gaat zoeken op bijvoorbeeld YouTube naar video's, des te meer (gekleurde) meningen je zal vinden. Dit gaat vroeg of laat zorgen voor ruis in jouw plan. Vaak hoor ik van mensen "ja, ik dacht al dat dit of dat zou gebeuren, MAAR…''
Zolang je je eigen route volgt en aanpast waar nodig denk ik dat je de meeste kans maakt om de komende jaren zonder kleerscheuren door te komen. Mijn eerste jaren handelen dacht ook ik "pfff, risk management en money management, wat een onzin! Ik ben hier toch gewoon om op een nieuwe technologie wat geld te verdienen."
Achteraf bleek niets minder waar te zijn. Alles valt of staat met een gedisciplineerde strategie. Daarnaast is het goed om naar feiten te kijken en hier zover mogelijk wat voorzichtige conclusies aan te verbinden die voor jou logisch zijn.
Zo vind ik onderstaande grafiek bijvoorbeeld zeer interessant.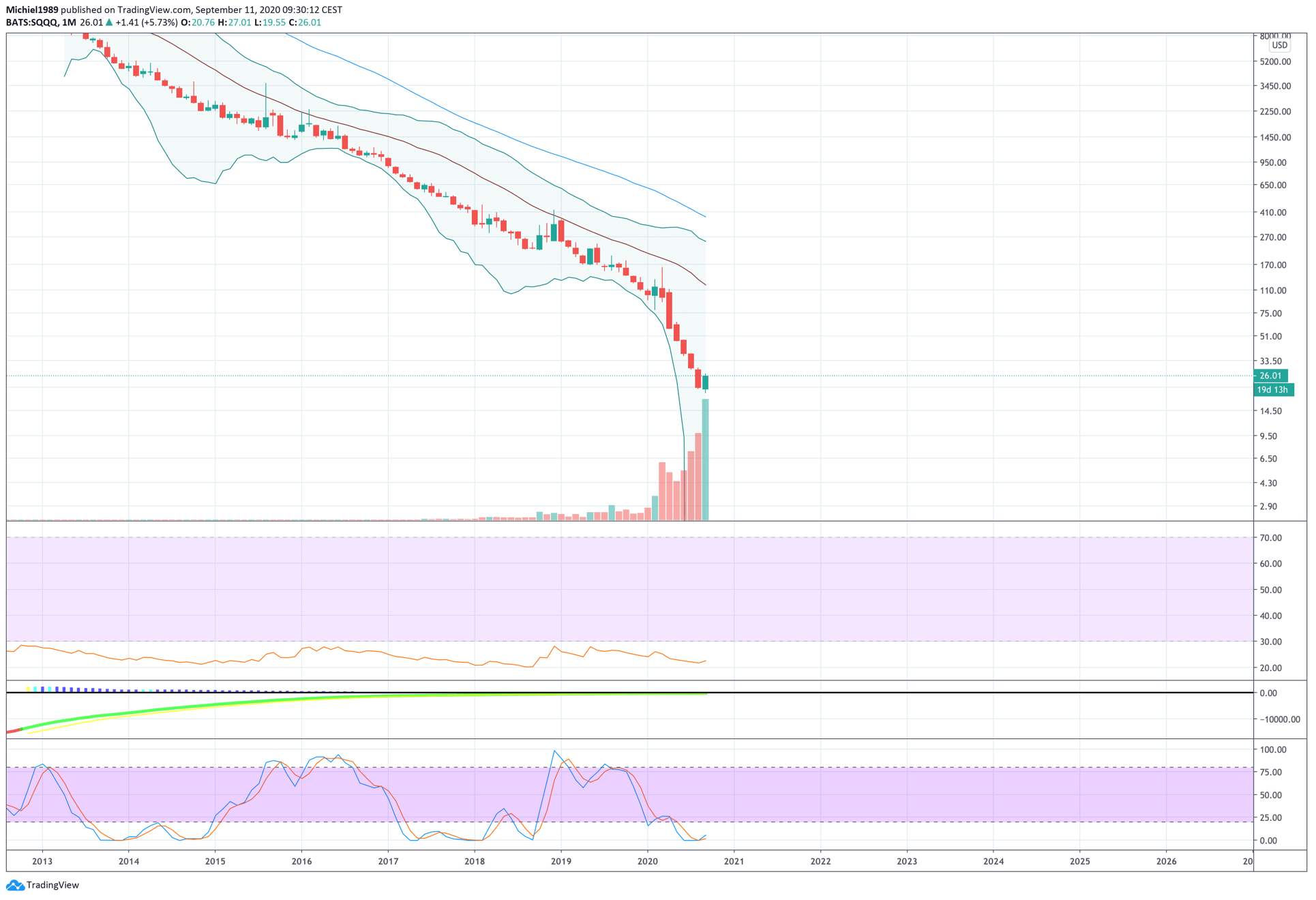 Afbeelding 1: de maandelijkse grafiek van SQQQ
Deze grafiek behoeft wel wat uitleg. Bovenstaande grafiek van SQQQ is een tracker van de Nasdaq-100. "Hè, de Nasdaq gaat toch juist omhoog?" zal je misschien denken. Juist, de SQQQ zet in op een daling van de Nasdaq en dat alles met een factor 3. Snel voorbeeld: de Nasdaq stijgt met 3%, dan zakt de SQQQ met 9%. Daarentegen als de Nasdaq zakt met 10% zal de SQQQ met 30% stijgen.
So far geen hogere wiskunde. Het volume van de afgelopen maanden, zoals hierboven te zien, is vind ik zeer opvallend. Dit duidt mijns inziens op het anticiperen van een fikse daling volgens het 'slimme geld'. In ieder geval zijn mensen zich aan het indekken voor een vreselijke gebeurtenis. Nog niet eerder hadden dergelijke trackers zulke hoge volumes. Hebben we dan echt alle toppen gehad en gaan we vanaf hier down?
Terug naar mijn plan. Ja, ik denk dat we de top reeds gehad hebben of hier zeer dichtbij zitten. Hierdoor heb ik veel aandelen en cryptocurrencies verkocht. Hiernaast ben ik dus langzaamaan wat shorts aan het verhandelen. Gezien de huidige situatie in de wereld en het overenthousiasme van de menigte bereid ik me voor om tegen de stroom in te gaan zwemmen. Hiervoor is soms wel een lange adem nodig! Uiteraard geldt de regel: De markt kan langer tegen je ingaan dan dat jij geld beschikbaar hebt. Dus ver vooruit plannen is altijd fijn.
Bitcoin wankelt?
Fast forward naar de koers van bitcoin. Bovenstaande gaat mogelijk ook op voor de crypto's. Op dit moment zien we de DeFi-hype in vol ornaat, waar je geld voor een bepaalde periode vastzet en hiervoor tokens als vergoeding ontvangt. Jouw investering wordt dan vervolgens gebruikt voor liquiditeit op een gedecentraliseerde exchange.
Is het logisch dat dit soort projecten op dit moment $32.000 waard zijn? Totale waanzin als je het mij vraagt. Initial coin offering (ICO) 2.0 lijkt een betere benaming. Op dit moment denk ik niet dat crypto een fikse daling, lees correctie/depressie, van de reguliere aandelenmarkt gaat doorkomen; zeker niet zonder kleerscheuren. Na een dergelijke gebeurtenis ben ik ervan overtuigd dat blockchain een gigantische rol gaat spelen in het dagelijks leven. In een later stadium denk ik ook dat dit terug te zien zal zijn in de prijs van bitcoin.
Dit maakt misschien een minder populaire mening, dat bitcoin flink zou kunnen zakken zodra de reguliere markt aan zijn zwarte piste begint. Hierdoor blijf ik steeds met gepaste voorzichtigheid in crypto handelen; stop-losses op cruciale punten en strategische kooporders op grote support zones.
Op dit moment staat bitcoin op een belangrijk kruispunt.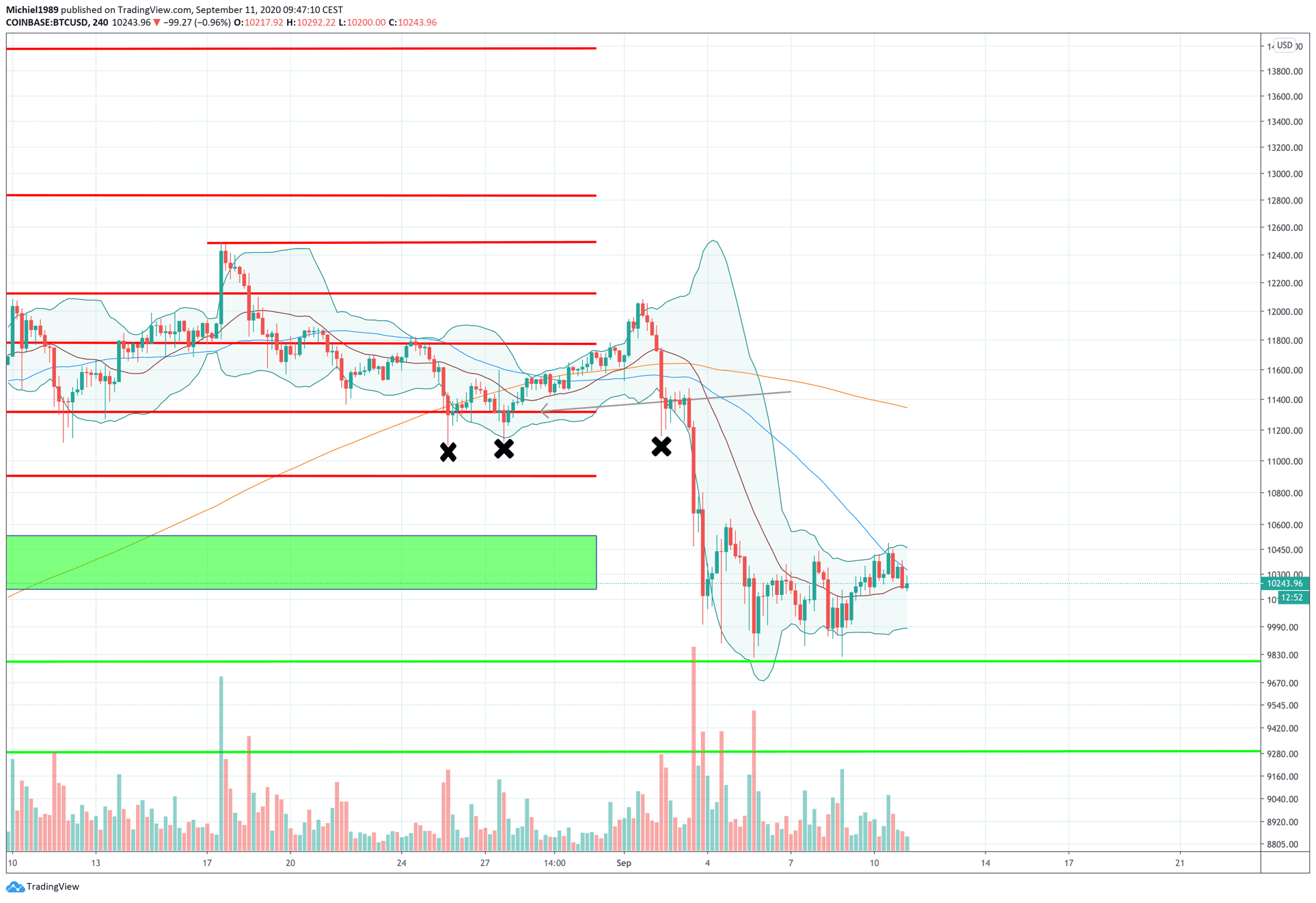 Afbeelding 2: 4-uurs grafiek van bitcoin op cryptocurrency exchange Coinbase
Zoals hierboven is te zien zitten we exact tussen de medium Bollinger bands en de 50 dagen moving average (MA, blauwe lijn). Ik meldde het al aan onze members, zodra één van beide opgeeft in dit wedstrijdje armpje drukken, is de kortere trend bekend. Support zou echt gevonden moeten worden rond deze $10.200 om niet in de problemen te geraken en flink de $9.000 in te zakken. Aan de bovenzijde blijven de veel genoemde weerstanden intact; dit zijn nog altijd de $10.600 en de zone tussen de $10.800 en $11.000 op dit moment.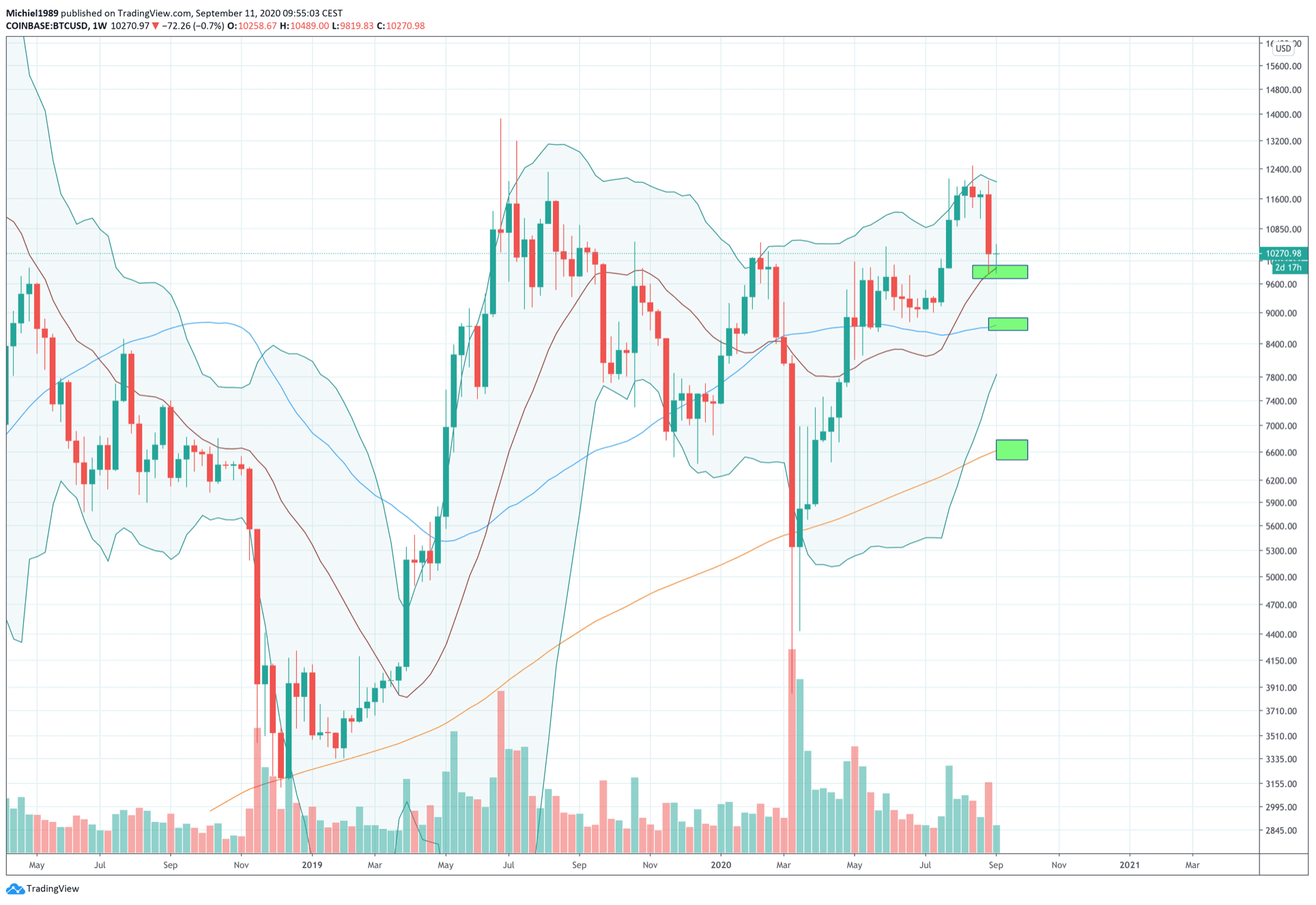 Afbeelding 3: wekelijkse grafiek van bitcoin op cryptocurrency exchange Coinbase
Op de hogere tijdframes, zoals hierboven de wekelijkse grafiek, zit er meer ruimte in de prijs en dit maakt het ook lastiger conclusies trekken. Een veelgemaakte fout is korte termijn trends kopiëren naar hogere tijdframes. Hierboven is wel zichtbaar dat de zone waar we nu in zitten cruciaal is om op korte termijn door te kunnen met deze uptrend. Onder de $9.800 is de bullish structuur aangetast en zouden we naar de $8.800 moeten gaan kijken volgens deze grafiek.
Zo is hopelijk iets duidelijker geworden wat míjn plan A is. Uiteraard is dit enkel mijn visie op de markt en hoef je het hier helemaal niet mee eens te zijn, dat is ook goed. Zorg dat je voor jezelf een plan A klaar hebt en vergeet niet af en toe te schaven als de markt anders uitpakt dan je verwacht had. Zonder plan is de kans hoe dan ook groot dat de komende maanden pijnlijk gaan worden, ik verwacht namelijk veel volatiliteit in de markt.
Ik wil jullie een heel goed weekend wensen en ruim waar mogelijk een moment in om voor jezelf even de balans op te maken. Vraag jezelf af: Hoe sta ik er nu voor? Waar denk ík dat de markt heengaat? En misschien wel de belangrijkste, hoe ga ik mezelf hier tegen wapenen?