Bitcoin (BTC) heeft op dit moment echt te maken met een lichte vormcrisis. Overigens is er (nog) niet echt sprake van totale paniek in de tent. Vaak zijn dat voor mij persoonlijk tekenen om flink in te kopen. Op onderstaande afbeelding zie je zo'n mogelijke totale paniekzone in de paars gekleurde zone. Mocht de prijs van bitcoin rond of boven de $7.000 standhouden, dan zouden we support kunnen vinden op de 200 moving average (MA) van de 3-dagelijkse chart. Deze ligt op het moment van schrijven op $6.980.
Afbeelding 1: paniekzone in het paars
Op de lagere tijdframes zouden we een bullish divergence kunnen maken zolang het volume deze afnemende trend blijft aanhouden (deze is met de rode pijl aangegeven).
Mocht de totale paniek toeslaan en schieten we door de $7.000 dan is mijn sweet spot de paarse zone van $6.700 tot $6.000. Dit zou absoluut als onneembare vesting moeten dienen gezien het koersverloop van het afgelopen anderhalf jaar.
Na de complete meltdown van november 2018 tot februari 2019 zouden we bij een prijs onder de $5.700 serieus in grote problemen komen. Hierbij zou een retest van $3.000 niet alleen waarheid kunnen worden, maar ook een diepere daling behoort dan zeker tot de mogelijkheden.
Zover is het natuurlijk nog lang niet en lijkt alles rond de $6.500-$7.000 een goede koop voor de langere termijn.
Paniek is goed voor grote spelers gezien zij gebruik maken van de liquiditeit. Echter, bij een te diepe daling is er wellicht teveel interesse van retail traders die goedkoop bitcoin aanschaffen en bewaren in een wallet. Dit is een dunne lijn en de kans gaat vaak snel voorbij.
Vergeet niet dat de markt met genoegen overdrijft en zwakke handen graag uitschudt. Onder de $7.300 zal de paniek toeslaan en is een spike naar $6.700 binnen een paar uur gepiept. In de paarse zone zouden kopers absoluut de markt moeten overnemen en een bodem gaan maken die we nooit meer terugzien.
Altcoins
Altcoins zijn voor veel mensen op dit moment een zware last. Echter doen ze het op dit moment bijzonder goed ten opzichte van bitcoin. Houd in gedachte dat altcoins de bearmarkt tot op heden nog niet eens uit zijn gekomen. Mocht deze trend doorzetten dan zouden er weleens flinke stijgingen aan kunnen komen over de komende maanden.
Neem 0x (ZRX) bijvoorbeeld, een altcoin die niet zomaar is gekozen als één van de eerste trading signals voor onze Crypto Insiders members. ZRX is zojuist aan een kleine correctie begonnen na een flinke stijging, waarmee je als trader winst had kunnen boeken.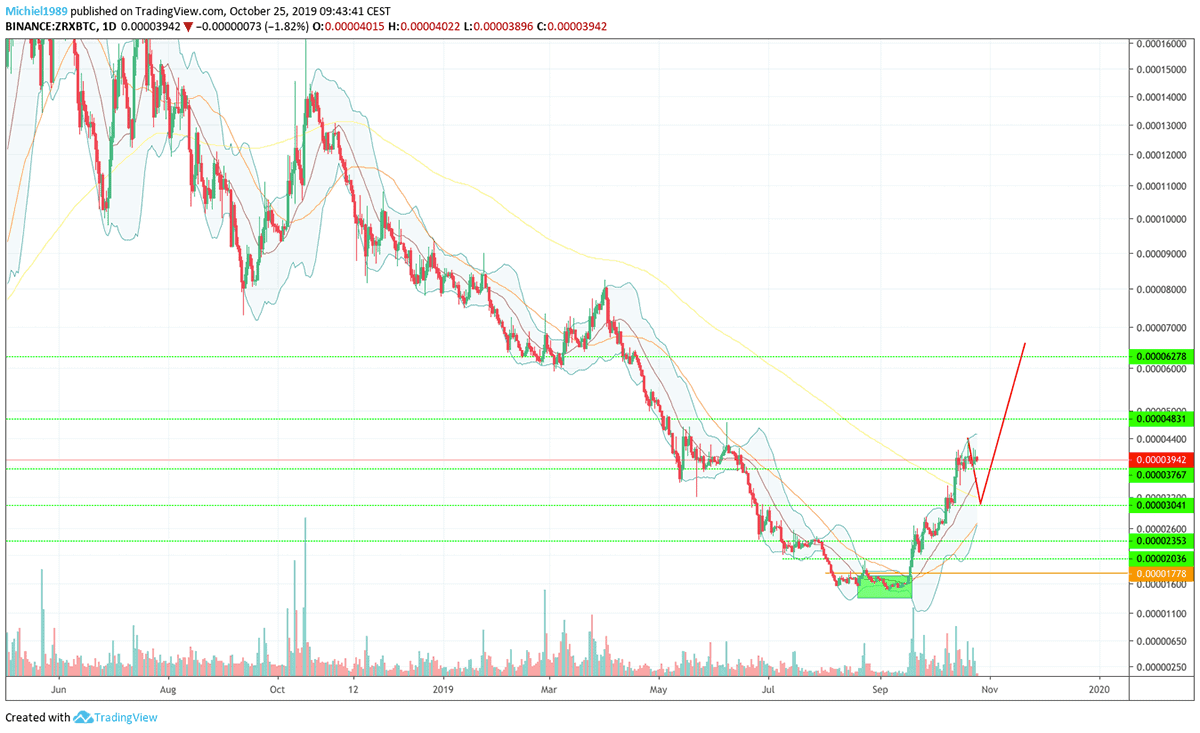 Afbeelding 2: 0x (ZRX), waar in onze members-omgeving een vruchtbaar trading signal voor werd gegeven
Zoals hierboven te zien is groeit het volume gestaag en zou een retest van de 200 MA op de dagelijkse chart (rond de 3150 satoshi) zomaar eens het begin kunnen inluiden van het vervolg van de rally.
Een aantal andere altcoins volgt een soortgelijk patroon. Zodra de uptrend bevestigd is lijkt een entry, voorzien van goede stop-loss, een goede optie. Wil jij nou ook gebruik maken van dit soort koersanalyses, trading signals en vele andere extra voordelen van de members-omgeving? Meld je dan hier aan voor een gratis maand lidmaatschap!
Nog een voorproefje op wat je van onze members-omgeving kan verwachten? Naast Michiel schrijft en vertelt technisch analist David ook over de cryptocurrency-markt en alles wat daarbij komt kijken. Klik hieronder op de video voor zijn laatste uitgebreide update over de bitcoin-markt


De markt is wat saai, maar ga niet uit verveling traden! Hou je aan je plan en heb geduld. Benieuwd naar het plan van Crypto Insider David? Klik dan hier om in zijn meest recente
wekelijkse column
 te lezen over zijn plan.
Wil je op de hoogte blijven van het laatste nieuws? Abonneer je dan op onze push-berichten, Facebook– of Twitter. Meediscussiëren? Meld je dan aan voor ons Telegram kanaal.