Na vier succesvolle voorgaande edities vond op donderdag 7 juni de vijfde editie plaats van de Blockchain Innovation Conference. Dit keer vond de conferentie plaats op het hoofdkantoor van de Rabobank in Utrecht. Op het event waren meer dan 400 nationale en internationale pioniers aanwezig, van startups tot aan gevestigde namen en overheden, die zich mengden in de discussie omtrent de veranderingen die blockchain-technologie teweeg kan brengen. Dit jaar was het credo 'Blockchain, from proof of concept to real world solutions'. Crypto Insiders werd uitgenodigd om langs te komen. Hieronder een kort verslag van de dag.
Sprekers op het podium
De eerste spreker die we in de grote zaal mochten aanschouwen was Dennis de Vries, Lead of Digital Ledger Services bij KPMG. In zijn presentatie 'How to manage your blockchain risks' vertelde de Vries over de huidige problemen omtrent blockchain en de implementatie er van. Zo sprak hij over hacks, de algemene verordening gegevensbescherming (AVG of GDPR) en schaalbaarheid. Een risicoanalyse die door KPMG was gedaan legde tien risico's bloot die vervolgens werden gekoppeld aan een 'maturity level'. De combinatie van risico's en maturity level gaf vervolgens handvatten om aanbevelingen te doen ten behoeve van verbeteringen op het gebied van data-integriteit en vertrouwelijkheid.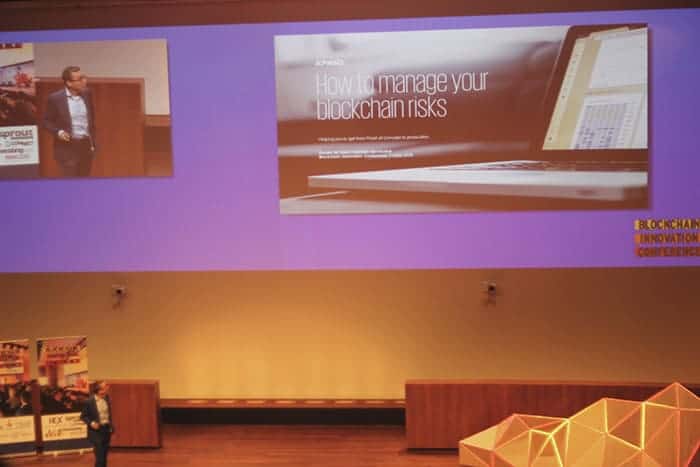 Dennis de Vries, Lead of Digital Ledger Services bij KPMG, belichtte de risico's van blockchain.
De volgende gast op het podium was Jon Kuiper, CEO van Koopman Logistics Group BV. Koopman logistics specialiseert zich in het transporteren en opslaan van auto's; auto's die vanaf de fabriek op transport worden vervoerd naar hun tijdelijke dan wel permanente eindbestemming. De huidige supply chain is tijdrovend en gaat gemoeid met een berg aan papierwerk. Blockchain kan hier uitkomst bieden door auto's te traceren in het proces. Zo kan belastingfraude (invoerbelasting en BTW) en fraude met kilometerstanden tegen worden gegaan.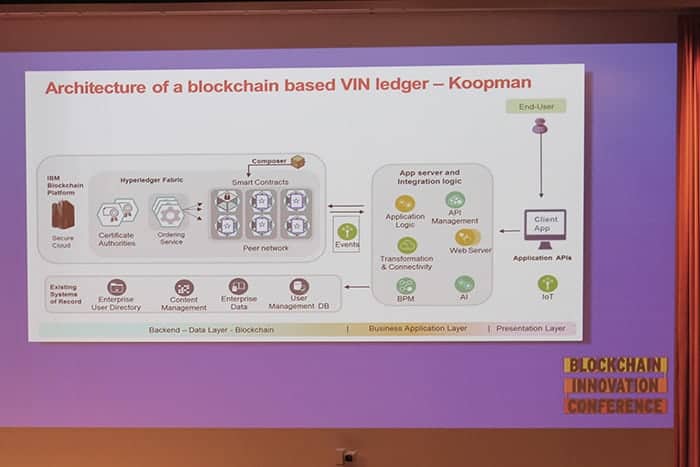 Kuiper illustreerde de traceerbaarheid van Voertuig Identicatie Nummers (VIN's) in de supply chain met behulp van blockchain. 
Een soortgelijk concept wordt, op kleine test-schaal, toegepast door het bedrijf Everledger. Everledger focust zich op de supply chain van diamanten en past blockchain toe om diamanten te traceren van de bron tot aan de markt. Zo wordt er weerstand geboden tegen documentfraude, verwisselde diamanten en operationele efficiëntie. Voor dit proces gebruikt Everledger Radio-frequency identification (RFID).
Een presentatie van een andere orde was die van Bruno Skvorc omtrent ICO's. Skvorc, technisch schrijver voor Bitfalls en eigenaar van Coinvendor.io, presenteerde veel cijfers om aan te geven dat de markt van ICO's zeker eind vorig jaar omhoog schoot. Er werd een kritische noot geplaatst door hem; niet alle projecten hebben een blockchain nodig. Het lijkt er volgens Skvorc op dat er veel projecten zijn die een ICO organiseren puur en alleen voor het verwerven van fondsen. Het gebruik van de blockchain is in zo een geval meer bijzaak. Skvorc ziet hier niet zo zeer een probleem, in het organiseren van een ICO terwijl er geen noodzaak is voor een blockchain, maar drukt projecten wel op het hart om open en transparant te zijn hierover.
ICO pitches
Na een pittige ochtend vol interessante sprekers mochten we een sessie bijwonen met ICO pitches van Nederlandse projecten.
Het spits werd afgebeten door Attrace. CEO Erwin Werring legde in rap tempo doch glashelder uit wat Attrace aan het ontwikkelen is. Het bedrijf is bezig met een blockchain platform voor affiliate marketing. Hiermee wordt Attrace het eerste volledig gedecentraliseerde affiliate marketing platform. Het platform zal advertenties kunnen registreren en auditten. Hierbij zal er volledige transparantie zijn en een vermindering van kosten tot wel 95%. Door gebruik te maken van smart contracts kan fraude tegen worden gegaan en is er volledige traceerbaarheid van alle transacties.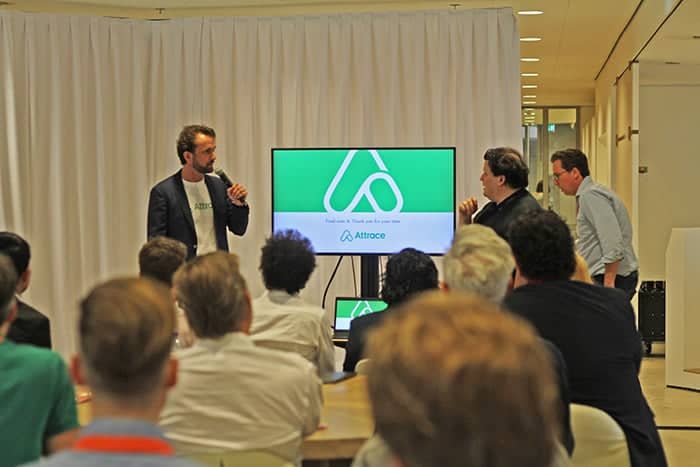 Erwin Werring beantwoorde na zijn vlotte, duidelijke presentatie een aantal vragen vanuit het publiek.
Careerchain hield ook een pitch. Dit project probeert een aantal struikelblokken in het zoeken naar een baan te elimineren. Zo beoogt Careerchain bijvoorbeeld uitkomst te bieden in het omslachtige online sollicitatieproces waarbij je vaak een invulformulier moet invullen en niet de mogelijkheid hebt om je CV te uploaden. Ook werd kritiek geuit op het feit dat het niet mogelijk is vanuit een 'mobile device' makkelijk online te solliciteren. Careerchain ontwikkelt hiervoor de mogelijkheid om een Careerchain profiel te hebben waarmee je met een klik op de knop bij elke website kan solliciteren. CV's worden veilig bewaard op een private Ethereum blockchain. Het hele blockchain netwerk kan verifiëren dat een sollicitant heeft gesolliciteerd en niemand kan de sollicitatie in twijfel trekken. Het geheel zou voor een betere conversie moeten zorgen. Careerchain leverde een gedegen pitch en presenteerde een erg interessante ontwikkeling.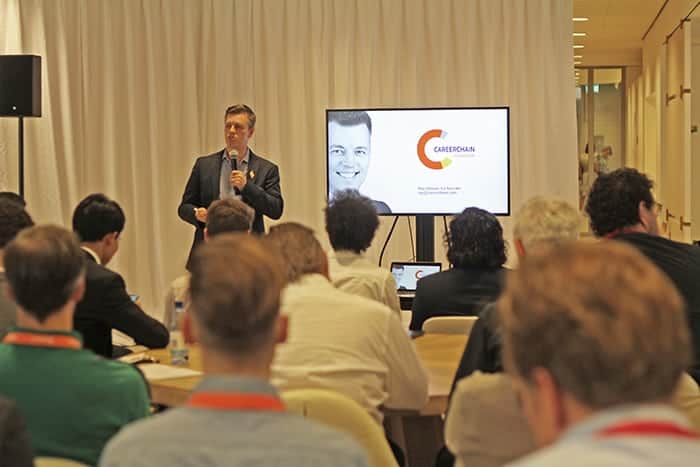 Het project Fissacoin presenteerde een concept waarmee het kopen van muntjes op festivals en evenementen verleden tijd zou kunnen zijn. De rompslomp die gepaard gaat met festivalmuntjes, zoals dat je vaak met niet uitgegeven muntjes het feest verlaat, zou hiermee kunnen worden voorkomen. De Fissacoin kan via een digitaal uit te lezen polsbandje ontvangen en uitgegeven worden. Daarnaast kan de Fissacoin ook worden uitgewisseld met andere individuen. De presentatie was visueel gezien gelikt, maar het praatje zelf liet enigszins te wensen over. Ook na vragen vanuit het publiek werd de noodzaak van blockchain en aspecten omtrent een fluctuerende koers en volatiele cryptocurrency markt niet duidelijk. Er kwam bijvoorbeeld geen bevredigend antwoord op de vraag of je tijdens een driedaags festival op dag 1 niet flink minder zou betalen voor je bier dan op dag 3, wegens koersveranderingen.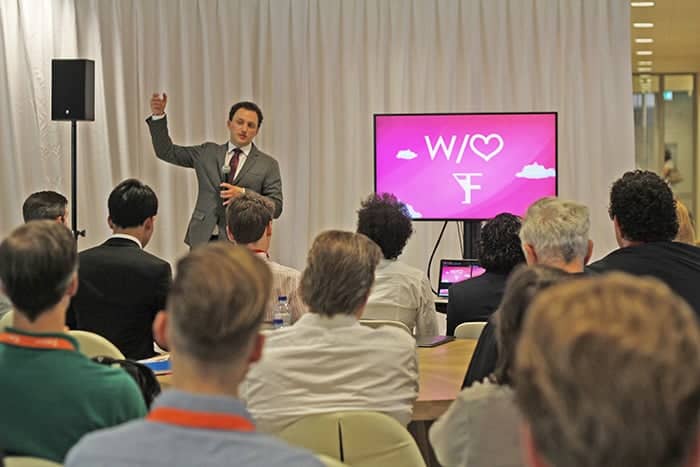 Fissacoin had een gelikte, geanimeerde presentatie, maar schoot tekort in het bevredigend beantwoorden van vragen vanuit het publiek. 
Een erg interessant project, en tevens winnaar van de prijs voor beste ICO pitch, was Tykn. Deze startup is bezig met de ontwikkeling van een blockchain waarop elektronische identiteiten met persoonsgegevens kunnen worden bijgehouden. Overheden en NGO's zouden hier dan gebruik van kunnen maken. De 33-jarige Syrische elRjula hield een inspirerende pitch en vertelde dat hij in 2010 naar Nederland kwam waar hij in 2013 zijn baan verloor en vanwege de oorlog in zijn vaderland Syrië asiel moest aanvragen in Nederland. elRjula, die geboren werd in Koeweit en zijn geboortebewijs verloor tijdens de Golfoorlog in 1990, kwam in een azc op het idee om persoonsgegevens op een blockchain te bewaren. Hij wilde hiermee andere vluchtelingen helpen die niet konden bewijzen dat ze een diploma hebben of niet kunnen aangeven waar en wanneer ze geboren zijn. Al met al was het praatje van Tykn erg inspirerend en won het terecht de prijs voor beste ICO pitch.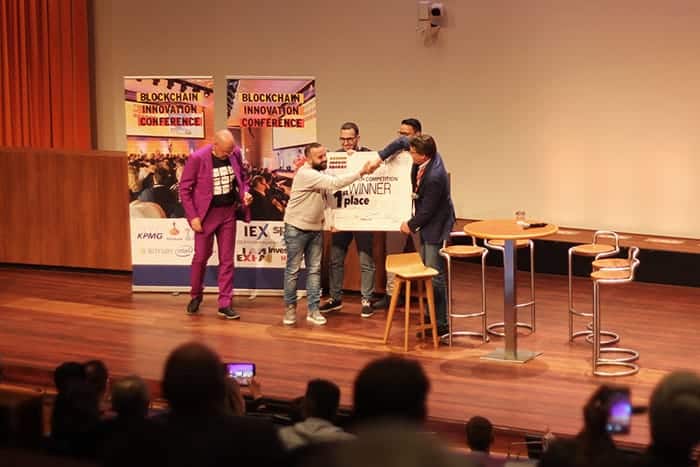 Prins Constantijn reikte de eerste prijs uit aan Tykn voor beste ICO pitch.
Koninklijk bezoek
Weer aangekomen in de hoofdzaal aangekomen gaf prins Constantijn een praatje op het podium over zijn visie op wereld van startups in de blockchain wereld. In deze slotceremonie wees hij erop dat het belangrijk is om vanaf het begin goed bewust te zijn van de risico's van blockchain en de implementatie evan; met name de risico's omtrent beveiliging en de misbruik van data. De prins sprak als afgezant van belangenorganisatie Startup Delta. Prins Constantijn haalde de periode van de Internet of Things (IoT) aan om risico's te illustreren. Volgens de prins hebben we in die tijd te weinig aandacht gehad voor de beveiliging. Hij ziet een soortgelijke situatie als die van de opkomst van het internet in de jaren negentig, waarbij ook de mogelijkheden van de ontwikkelingen nog niet glashelder waren. Echter, heerste er al wel het idee dat het internet een grote impact zou gaan hebben. Het zou nu zaak zijn om verantwoordelijkheid te nemen in het creëren van de samenleving van de toekomst, aldus de prins.
Al met al was de conferentie leerzaam en interessant, met name als het aankomt op projecten van Nederlandse bodem. Had het de flair van een beurs als Money20/20? Zeker niet, maar dat mag je misschien ook niet verwachten van een kleinschaliger event. Ook de organisatie had iets beter gekund. Toch was het wederom een mooi initiatief om ontwikkelingen en risico's van blockchain in het licht van het bedrijfsleven en de overheid een podium te geven. We hopen er met Crypto Insiders volgend jaar weer bij te zijn.