De Bitcoin Bubbel, met dubbel hoofdletter B ja, want zo aan de orde lijkt de Bitcoin bubbel te zijn. Een Google zoekopdracht naar 'Bitcoin bubbel' levert op moment van schrijven in 0,23 seconden ruim 2,6 miljoen resultaten op. En niet zomaar resultaten; de eerste twee pagina's zoekresultaten zijn vergeven van links naar (financiële) dagbladen, nieuws omroepen en populaire tech blogs. Zo nu en dan vlamt de discussie op en zijn zelfs je Facebook wall, je LinkedIn feed en Editie NL niet veilig.
De bubbel wordt in de populaire nieuwsberichten vaak in een enkele adem genoemd met 'barst' of het nog smeuïgere 'crash'. Zoals de Bitcoin een steeds breder draagvlak vindt lijkt de mainstream ook de, wellicht terechte, paniekzaaierij te omarmen. Is dit goed, is dit slecht? Is er sprake van een bubbel en moeten hier je nekharen van overeind gaan staan? Joost mag het weten. Mij bekruipt in ieder geval het gevoel dat de sidekick bij RTL Late Night niet bijster veel kaas heeft gegeten van Bitcoin, laat staan van blockchain of technologische bubbels.
Wel of niet een bubbel?
Wat één bevinding betreft lijken alle bronnen tot consensus te komen; er is sprake van een bubbel. Als we Google afstruinen naar de definitie van een bubbel vinden we "naar de oppervlakte stijgende luchtbel of gasbel in een vloeistof" en "situatie waarin de prijzen op een markt tot ver boven de werkelijke (nog te verantwoorden) waarde zijn gestegen, bijvoorbeeld door een enorme vraag in verhouding tot een te klein aanbod" die wordt aangevuld met "in dergelijke marktomstandigheden zijn doorgaans ook veel speculanten actief". Het behoeft weinig tot geen uitleg dat de eerste definitie in de cryptowereld als een tang op een varken slaat, maar de tweede definitie woord voor woord weerklank vindt.
De definitie omvat het aspect speculatie, toepassing en de relatie tussen die twee. Als het aankomt op de waarde van een cryptocurrency wordt er in principe hevig gespeculeerd over de toepassing van het achterliggende (blockchain)project. Juist in de cryptowereld is het verschil tussen de speculatie en daadwerkelijke toepassing enorm groot. Het gaat hier om technologieën die in de kinderschoenen staan en mogelijk nog veel struikelblokken moeten overwinnen. Zet dit gegeven tegenover torenhoge verwachtingen met bijbehorende speculaties en je ziet een enorme discrepantie die ten grondslag ligt aan de cryptobubbel.
Cryptobubbel VS internetbubbel
Vaak wordt de vergelijking gemaakt met de internetbubbel van het jaar 2000; die is niet vergezocht. Ook het internet was in een vroeg stadium al een innovatie waarvan men het idee had dat deze alle bestaande industrieën baanbrekend zou veranderen. Ook het internet had enorme potentie zonder een daadwerkelijke toepassing. Kortom, alle ingrediënten voor een discrepantie tussen speculatie en toepassing die leiden tot een enorme bubbel. Het is het perfecte milieu om te speculeren tot je een ons weegt, omdat niemand het tegendeel nog kan bewijzen. Uiteindelijk werd de ontwikkeling en productie gestart die gepaard gingen met flinke uitdagingen. Door de hooggespannen verwachtingen schoot de toepassing van het internet, net na de lancering, onherroepelijk tekort. De markt corrigeerde en fors ook. De internetbubbel barstte. In de ingestorte markt dook de speculatie ver onder de toepassing en er ontstond een flinke onderwaardering. Na een aantal maanden rezen uiteindelijk uit het slagveld, bezaaid met omgevallen bedrijven en projecten, de sterkste bedrijven die de markt zouden gaan leiden. De markt trok langzaam weer aan.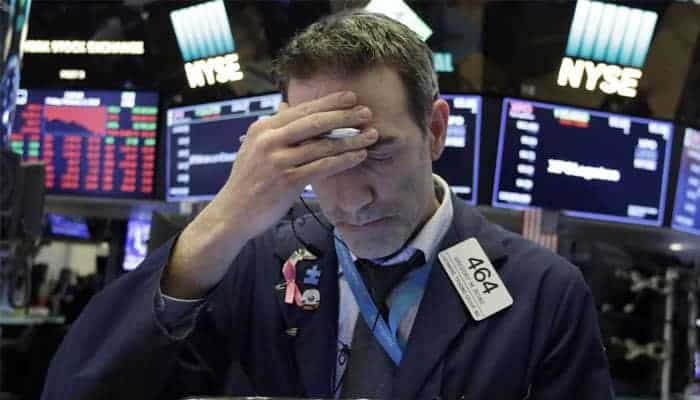 In de inleiding werd al aangehaald hoe met het woord bubbel angst wordt aangejaagd bij crypto-investeerders. Of het nu expliciet wordt afgeraden of niet, de ondertoon of de lading van het woord bubbel alleen al, zorgt ten minste voor een sceptische herevaluatie betreffende blockchain. Ondanks hier het bestaan van een cryptobubbel niet wordt ontkent, kunnen we niet concluderen dat dit reden is om niet te investeren. Praktisch elke markt dealt met een cyclus van bubbels en barsten. Ook de aandelenbeurs kampt hier mee. Dat gezegd hebbende is de cryptomarkt een stuk vluchtiger.
De vraag omtrent de cryptobubbel zou dus niet moeten zijn 'zitten we in een bubbel?' maar 'hoe groot wordt de bubbel?'. Als we kijken naar adoptie van nieuwe technologieën, gedraagt deze zich altijd volgens de volgende curve.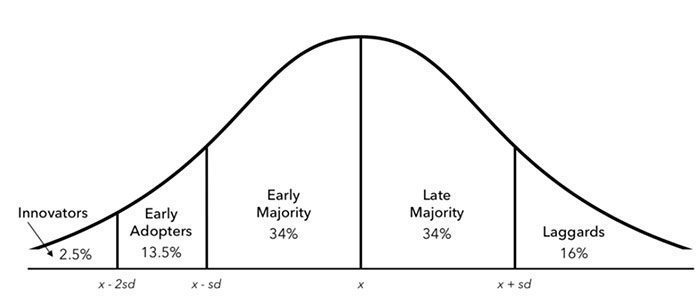 Bovenstaand figuur staat bekend als de innovatietheorie van Everett Rogers. Het geeft de fases van innovatieverspreiding aan die aangedreven worden door speculatie. Als uiteindelijk de massa (Late Majority, 34%) de technologie overneemt, rijst de vraag naar daadwerkelijke implementatie en toepassing. Zoals eerder al aangekaart; als de toepassing niet tegemoet kan komen aan de speculatie vertonen zich de eerste scheurtjes in de bubbel. Als we sec afgaan op bovenstaande curve kunnen we stellen dat de cryptowereld zich nog lang niet onder de 'Late Majority' begeeft.
Even terug naar de vergelijking met historische bubbels, en wel de internetbubbel. Op het toppunt van de internetbubbel tikte de NASDAQ de 5 biljoen (een 5 met wel 12 nullen of 1000 keer 5 miljard) dollar aan. De huidige totale cryptomarkt heeft op het moment een waarde van iets meer dan 350 miljard dollar. Wat dat betreft is er dus nog veel ruimte voor groei. Er zijn natuurlijk veel meer relevante aspecten die de internetbubbel en de cryptobubbel wel of juist niet vergelijkbaar maken. Zo is de cryptomarkt vluchtiger, is er weinig regulatie en zijn er veel 'scams'. Daarnaast kan je buurman met FOMO, die eigenlijk geen flauw idee heeft van wat hij aan het doen is, zijn spaargeld vanuit de camping in een project donderen om na twee weken alles met verlies te 'panic sellen'. Kortom, de cryptobubbel heeft in vergelijking met de internetbubbel een nogal hoog wilde westen gehalte, wat de vergelijking niet ten goede komt. Ook geeft het aan dat het voorspellen van een plafond van een bubbel koffiedik kijken is.
Writings on the wall
Wat moeten we nu? Waar kunnen we ons dan wél op beroepen in deze meedogenloze investeringswereld? We kunnen kijken naar een aantal waarschuwingssignalen die meer inzicht kunnen bieden:
Focus van de media die verschuift naar bredere termen dan alleen Bitcoin. Denk hierbij aan altcoins, blockchain, gedecentraliseerde technologieën en de achterliggende projecten.
Het gebruik van institutioneel geld; geld afkomstig vanuit banken (beleggingsfondsen, pensioenen etc.). Dit zal de totale marketcap omhoog stuwen.
Blockchain producten of diensten die daadwerkelijk hun werk doen en daarbij een groot netwerk van gebruikers dienen. Zodra deze periode aanbreekt (denk weer even aan de 'Late Majority' fase) wordt het cruciaal voor projecten om toepassing te vinden. Projecten waarbij de speculaties groter zullen zijn dan de toepassing vallen om en creëren mogelijk een sneeuwbaleffect.
De opkomst van private, gecentraliseerde blockchains van bestaande bedrijven. Als de voorkeur vanuit het bedrijfsleven is om geen gebruik te maken van gedecentraliseerde blockchains, wankelt de toepassingsmogelijkheid.
Een marketcap van meer dan 5 biljoen is onbekend terrein. Hierbij is het wel belangrijk te melden dat de snelheid van groei en niet de totale marketcap een bubbel creëert.

Zoals al eerder aangehaald bevindt de cryptobubbel zich nog lang niet in de 'Late Majority' fase en is de media nog niet bezig met de grotere aspecten van Bitcoin of altcoins. We staan aan het begin van een fase van regulatie en andere overheidsbemoeienis. Er zullen nog jaren voorbij gaan van pieken en dalen in een volatiele markt. Toch is de verwachting dat de algemene trend omhoog, dus richting de maan zal gaan. Het is zeker mogelijk dat de cryptobubbel tegen alle logica van historische bubbels en innovatiemodellen in gaat. Het is mogelijk dat de cryptobubbel nooit barst zoals de internetbubbel dit gedaan heeft. Het zou zelfs kunnen dat de blockchaintechnologie verandert hoe bedrijven werken en we met elkaar communiceren. Toch heerst een sceptische sfeer en ligt het niet in de lijn der verwachtingen van de experts die zich over technologische innovaties buigen. Er wordt gespeculeerd over tal van toepassingen waarvan er een aantal uiteindelijk het licht zal zien, al wordt het via een hobbelige weg.
Wat denk jij?
Wat denk je zelf? Zitten we hoe dan ook in een bubbel en moeten we vrezen voor het ergste of breekt de blockchain met de geschiedenis en is een enkeletje maanlanding op de lange termijn de enige mogelijkheid?