2021 zit er bijna op en er is weer veel gebeurd dit jaar. In Timo's take van deze week een kort overzicht van de grootste positieve ontwikkelingen voor Bitcoin (BTC)!
Bitcoin mining verbod China
Te beginnen met een ontwikkeling die er in eerste instantie niet zo positief uitziet. China besloot dit jaar crypto mining en activiteiten in het algemeen te verbieden. Dit zorgde destijds voor paniek op de markt met als gevolg dat de koersen flink onderuit gingen. Volgens sommigen zelfs het begin van het einde van Bitcoin!
Waarom is dit dan een positieve ontwikkeling voor Bitcoin? Het overgrote deel van de rekenkracht van het netwerk werd lange tijd door Chinese miners gegenereerd. Hierdoor bestond de vrees dat Bitcoin gecentraliseerd zou worden en dat China zodoende macht kon uitoefenen op het netwerk. Die vrees is nu volledig verdampt nu de rekenkracht veel gedecentraliseerder wordt gegenereerd door miners wereldwijd. En het netwerk zelf is inmiddels alweer op volle sterkte!
El Salvador omarmt BTC
Misschien wel de belangrijkste ontwikkeling van 2021 was El Salvador dat bitcoin als wettig betaalmiddel omarmde. El Salvadoranen kunnen de cryptocurrency naast de Amerikaanse dollar gebruiken om hun boodschappen, kopje koffie en wat je maar kunt bedenken te betalen. Alhoewel het misschien niet meteen voor een enorme massa-adoptie zorgde is het alsnog een significante stap.
Het zet Bitcoin namelijk op hetzelfde voetstuk als de dollar. Met kleine stapjes lijkt Bitcoin het wereldtoneel te betreden als de daadwerkelijke valuta van het internet waarover geen enkele centrale bank controle heeft. Mocht Bitcoin het goed blijven doen in El Salvador dan zou het land als mooi voorbeeld kunnen dienen voor andere landen die bitcoin wel zien zitten.
200 miljoen nieuwe bitcoin wallets
Wat in het begin ook met kleine stapjes ging was de groei van het aantal bitcoin wallets. Inmiddels gaat die groei niet meer met kleine stapjes; dit jaar kwamen er 200 miljoen nieuwe wallets bij op het netwerk. Dit betekent overigens niet dat er ook echt 200 miljoen nieuwe gebruikers zijn bijgekomen op het netwerk. Een persoon of bedrijf kan natuurlijk meerdere wallets aanmaken om zijn of haar bitcoins over te verspreiden uit veiligheidsoverwegingen.
Dit jaar kwamen er 200 miljoen wallets bij (data gaat tot eind november). Er zijn hiermee nu in totaal minimaal 905 miljoen wallets. Ook in 2021 zet de groei, die al jaren bezig is, dus door.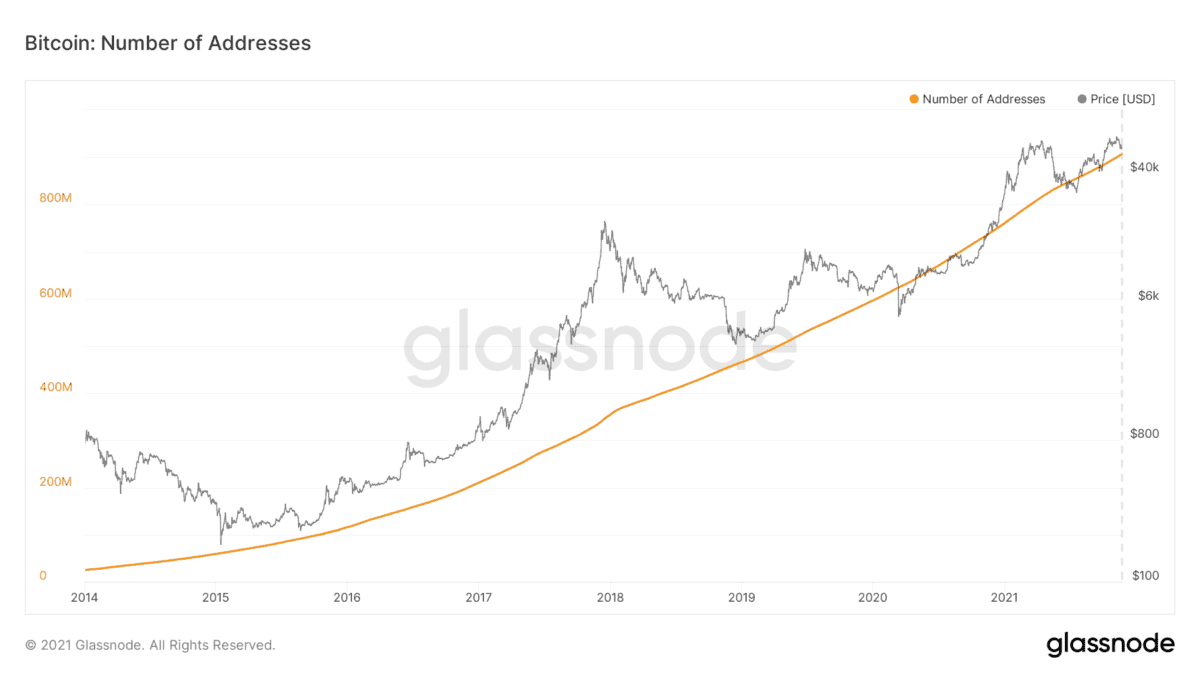 Bitcoin ETF
En dan was er natuurlijk nog de goedkeuring van het eerste Amerikaanse exchange-traded fund (ETF). Een ETF is een op de beurs verhandeld fonds waarvan de aandelen blootstelling geven aan bitcoin. Dit is vooral interessant voor grote institutionele investeerders die geen administratief gedoe willen en geen risico willen lopen met het zelf bezitten van bitcoins.
Inmiddels zijn er nog meer Amerikaanse ETF's goedgekeurd (naast de ETF's die natuurlijk in andere landen al bestonden). Toch blijft het wachten op een "spot ETF." Dat type fonds zou namelijk ook echt bitcoins kopen en vasthouden, in tegenstelling tot deze ETF's die gebaseerd zijn op bitcoin futures-contracten. Zal een bitcoin spot ETF in 2022 goedgekeurd gaan worden?
Er is nog genoeg om naar uit te kijken voor wat betreft Bitcoin en natuurlijk de bredere crypto-markt. Crypto Insiders houdt je ook in 2022 op de hoogte van het laatste crypto nieuws. Fijne Kerstdagen en alvast een gelukkig nieuwjaar!
© Coverimage door Shutterstock