De bitcoin (BTC) prijs verwachtingen vliegen je om de oren op een gemiddelde dag in cryptoland. Veel mensen zullen echter naar de huidige prijs kijken en denken: "dat kan toch niet veel hoger meer?" Laat ik voorop stellen dat niemand dit natuurlijk met zekerheid weet. Bitcoins adoptiegraad en prijs lijkt echter verdomd veel op de adoptiecurven van het internet! Is een bitcoin prijs van $1 miljoen op basis van deze gegevens mogelijk?
Bitcoin (BTC) en het internet
De fundamenten van het internet zoals we het vandaag de dag kennen werden al in de jaren 80 gelanceerd. De adoptie zou echter pas in de jaren 90 aanwakkeren. Dankzij de technologie konden mensen wereldwijd met elkaar communiceren en kregen zij on-demand toegang tot informatie. Inmiddels kunnen we aan het rijtje gas, water en licht ook het internet toevoegen, zo belangrijk is de technologie in ons leven.
Bovenop het internet werd in 2009 een revolutionair stukje software gelanceerd, Bitcoin genaamd. Door het gedecentraliseerde netwerk kan iedereen met een internetverbinding waarde in de vorm van BTC bezitten, versturen en ontvangen. Het feit dat vertrouwen geen rol speelt in dit netwerk betekent dat iedereen erop kan vertrouwen dat zijn of haar bitcoins veilig zijn, en dat de informatie in de Bitcoin blockchain klopt.
Bitcoin heeft zo de potentie om de economie efficiënter, transparanter en eerlijker te maken. Wanneer je een briefje van €5 aan iemand geeft, dan weten beide partijen zeker dat dit briefje van €5 nu in het bezit is van de ontvanger. Bitcoin maakt ditzelfde mogelijk, maar dan via het internet naar de andere kant van de wereld zonder dat daarbij een tussenpersoon of bank nodig is. Bovendien kan iedereen meedoen aan deze digitale economie.
Bitcoin groeit sneller dan het internet
De reden dat veel mensen de vergelijking maken met de adoptie van het internet, heeft onder andere te maken met het feit dat de prijs van bitcoin de adoptiecurve van het internet lijkt te volgen. Hoe meer mensen bitcoin kopen en gebruiken, des te waardevoller het netwerk wordt. Dit noemt men ook wel het netwerkeffect.
Leggen we bitcoins prijs op die van de adoptiecurve van het internet en extrapoleren we deze voor de komende jaren, dan laat de grafiek zien dat een bitcoin prijs van $1 miljoen mogelijk is. Alhoewel deze grafiek al wat ouder is, is hij nog steeds relevant overwegende dat de bitcoin prijs flink is gestegen het afgelopen jaar.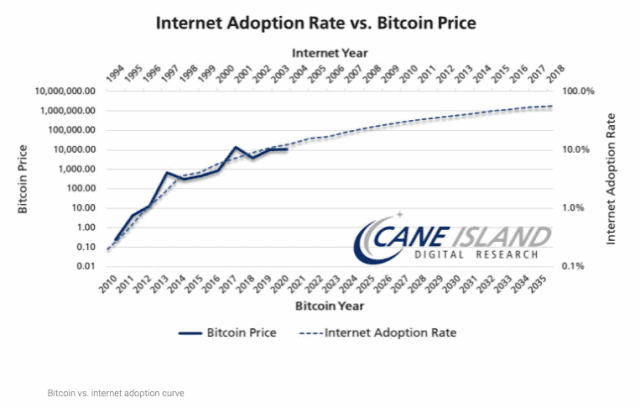 Volgens sommigen gaat de adoptie van Bitcoin echter nog sneller dan die van het internet. Met de groeisnelheid die bitcoin de afgelopen jaren heeft laten zien, zouden er in 2025, 1 miljard bitcoin gebruikers kunnen zijn wereldwijd. Zo liet "The Moon" in augustus in een tweet zien:
#Bitcoin is adopting faster than the internet! 🤯 pic.twitter.com/94k2wrPJq6

— The Moon (@TheMoonCarl) August 18, 2021
In datzelfde jaar zou volgens het stock-2-flow model van de Nederlandse analist PlanB een prijs van $800.000 bereikt kunnen worden (nét geen $1 miljoen dus). Daarnaast kwam Arcane Research deze week met een onderzoek waarin zij zeggen te verwachten dat het aantal Lightning Network-gebruikers naar 700 miljoen kan stijgen in 2030.
Uiteraard is er geen garantie dat bitcoin deze curve of het S2F-model blijft volgen. Verschillende zaken kunnen roet in het eten gooien, zoals de strenge regulering van crypto wereldwijd. Desalniettemin, met een mogelijke bitcoin ETF voor de deur en de positieve berichten uit El Salvador blijf ik positief over de toekomst van Bitcoin!