Crypto Insiders geeft een uniek aanbod met een nieuwe serie artikelen genaamd 'Voor 't zelfde geld'. Hierin interviewen wij onze crypto coaches, analisten en andere crypto fanaten over hun standpunt in de markt. Deze keer is het de beurt aan Albert, alias AppY, een technisch analist bij Crypto Insiders.
"Ik ben op dit moment short op bitcoin", vertelt hij met onderbouwing van zijn technische analyse. "Het is complexe materie, maar ik verwacht binnen nu en een paar weken een 'Elliot-C-wave' naar beneden. Dit betekent dat bitcoins prijs naar minimaal $43.000 kan bewegen."
Bitcoin targets
Het target van deze c-wave is moeilijk te voorspellen, maar wat zeker is, is dat deze analyse er niet goed uitziet op korte termijn." Met korte termijn bedoelt Albert ongeveer drie maanden, waarin zijn eerste target $43.000 is.
Ik sluit ook niet uit dat dit het begin kan zijn van een grotere daling. Tot nog toe is mijn verwachting vanuit mijn target ($43.000) een kleine opleving naar ongeveer $47.000 en dan krijgen we wave 5 van de Elliot-waves, waarvan het target ongeveer rond de $40.000 ligt.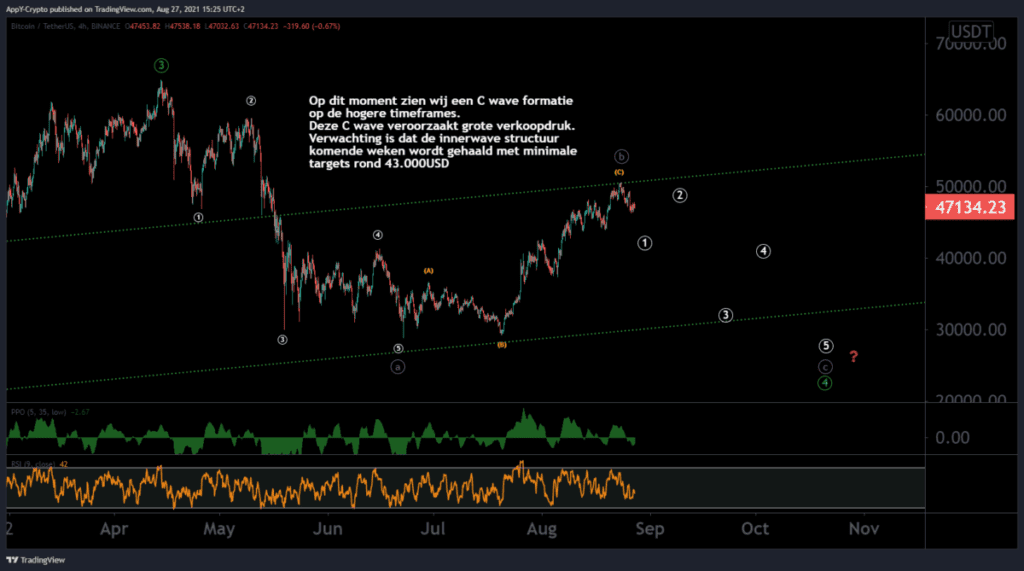 Die waves zijn overigens niet het enige waar Albert op trade.
Je ziet dat het sentiment richting de cryptomarkt niet heel positief is op dit moment. Daarnaast zie ik via Fibonacci in combinatie met andere indicatoren een duidelijke aanduiding voor een marktcorrectie naar beneden.
"Ik heb analyses gedeeld in de Discord groep van Crypto Insiders. Daar kunnen mensen de volledige uitleg vinden."
Komende maanden
De mensen die Albert (AppY) kennen uit de Discord-omgeving weten dat hij erg transparant is over zijn portefeuille en zijn trades. Hij trade twee tot tien keer per dag en deelt deze ook in de Discord-groep. Hij had een missie om zijn startkapitaal van $1.000 te vertienvoudigen en hij staat nu op $5.000. Samen met zijn target van $10.000 is ook een boek van de day-trader aanstaande.
Ik schrijf een boek genaamd 'The Complete Guide To Succesfully Trade Cryptocurrencies' en houd de community op de hoogte wanneer deze beschikbaar wordt,
zo zegt Albert.
Hij onderscheidt zich naast zijn transparantie ook van andere analisten doordat hij woord bij daad voegt. "Ik doe ik wat ik zeg, en dat vind ik erg belangrijk als je mensen helpt met het traden in crypto." Zo deelde (én maakte) hij laatst zijn overstap van Binance naar Bybit vanwege regulaties die Binance opgelegd kreeg vanuit De Nederlandsche Bank (DNB).
Leren traden
Albert deelt graag zijn tips en tricks in Discord en op Twitch, zodat anderen ook een mooi zakcentje kunnen verdienen aan de cryptomarkt. De van oudsher aandelenhandelaar ziet veel kansen, maar om die te benutten, moeten mensen eerst bepaalde skills bezitten.
Je moet gedisciplineerd blijven, meerdere schermpjes aan hebben staan en vooral niet bang zijn. De emotie mag geen reden zijn om in of uit een trade te stappen.
Wil jij ook leren day-traden en meegenieten van de tips en technische analyses van Albert? Neem eens een kijkje in de Discord-omgeving van Crypto Insiders. Hij behandelt daar naast bitcoin ook andere cryptovaluta.