BLOX is een Nederlandse crypto exchange met een voorliefde voor bitcoin (BTC). Bij BLOX zien ze graag dat andere mensen die liefde gaan delen. Hoe ze dat doen? Door crypto en bitcoin zo simpel mogelijk te houden. Dat is de missie. BLOX weet bitcoin zo begrijpelijk en toegankelijk mogelijk te maken voor het grote publiek en dat is waar ze zich iedere dag voor inzetten.
Download nu de BLOX app en krijg je eerste €10 aan crypto van Crypto Insiders! 
Meer lezen over BLOX? Bekijk dan ook zeker de BLOX review pagina.

BLOX is de crypto-app van het in Nijmegen gevestigde BTC Direct. Toen BTC Direct in 2013 werd opgericht was het kopen van bitcoin of andere cryptocurrencies een hele opgave. Het ging moeizaam, traag en met tussenpartijen. Hierdoor is BLOX uiteindelijk ontstaan. De kinderlijk eenvoudige app is snel, overzichtelijk en voor iedereen te gebruiken. Met weinig tot geen ervaring in de wereld van cryptocurrencies kun je met de mobiele app van BLOX gelijk aan de slag. De kracht van BLOX wordt met de onderstaande 4 punten mooi geïllustreerd.

BLOX aanbod
Zoals aangegeven in de introductie van deze pagina heeft BLOX als missie crypto en bitcoin zo simpel mogelijk te houden. Dat is ook terug te zien in het BLOX aanbod. Het aanbod van BLOX is namelijk niet extreem uitgebreid, maar wel alles wat je nodig hebt als je op eenvoudige wijze de wereld van crypto wilt ontdekken. Op moment van schrijven is het aanbod van BLOX 37 cryptocurrencies, waaronder, uiteraard, bitcoin en een aantal van de bekendere altcoins. Een greep uit het aanbod is:
bitcoin (BTC)

ethereum (ETH)
decentraland (MANA)
aave (AAVE)
storj (STORJ)
yearn.finance (YFI)
the graph (GRT)

binance coin (BNB)

solana (SOL)

cardano (ADA)
XRP (XRP)

polkadot (DOT)

dogecoin (DOGE)

chainlink (LINK)

litecoin (LTC)
compound (COMP)
chiliz (CHZ)
sushiswap (SUSHI)
kusama (KSM)
loopring (LRC)
orchid (OXT)
flow (FLOW)
enjin (ENJ)
Het team van BLOX breidt hun aanbod op regelmatige basis uit met populaire cryptocurrencies. Ze houden interessante projecten in de gaten en staan altijd open voor suggesties. Die kun je op de website achterlaten.
BLOX-app features
Cryptocurrencies kopen via BLOX is mogelijk met de BLOX-app, te downloaden in de Apple App Store en Google Play Store. De BLOX-app features zijn terug te vinden onder de 4 tabbladen onderaan de app:
Koersen. Onder dit tabblad kun je de cryptomarkt en alle koersen in real-time volgen. Door op een van de cryptocurrencies te klikken kunnen gebruikers ook de desbetreffende digitale munt kopen of verkopen. Het kopen van een cryptomunt kan al vanaf €1. Dus of je nu veel of weinig kunt en wilt missen, op de BLOX-app kun je terecht.
Kluis. Onder dit kopje in de BLOX-app is de totale waarde van je portfolio terug te vinden en wordt het bovendien veilig opgeslagen. Het grootste gedeelte van alle cryptocurrencies onder beheer bij BLOX zitten in cold storage. Hierdoor worden alle private keys offline gegenereerd en opgeslagen. De digitale assets kunnen enkel worden verplaatst met toestemming van meerdere personen. BLOX hanteert de hoogste beveiligingsstandaarden, zodat de gebruikers met een gerust gevoel kunnen handelen.
Verdien.

Dit is een partnerprogramma van BLOX waar gebruikers vrienden kunnen uitnodigen, terwijl beide partijen geld verdienen. Je vrienden ontvangen namelijk een starttegoed van €10,- terwijl je zelf 20% krijgt van de handelskosten die zij maken. En dat bij iedere transactie.
Instellingen.

Onder het tabblad instellingen is het mogelijk om bijvoorbeeld je wachtwoord te wijzigen en in contact te komen met het supportteam. Tevens kun je op deze pagina de handelsrisico's, privacyverklaring en een groot aantal veelgestelde vragen terugvinden.
BLOX website
Het is handig om te benoemen dat het bij BLOX alleen mogelijk is om te handelen via de app, niet via de BLOX website. Desalniettemin heeft BLOX uiteraard wel een website. Bovenaan de BLOX website zijn 3 tabbladen te vinden: 'kopen', 'koers' en 'kennis'. Onder het tabblad kopen word je doorverwezen naar een pagina waar de app (Apple en Google) te downloaden is. Bij koers is de koers van alle 37 cryptocurrencies op BLOX te vinden, net zoals gebruikers van de app gewend zijn. Het kennis tabblad staat vol met crypto en blockchain gerelateerde termen, inclusief uitgebreide uitleg. Wanneer je als (beginnend) investeerder voor het eerst in bitcoin investeert wil je toch weten waar je nou precies mee te maken hebt. De kennisbank op de BLOX website is ideaal om je crypto kennis wat op te vijzelen.
De BLOX website heeft eveneens pagina's die doorverwijzen naar bijvoorbeeld de social mediakanalen, een vacaturepagina, contactpagina, en het partnerprogramma. Dat laatste is geschikt voor bijvoorbeeld influencers, YouTubers, bloggers en publishers. Kortom, wanneer je een bepaald bereik hebt kun je dit partnerprogramma aangaan. Onderstaand zijn de voordelen te zien die partners ontvangen wanneer ze bezoekers naar de app van BLOX sturen.

Bovendien wordt de BLOX website in het Engels (BLOX international) en in het Spaans (BLOX España) aangeboden. Ook is er een Belgische website, die niet afwijkt van de Nederlandse BLOX website.
BLOX dashboard
Zoals waarschijnlijk al bekend is ondertussen draait het bij BLOX om de eenvoud; zo ook bij het BLOX dashboard. Het BLOX dashboard is gemaakt voor het snel, simpel en veilig handelen waar BLOX voor staat. Bij ieder van de 37 cryptocurrencies op de BLOX-app is een grafiek van de koers te zien van het afgelopen uur, de afgelopen 24 uur, de afgelopen 7 dagen, de afgelopen maand en het afgelopen jaar. Dat was het. Het is een simplistische interface die toch de essentiële informatie en opties biedt. BLOX heeft geen geavanceerde dashboards, zoals bij veel andere grote crypto exchanges wel te zien is. Voor het echte 'traden' kun je beter verder kijken dan BLOX.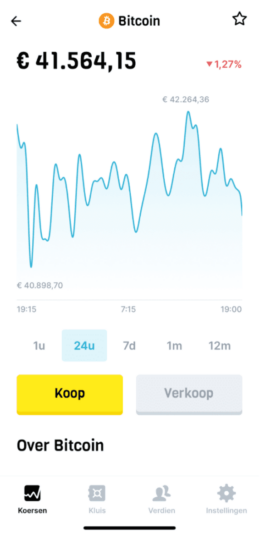 BLOX betaalmethodes
Bij BLOX accepteren ze alle onderstaande betaalmethoden, wanneer je geld op je BLOX account wilt storten:
iDEAL

Bankoverschrijving (SEPA)

Bancontact

Creditcard (Visa en Mastercard)
Wanneer je ervoor kiest om iDEAL, Bancontact of bankoverschrijving (SEPA) te gebruiken, zal dit geen extra kosten met zich meebrengen.Bij het gebruik van een creditcard is dat anders. In dat geval rekent BLOX een toeslag van 1,5%, wat alvorens de uiteindelijke betaling altijd vermeld zal worden.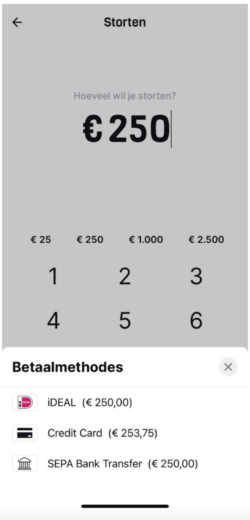 BLOX handelskosten
De BLOX handelskosten, of transactiekosten, zijn erg duidelijk en relatief laag. Het is namelijk heel simpel; bij iedere order zijn de BLOX handelskosten 1%. Dit percentage zal niet per keer veranderen, wat bij sommige exchanges nog wel eens het geval is. Bovendien worden de transactiekosten altijd weergegeven voordat je de order bevestigt. Van onverwachte en onaangename kosten is dus geen sprake.