Profiteer de hele dag ongelimiteerd van 0,25% fee per transactie
AALSMEER, 25 november 2019 – Volgende week vrijdag 29 november is het Black Friday, hét internationale koopfestijn overgewaaid uit de Verenigde Staten. Winkels stunten op die dag met Black Friday deals en speciale aanbiedingen. Ook in Nederland is Black Friday inmiddels niet meer weg te denken. Steeds meer winkels en webwinkels doen mee met Black Friday en geven leuke kortingen.
Bitcoin Meester heeft een speciale actie op Black Friday. Bitcoin Meester maakt het op Black Friday mogelijk de hele dag cryptocurrencies (200+ verschillende cryptovaluta) te kopen en verkopen tegen een fee van slechts 0,25% per transactie, ongeacht de VIP-level status van het Bitcoin Meester account.
Black Friday wordt steeds groter in Nederland, maar tot op heden zijn er weinig Black Friday acties geweest van Nederlandse crypto brokers die de transactie-fees hebben verlaagd. Gezien ons aanbod van meer dan 200 cryptovaluta is dit een mooie kans om onze gebruikers goedkoper cryptovaluta te laten kopen en verkopen.
aldus Christiaan Jimmink, marketing manager van Bitcoin Meester.
De Black Friday actie bestaat uit het volgende:
• De actie loopt vanaf 29 november 00:00 uur tot en met 29 november 23:59 uur (CET)
• Iedereen met een Bitcoin Meester account is gedurende deze periode VIP level 9
• VIP level 9 geeft gebruikers de mogelijkheid cryptovaluta te kopen en te verkopen tegen een transactie fee van 0,25% in plaats van de standaard 2% – 0,25%
• Er zit geen limiet op het aantal transacties
• Geen verborgen kosten bij het kopen en verkopen van cryptovaluta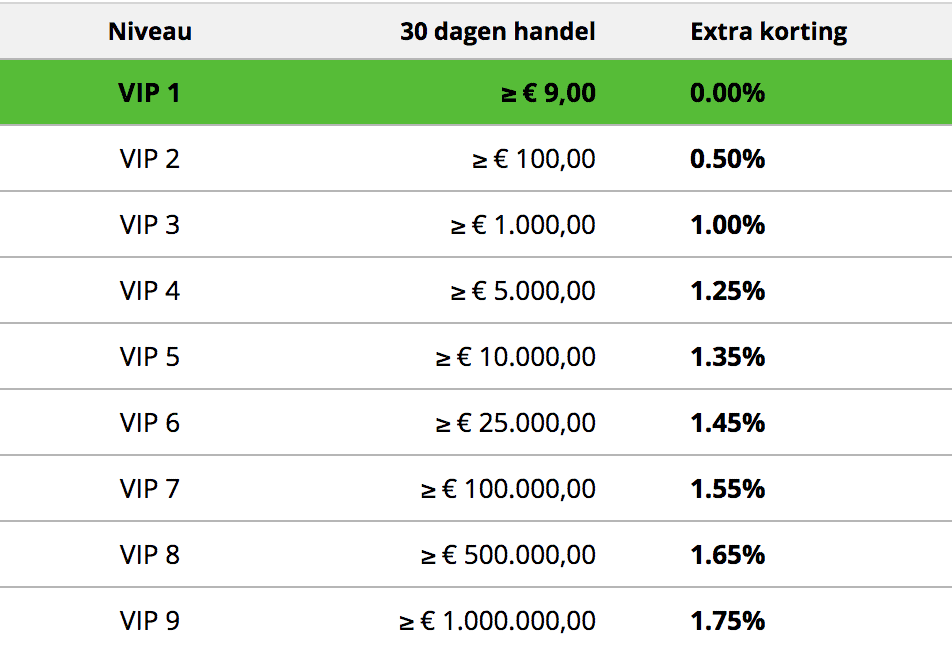 Afbeelding 1: Bitcoin Meester VIP levels/niveaus. Een extra korting van 1,75% op VIP niveau 9 komt neer op een transactie fee 0,25% 
Over Bitcoin Meester
Bitcoin Meester is een platform waarop diverse cryptovaluta gekocht en verkocht kunnen worden. De broker maakt het mogelijk om 24 uur per dag, zeven dagen per week, cryptovaluta te kopen en te verkopen en is altijd telefonisch, per e-mail of chat bereikbaar. Uw cryptovaluta zijn na aankoop direct zichtbaar in uw account, zonder vertraging. Wilt u uw cryptovaluta verkopen en laten uitbetalen op uw bankrekening? Bitcoin Meester betaalt dezelfde dag uit! Bitcoin Meester is een in Nederland gevestigd bedrijf en is onderdeel van Coin Meester B.V. Lees de blogs, volg Bitcoin Meester op Twitter of kijk voor meer informatie op https://www.bitcoinmeester.nl.
---
Bovenstaand artikel is een ingezonden stuk en valt buiten de verantwoordelijkheid van Crypto Insiders.
Wil je op de hoogte blijven van het laatste nieuws? Abonneer je dan op onze push-berichten, Facebook– of Twitter. Meediscussiëren? Meld je dan aan voor ons Telegram kanaal.