Onderstaand artikel is een ingezonden stuk en valt buiten de verantwoordelijkheid van Crypto Insiders. Dit is geen financieel advies en onze analisten zijn geen financieel adviseurs. Beleggen brengt risico's met zich mee. Raadpleeg altijd een adviseur bij het maken van financiële beslissingen. De informatie en tips die op deze website worden verstrekt dienen alleen voor educatieve doeleinden
---
Het nieuwe duurzame crypto platform IMPT blijft maar nieuwe aankondigingen doen over nieuwe affiliate partners. Deze partners worden toegevoegd aan het netwerk zodat jij binnenkort via IMPT bij deze partners kan winkelen. In ruil daarvoor kun je daar vervolgens een deel van het aankoopbedrag terug krijgen in IMPT tokens. 
Hoe en waar je die tokens precies voor kunt gebruiken lees je verderop in dit artikel. De IMPT tokens zijn nu alvast te verkrijgen in een presale die tot nu toe al zo'n $13 miljoen opgehaald heeft. 
Verhandel Carbon Credits via de blockchain
IMPT biedt de mogelijkheid aan particuliere investeerders om te handelen in carbon credits. Deze credits zijn door enkele landen verplicht gesteld waardoor bedrijven deze credits nodig hebben om een bepaalde CO2-uitstoot te mogen doen. 
Naast deze verplichte carbon credits is er ook nog een opkomende markt voor mensen die vrijwillig carbon credits kopen. Dit kun je bijvoorbeeld doen om je eigen uitstoot mee te compenseren.
Doordat IMPT de carbon credits naar de blockchain heeft gebracht zijn ze precies zo te verhandelen als normale tokens. Dit betekent ook dat je de carbon credits kan vernietigen door ze te 'burnen'. 
In ruil voor het vernietigen van carbon credits en daarmee het tegengaan van klimaatverandering krijg je speciale IMPT NFT's. Die NFT's zijn vervolgens ook weer te verhandelen via de marktplaats van de cryptomunt. 
Online shoppen via IMPT
Met 25.000 verschillende merken heeft IMPT al een groot netwerk aan affiliate partners samengesteld en dit wordt nog steeds uitgebreid. Er zijn al een flink aantal grote merken aan IMPT gelinkt.
Je kunt via de IMPT app of een widget shoppen bij alle aangesloten affiliate partners en dit levert je een mooi voordeel op. Elke keer dat je een aankoop doet, ontvang jij een deel van het aankoopbedrag in de vorm van IMPT tokens terug.
Met die IMPT tokens kun je vervolgens doen wat je wilt, zo kun je de tokens bij een exchange weer verkopen, maar je kunt natuurlijk ook de tokens gebruiken om weer nieuwe carbon credits mee te kopen.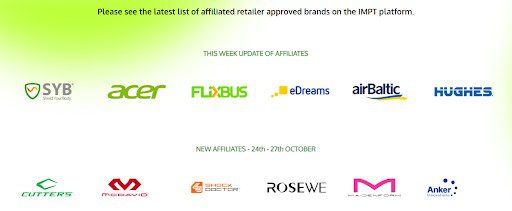 Sociaal Platform waar jij je impact kan bijhouden
IMPT is ook een sociaal platform waar je een bepaalde score krijgt op basis van je activiteit op het platform. Zo krijg je IMPT punten elke keer als je een nieuwe aankoop doet, een carbon credit koopt of nieuwe gebruikers naar het platform toe brengt. 
Je krijgt ook punten voor het vernietigen van carbon credits of door als winkeleigenaar jouw winkel te integreren in het platform. Voor winkeleigenaren is dit een methode om hun eigen voetafdruk te compenseren. 
Tokens verkrijgbaar in presale
Op dit moment zijn de IMPT tokens al verkrijgbaar in een presale via de website van het project. Daar kun je de tokens kopen door er Ethereum of USDT voor in te ruilen.
De IMPT Presale bestaat uit drie verschillende fases waarbij de prijs telkens met $0,005 stijgt als een fase afgelopen is. In de fases worden telkens ongeveer 600 miljoen tokens beschikbaar gesteld.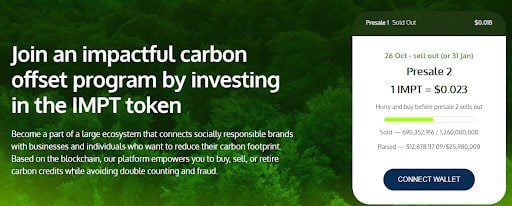 Zodra deze tokens uitverkocht zijn, begint er een nieuwe fase en stijgt de prijs dus iets. Na de derde fase zal de munt gelist worden bij een crypto exchange, dat zal tegen een koers van $0,028 zijn terwijl de token in de eerste fase nog $0,018 kostte. 
Om mee te doen met de IMPT presale heb je alleen een wallet nodig en een voorraad ETH of USDT. Vervolgens ga je naar de IMPT website, verbind je de wallet en kies je welke munt je graag in wilt ruilen. 
Het enige wat je daarna nog hoeft te doen is invullen hoeveel tokens je wilt kopen en de transactie verifiëren. Je moet ook altijd in je wallet toestemming geven voor de transactie die je wilt doen. 
De tokens zijn pas te claimen zodra de hele presale afgelopen is. Je gaat dan met je wallet terug naar de IMPT website en klikt op de speciale pagina op de Claim-button.
---
Bovenstaand artikel is een ingezonden stuk en valt buiten de verantwoordelijkheid van Crypto Insiders. Dit is geen financieel advies en onze analisten zijn geen financieel adviseurs. Beleggen brengt risico's met zich mee. Raadpleeg altijd een adviseur bij het maken van financiële beslissingen. De informatie en tips die op deze website worden verstrekt dienen alleen voor educatieve doeleinden.