De tijd dat men alleen in Bitcoin (BTC) handelde is al lang voorbij. Tegenwoordig vermeldt CoinMarketCap, naast Bitcoin, maar liefst 2068 alternatieve coins. Een van deze altcoins is de Gulden (NLG). De Nederlandse blockchain startup Nocks, die begin 2015 haar deuren voor het publiek opende, biedt een betaalplatform voor deze gedigitaliseerde Gulden. Nocks realiseert op vernuftige wijze het op betrouwbare wijze accepteren van betalingen voor bedrijven en het handelen in de cryptocurrency Gulden. En dat gaat goed, want dagelijks verwerkt het bedrijf een handelsvolume van meer dan €36.000!
Gulden, een veelzijdig systeem gebaseerd op blockchain-technologie en dus niet te verwarren met de vroegere dubbeltjes, vijfjes of geeltjes, is het systeem waar Nocks haar diensten omheen heeft gebouwd. Nocks faciliteert de handel in Gulden en Bitcoin voor een vaste lage fee van 0,25% per trade. Daarnaast faciliteert Nocks ook stortingen en opnames in euro tegen lage kosten, waar je een geverifieerde IBAN-rekening voor kan gebruiken. De huidige stortingslimiet voor een standaardaccount is €100.000 per maand, maar mocht je als gebruiker meer willen storten dan is dit in overleg met het team achter Nocks mogelijk. Er wordt verder geen limiet gehanteerd op opnames.
Binnenkort wordt ook Nocks Plus gelanceerd. Met deze upgrade van je account, die €10 per maand of €100 per jaar kost, worden de al lage fees nog eens gehalveerd.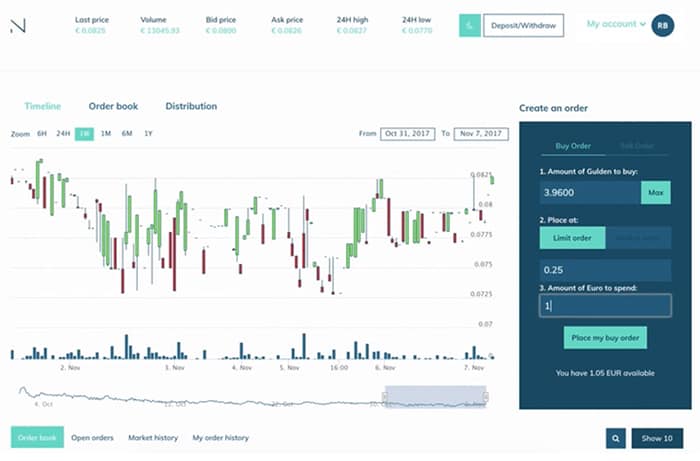 Traden op het platform van Nocks kan op de Bitcoin – euro markt en op de euro – Gulden markt. Aan de hand van live statistieken kan je middels de gebruiksvriendelijke user interface zowel kopen, verkopen als tegoeden storten en opnemen. Aan de hand van notificaties word je op de hoogte gehouden van de status van je orders. Mocht je als nieuwe gebruiker hulp nodig hebben bij het traden dan heeft Nocks een handige blogpost die je op weg helpt.
Nocks heeft veiligheid hoog in het vaandel staan en hanteert daarom een streng KYC-beleid (Know Your Customer). Echter, na een enkel onboarding proces heb je als gebruiker toegang tot alle functies die Nocks op haar platform te bieden heeft.
Klinkt het bovenstaande verhaal interessant? Neem dan een kijkje op nocks.com
Bovenstaand stuk betreft een gesponsord artikel.