Onderstaand artikel is een ingezonden stuk en valt buiten de verantwoordelijkheid van Crypto Insiders. Dit is geen financieel advies.
---
In een vorige update van ProfitFarmers schreven de crypto-analisten over dat Bitcoin klaar is voor een grote koersbeweging omhoog. Als de analyse accuraat is, dan gaat de coin naar $55.000. Dat is een stijging van ongeveer 30%, op het moment van schrijven. Maar dat is niets vergeleken met de 300% tot 600% die de analisten nu hebben gespot voor de altcoin NEAR. Daarnaast heeft ProfitFarmers een gratis stappenplan met zeven fasen voor het vinden van altcoins die 1000 keer over de kop kunnen gaan.
Er is iets groots aan de hand volgens ProfitFarmers, dit is de samenvatting:
$200.000.000.000 nieuw (!) geld betrad de markt – ja, dat is 200 miljard USD;

Bitcoin steeg met 15% in een dag;

Double digit stijgingen voor ETH, SOL, ADA en ATOM;

Afgelopen week is bijna 10.000.000 USD in crypto gedoneerd aan internationale doelen;

Zorgen omtrent valuta in Oekraïne resulteerde volgens de analisten voor piek van 200% in activiteit bij Oekraïense exchanges.
NEAR-
grafiek
en koersdoelanalyse
De prijs van NEAR was toen ProfitFarmers de analyse deed 10,9 USD.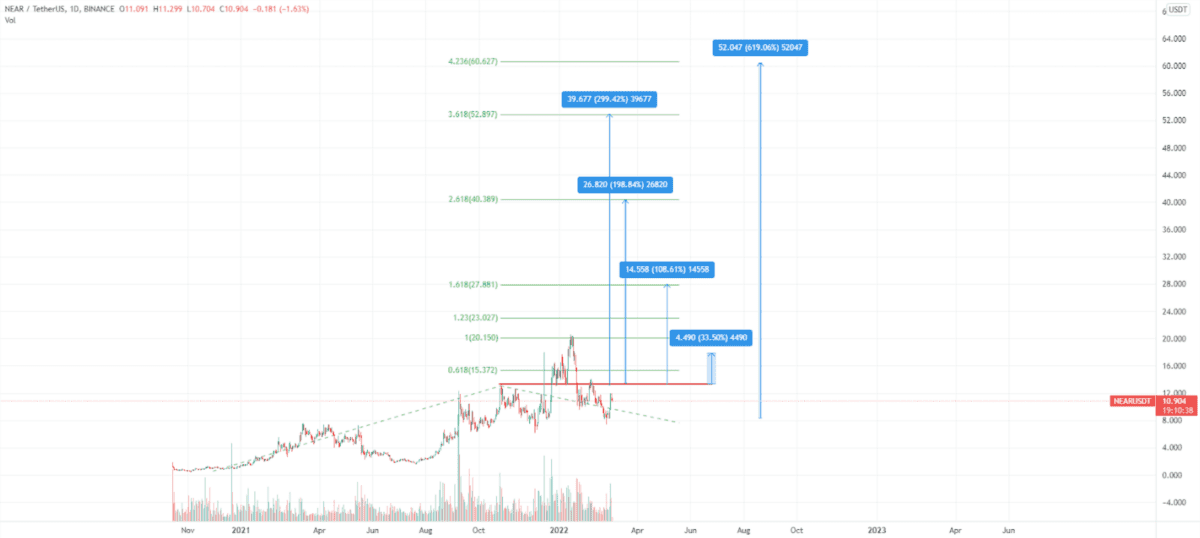 Analyse grafiek NEAR:
NEAR is aan het consolideren langs de bodem van het kanaal.

Tegelijkertijd behoudt het de dubbele bodem én de stijgende trendlijn. Tot nu toe probeert het dus om naar boven uit te breken.

Een simpele Fibonacci-extensie wijst op een koersbeweging van 300% tot 600% gemeten vanaf de bodem.

Verwacht weerstand rond $13,5 voordat de koers naar $18 en hoger gaat. Het uiteindelijke koersdoel voor de komende maanden is $40 tot $62. Het potentieel vanaf het dieptepunt is zelfs zo'n 1.000%.
Handelsplan en observaties
Zoals we wel vaker zeggen zijn simpele grafieken de beste grafieken. Ze helpen je triggers te identificeren zonder dat de actie je emotionele beslissingen laat maken. Dit is volgens ProfitFarmers het handelsplan:
1 – NEAR probeert lokale support te vinden en zal hoogstwaarschijnlijk een vergelijkbaar patroon volgen als BTCUSD, zoals we eerder hebben besproken.
2 – Als $13,5 doorgebroken wordt is een stijging van 30% naar $18 snel gemaakt.
3 – Een flinke stijging van 200% is in het verschiet na dit niveau, zo lang de rest van de markt dit toestaat.
4 – Als BTCUSD door de yearly open zou gaan, dan zou dit een omslagpunt zijn.
5 – Geen trigger is geen trade, behalve als je voortijdig aan de uitbraak wilt kopen. Dan loop je wel de kans dat de uitbraak nooit komt.
Onthoud dat dit geen financieel advies is, dit zijn ideeën die we delen wegens educatie-doeleinden.
NEAR – een Layer 1-protocol met veel potentieel
Jep, we weten dat je dingen als 'er komt een 10x-stijging aan' al vaker hebt gehoord. Maar als je de rendementen van andere Layer 1-coins als Ethereum (ETH), Binance Coin (BNB), Solana (SOL) en AVAX op een rijtje hebt gezet, dan is NEAR volgens ProfitFarmers een serieuze kansmaker voor dat soort stijgingen. Ze raden je dan ook aan om NEAR's gebruiksdoel en schaalbaarheid te onderzoeken.
Wil je meer weten? Kijk hoe je zelf gratis meer kunt leren!
Goed nieuws, het handelsteam van ProfitFarmers heeft een stappenplan met zeven stappen samengesteld voor het vinden van de volgende 100x- of 1000x-altcoin voordat de rest van de wereld het vindt!
Wat als je $1.000 zou kunnen omtoveren tot $12.000.000 Of zelfs $100 in $1,2 miljoen? Dat is precies wat sommige investeerders in bijvoorbeeld XRP is overkomen die op het juiste moment zijn ingestapt. Ze realiseerden zich dat de markt op het punt stond om uit te breken, en XRP was één van die coins die de potentie had om hard over de kop te gaan.
Recentelijker hebben Dogecoin (DOGE), Terra (LUNA) en Polygon (MATIC) van de één op de andere dag voor nieuwe miljonairs gezorgd, met enorme prijsstijgingen vanuit het niets. Als Bitcoin zijn uptrend blijft aanhouden kan dit volgens ProfitFarmers makkelijk opnieuw gebeuren. Hieronder lees je hoe je dat doet.
Allereerst moet je kijken naar de coins die meteen beginnen met dalen zodra ze beschikbaar komen op een exchange. Dat is je beste kans. Bijna elke crypto die hard is gestegen deed dat voordat deze uitbrak.
Daarna zijn er een aantal belangrijke factoren waar je rekening mee moet houden:
Volume

Momentum

Interesse van sociale media

Gebruiksdoel

Marktthema
Zoek de cryptocurrencies die meteen beginnen met dalen, en wacht totdat ze beginnen te stabiliseren. Controleer daarna deze vijf factoren. Bijna elke crypto met veel potentie houdt zich aan exact dit proces. Zodra je er één hebt geïdentificeerd heb je een geweldige kans om veel geld te verdienen.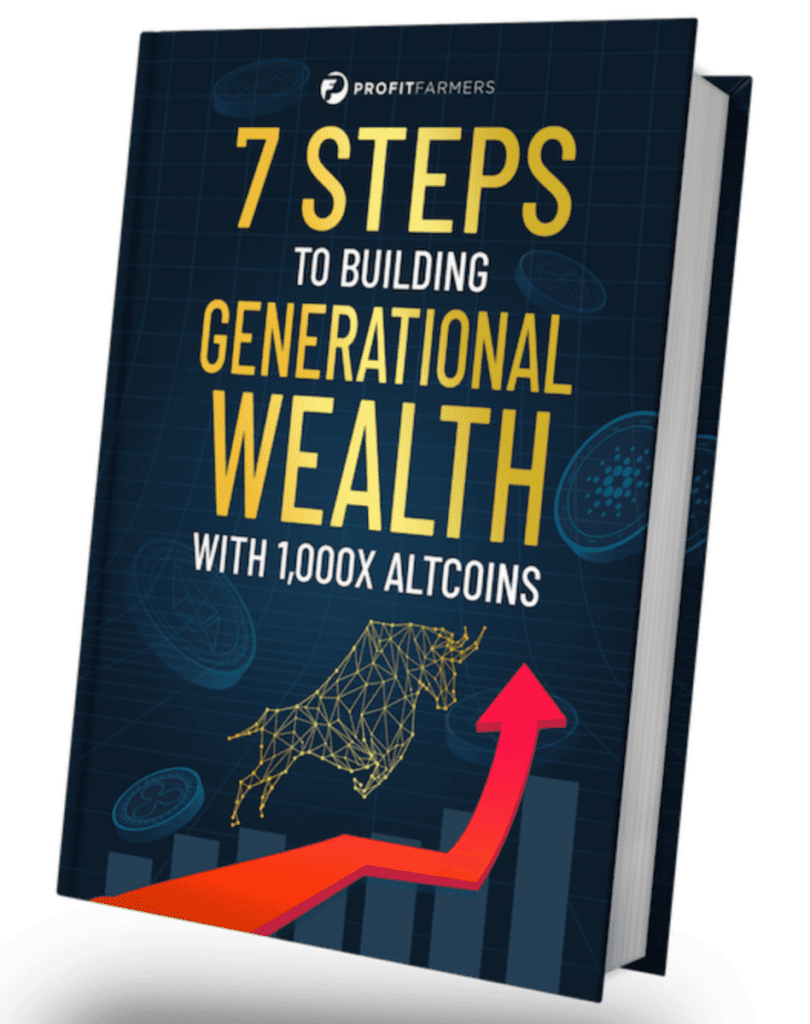 Wil je alle stappen in detail lezen, download dan onze guide met 7 gratis stappen!
---
Bovenstaand artikel is een ingezonden stuk en valt buiten de verantwoordelijkheid van Crypto Insiders. Dit is geen financieel advies.