Begin deze maand blonk Bitcoin Cash (BCH) in een relatief rustige periode uit onder alle altcoins door in de eerste week van november met meer dan 50% in waarde te stijgen tot een hoogte van $632. Dit was het resultaat van de aangekondigde 'hard fork' die op 15 november plaats zal vinden. Hoewel dat dus nog enkele dagen op zich moet laten wachten is BCH vanaf vorige week echter weer gedaald tot een huidige waarde van $528 volgens gegevens van CoinMarketCap.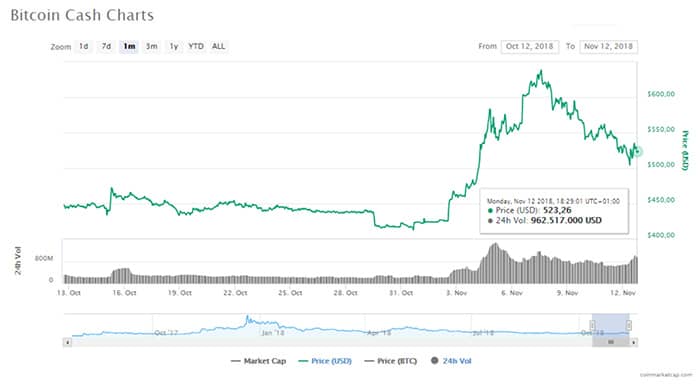 Daarmee verloor de op drie na grootste cryptocurrency op basis van totale marktwaarde, in minder dan een week tijd ruim 16% aan waarde. In de afgelopen 24 uur noteert BCH op het moment van schrijven een verlies van 1,09% terwijl de rest van de belangrijkste cryptocurrencies vandaag, weliswaar met minimale marges, grotendeels groen kleuren.
Nadat de aanstaande hard fork bekend werd kochten een hoop beleggers BCH omdat zij nadat de fork, waarbij de blockchain van Bitcoin Cash opgesplitst zal worden in Bitcoin ABC en Bitcoin SV (Satoshi's Vision), voor elke BCH die zij op dat moment bezitten één Bitcoin SV aangeboden zal worden. Desondanks de komende hard fork is de waarde van BCH in de afgelopen vijf dagen dus flink gedaald, mogelijk als gevolg van het conflict tussen het ABC- en SV-kamp dat naarmate 15 november nadert erger lijkt te worden.
Gisteren kondigde cryptocurrency-exchange Bitfinex aan dat het de hard fork ondersteunt maar geen partij zal kiezen voor een van beide partijen totdat de hard fork compleet is en de gemeenschap enige vorm van eensgezindheid aan kan tonen:
Bitfinex zal niet voor of tegen een bepaalde fork pleiten en miners hebben het het volste recht om hun hashing power te gebruiken voor welk project zij ook kiezen. Momenteel denken wij niet dat er voldoende consensus is om een duidelijke winnaar van de hard fork van Bitcoin Cash te identificeren.
Wil je op de hoogte blijven van het laatste nieuws? Abonneer je dan op onze push-berichten, 
Facebook
– of Twitter.
[ci-widget-v2]