De cryptocurrency markt zag een behoorlijke opleving in de afgelopen 24 uur. Bitcoin (BTC) kon aardig stijgen en er zitten onder de altcoins een aantal flinke uitschieters tussen. Veel crypto koersen zijn echter vanochtend alweer aan het dalen en de totale marktkapitalisatie ligt nog steeds dik onder de $1 biljoen. Toch steeg deze met 3,5% in de afgelopen 24 uur naar $935 miljard. Er is echter nog altijd veel vrees in de markt dat we nog niet de bodem hebben gezien.
📈Market Overview#BTC price trades above $20K

The Top-10 are traded in red zone: $ETH +10.4%, $SOL +9.39%, $BNB +7.9%.

Market cap: $965B (+5.49%) $BTC dominance: 40.26% (+0.82%)
Fear & Greed Index: 19 (Extreme Fear)

Full Report👉https://t.co/zcBQYSGglZ pic.twitter.com/8LgfFWhNyp

— CryptoRank Platform (@CryptoRank_io) July 5, 2022
Ethereum stijgt met 8%
Ethereum (ETH) presteerde in de afgelopen 24 uur zeer sterk. De ether koers hield gisteren stand op de $1.050 en steeg naar een piek van $1.167 vanochtend. Sindsdien is ETH gezakt naar $1.140, maar de koers staat daarmee alsnog 8% in de plus ten opzichte van 24 uur geleden. Ook andere tokens gerelateerd aan Ethereum presteren sterk, later daarover mee.
After @instagram, @facebook officially begins testing Polygon integration! 🤯🔥

If deployed widely, anyone in the world will be able to connect their Polygon wallet to Facebook and display NFTs as posts.

Mass adoption infrastructure in the making. 🌎💫https://t.co/lxEScFn5Xt

— Mihailo Bjelic (@MihailoBjelic) July 1, 2022
XRP, DOT, DOGE blijven iets achter
Ripple (XRP) blijft wat achter vandaag en kon afgelopen nacht niet de $0,33 breken. XRP zakt vanochtend naar $0,322 en staat daarmee 1,4% in de plus vandaag. Polkadot (DOT) trok al sterker aan, maar kon afgelopen nacht niet de $7,2 breken en zakt vanochtend flink. Met een prijs van $6,87 staat DOT alsnog 2% in de plus. Dogecoin (DOGE) toont een dergelijke beweging, werd vannacht op $0,07 afgewezen en komt nu op $0,068 uit waarmee koers 2,1% in de plus staat.
ADA, TRX, SHIB in de plus
Cardano (ADA) houdt vanochtend iets sterker stand en staat 2,5% in de plus. ADA kon vannacht echter nog niet $0,47 breken en valt terug naar $0,46. Tron (TRX) staat 2,6% in de plus, maar de $0,069 was nog een brug te ver. Shiba inu (SHIB) maakte afgelopen nacht nog een enorme beweging, maar zakt nu terug naar $0,0000104. Toch staat SHIB 2,9% in de plus vandaag.
AVAX, BNB, SOL stijgen flink
Avalanche (AVAX) trok in de afgelopen 24 uur nog iets sterker aan en staat 3,4% in de plus. AVAX piekte vanochtend rond $18,2, maar valt nu terug naar $17,4. Binance coin (BNB) houdt vanochtend sterker stand al kon de koers nog niet de $236 breken en valt nu onder de $230. BNB staat vandaag 5,5% in de plus. Solana (SOL) piekte afgelopen nacht net onder $37 en probeert momenteel support te vinden op $35. Daarmee staat SOL 6% in de plus vandaag. Onlangs deelde onze analisten deze SOL grafiek in de Discord omgeving van Crypto Insiders. Wil je meer uitleg bij deze grafiek, kom dan zelf een kijkje nemen! Meer informatie staat onderaan het artikel.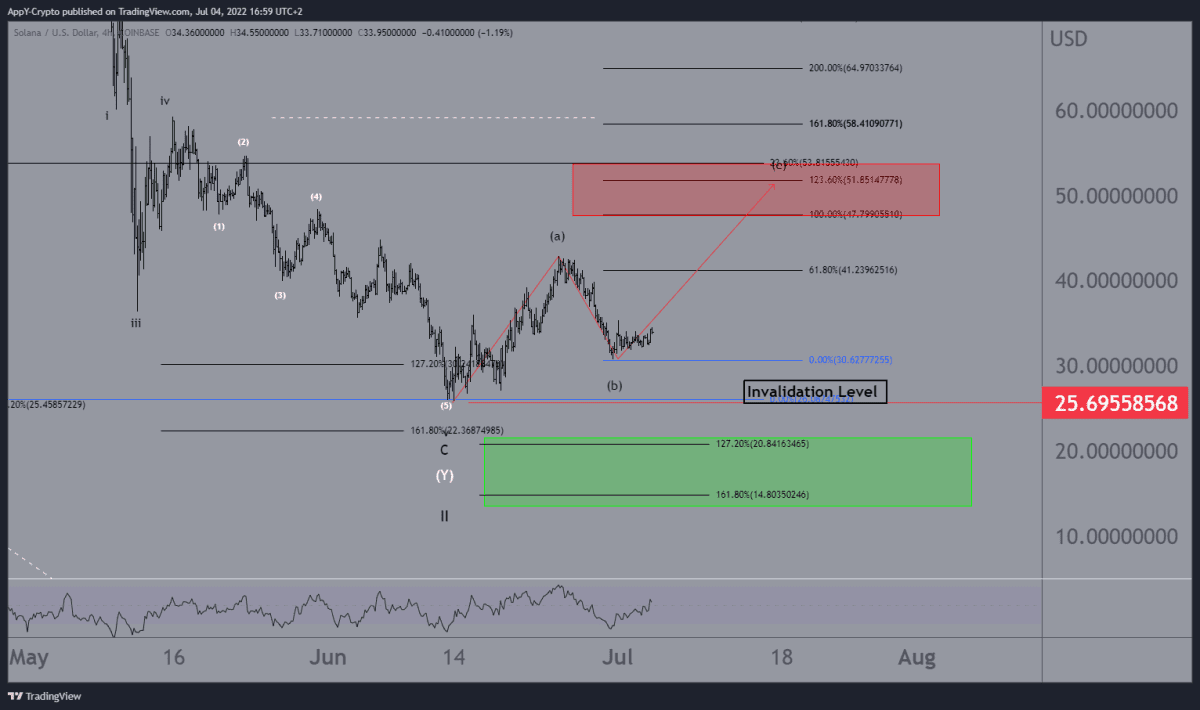 MATIC koers stijgt met 11%
Onder de grootste crypto is vandaag polygon (MATIC) de grote winnaar. Dit Layer-2 netwerk voor Ethereum steeg met maar liefst 11% in de afgelopen 24 uur. MATIC schoot vanochtend naar een piek van $0,533 en komt momenteel op $0,51 uit.
Everyone seems to be very excited with Web3 Mobile stuff these days.
Tbh feels a bit like hopium marketing.@0xPolygon is working on a different strategy by collaborating with existing Mobile heavyweights for global scale.

Sth big is coming. A trailerhttps://t.co/hJ9RtQHBSQ

— Sandeep | Polygon 💜🔝3️⃣ (@sandeepnailwal) July 4, 2022
Crypto top 100 hardste stijgers en dalers
Vandaag staan elrond (EGLD), near (NEAR), thorchain (RUNE), kucoin (KCS) en aave (AAVE) 6% of meer in de plus. Voor apecoin (APE) is dat 7% en voor loopring (LRC) 8%. Uniswap (UNI), enjin coin (ENJ), basic attention token (BAT) en cosmos (ATOM) staan al 10% in de plus vandaag. Celsius Network (CEL) stijgt ondanks alle problemen met 13% in de afgelopen 24 uur. Stepn (GMT) staat zelfs 14% in de plus vandaag.
Aan de rode kant is het zeer karig vandaag. Synthetix (SNX) corrigeert met 5% na een flinke stijging en terraclassicusd (USTC), de gecrashte stablecoin, zakt vandaag met 11%. Desondanks staat de USTC koers alsnog bijna 600% in de plus ten opzichte van twee weken geleden, maar later daarover meer op Crypto Insiders.
Crypto Insiders Premium voor crypto analyses
Wil jij diepgaandere crypto analyses ontvangen? Dan verwijzen wij je graag door naar onze Discord community voor leden. Stel vragen aan analisten, klets met onze fanatieke community en ontvang dagelijks technische en fundamentele analyses van crypto. Via Discord premium omgeving van Crypto Insiders kunnen we 24/7 kennis met elkaar delen en proberen we samen met onze leden de markt voor te blijven.
Afgelopen week hield onze hoofdanalist, bekend als AppY, een ask me anything (AMA) sessie voor onze premium leden. Deze is nu voor iedereen terug te zien en staat vol met zeer interessante technische analyses!
Disclaimer: Beleggen brengt risico's met zich mee. Onze analisten zijn geen financieel adviseurs. Raadpleeg altijd een adviseur bij het maken van financiële beslissingen. De informatie en tips die op deze website worden verstrekt zijn gebaseerd op eigen inzichten en ervaringen van onze analisten en dienen alleen voor educatieve doeleinden.