De prijs van Ethereum (ETH) is maandag 13 augustus aan het eind van de middag onder de $300 gezakt en is daar sindsdien niet meer bovenuit gekomen. In de nacht van maandag op dinsdag daalde de ETH-prijs af tot $257; een dieptepunt waar het sinds september 2017 altijd boven was gebleven. Bitcoin (BTC) slaagde er afgelopen nacht ook niet in om boven de $6.000 te blijven en daalde tot een waarde van $5.971, waarna het weer iets opkrabbelde en sinds dinsdagochtend weer boven de $6.000 uitkomt.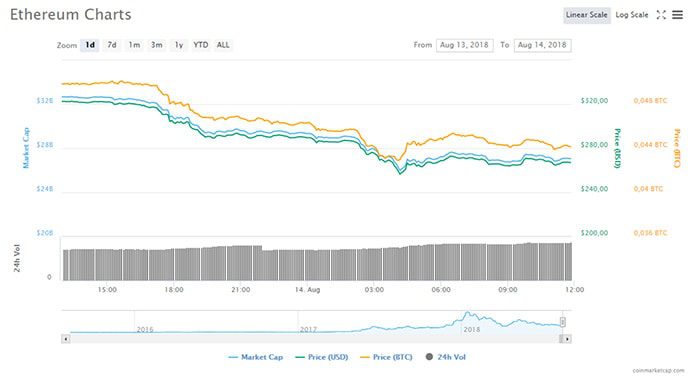 In de afgelopen 24 uur is Ethereum meer dan 17% in waarde gedaald. Met een prijs van $267 is ETH op het moment van schrijven nog geen 19% van wat het waard was op haar hoogtepunt van $1.426 in januari dit jaar.
Ethereum heeft niet alleen ten opzichte van de Amerikaanse dollar (USD) slecht gepresteerd, maar ook ten aanzien van Bitcoin. Waar het een half jaar geleden nog net iets minder dan 0,1 BTC waard was, is daar momenteel nog maar 0,044 BTC van over.
Volgens Biswa Das, analist voor Bloomberg is de prijsdaling van ETH te wijten aan "de druk van ICO's die uitbetaald hebben" waarbij hij erop wees dat Ethereum het meest populaire platform is waar blockchain-startups op bouwen en fondsen werven:
Deze startups werven veel fondsen, maar ze hebben niet genoeg ervaring met kas- of liquiditeitsbeheer, dus ze verkopen te vroeg en veroorzaken zo veel druk op de markt. Het was prima vorig jaar, maar nu is de markt zo kwetsbaar dat het een hoop druk veroorzaakt.
Op het moment van schrijven wordt ETH voor $267 en BTC voor $6.079 verhandeld.
Wil je op de hoogte blijven van het laatste nieuws? Abonneer je dan op onze push-berichten, Facebook– of Twitter pagina.