Een plotselinge piek aan handelsvolume in zowel Ripple (XRP) en Ethereum (ETH) vond vandaag rond vrijwel dezelfde tijd plaats op Bitfinex. De grote toename in volume verspreidde zich naar andere crypto-beurzen en zorgde voor een flinke beweging in de prijzen van de coins; ETH wist met meer dan 10% te stijgen, waar XRP op het moment van schrijven op +16,87% staat.
Dit alles ondanks het feit dat er vrijwel geen significante ontwikkelingen of aankondigingen hebben plaatsgevonden in de afgelopen uren. De oorzaak van de plotselinge bewegingen is dus vooralsnog een raadsel.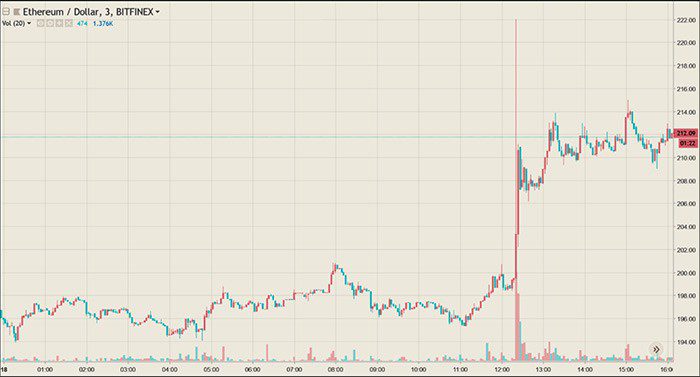 Ondanks het gebrek aan grote aankondigingen gaan er wel meer dan genoeg geruchten binnen de XRP-community. Zo is het meest recente gespreksonderwerp een mogelijke grote ontwikkeling die binnenkort zal moeten uitkomen met betrekking tot een product release of evenement. Toch blijft de vraag wat er waar is van de huidige geruchten. De vorige hype rond een potentiële Coinbase integratie bleek uiteindelijk niet waar te zijn.
In een recent interview met CNBC liet Ripple's Sagar Sarbhai echter wel weten dat een grote product release mogelijk volgende maand zou kunnen plaatsvinden. Het gaat hierbij om het nieuwe xRapid product, wat focust op het versnellen van banktransacties.
Echter, gezien de plotselinge prijstoename zich pas in de laatste 3 uur liet zien lijkt de aankondiging van xRapid niet de directe oorzaak. XRP kampte de laatste maand met verkoopdruk; het kan hier dus simpelweg om een correctie gaan.
De gedachte dat het simpelweg om een correctie gaat wordt enigszins ondersteund door de gelijktijdige toename in ETH-prijzen. Er is namelijk geen significant ETH nieuws of geruchten en over het algemeen blijft de ETH-prijs zich onafhankelijk bewegen van verdere marktbewegingen, gezien het een groter ecosysteem representeert. Toch wist de ETH prijs zich in de laatste 3 uur van $199 naar $213 te bewegen, wat het weer dichterbij de $220 van eerder deze maand weet te herstellen.