Een van de meest aangevraagde projecten voor de Insiders-analyse is Cardano (ADA). Deze coin zullen wij hier vandaag behandelen! Helaas is ADA in de afgelopen 24 uur met ongeveer 2,5% gedaald. Over de afgelopen zeven dagen wist de cryptocurrency ook geen positief resultaat te boeken over de afgelopen zeven dagen. In deze periode zagen we de koers met zo'n 7% dalen. Cardano staat op het moment van schrijven op de 8e plaats op basis van marktwaarde.
Wat is Cardano?
Om te begrijpen wat het project inhoudt moeten we eerst even de verschillen tussen Cardano en ADA duidelijk maken. Als we het hebben over Cardano dan bedoelen we het blockchain-platform en het project wat daaraan vast hangt. ADA is weer een apart component hiervan. Dit is namelijk de bijbehorende cryptocurrency die op het platform Cardano loopt. 
Cardano kan gebruikt worden om ADA te ontvangen en te versturen maar heeft daarnaast nog meer functionaliteiten. Cardano is een open-source blockchainproject dat met verschillende lagen is ontworpen zodat verschillende financiële applicaties kunnen worden ontwikkeld en gebruikt. Deze applicaties kunnen wereldwijd toegepast worden door overheden, bedrijven of consumenten. Ook kan Cardano gebruikt worden voor smart contracts. 
Recente ontwikkelingen
In de roadmap van Cardano wordt er gesproken over een aantal verschillende fases. Deze fases staan gelijk aan de gestelde doelen voor het project. De verschillende fases zijn, in volgorde: Byron, Shelley, Goguen, Basho en Voltaire. Mochten deze namen je bekend voorkomen dan kan dat kloppen. De verschillende fases zijn vernoemd naar verschillende bekende personen door de generaties heen. Byron was de eerste fase en heeft Cardano en ADA in het leven geroepen. Na deze fase zijn de ontwikkelaars doorgegaan naar de Shelley fase. Deze fase duurde vrij lang om te voltooien en was pas in juli 2020 geïmplementeerd in het netwerk.
Shelley heeft ervoor gezorgd dat het Cardano netwerk gedecentraliseerd werd. In het Byron tijdperk was het vooral de Cardano Foundation die het netwerk beheerde, maar daar wilde zij vanaf. Het Shelley tijdperk zorgt ervoor dat het netwerk wordt beheerd door de nodes die worden gedraaid door de Cardano community. Het netwerk wordt draaiende gehouden door verschillende stake pools. Door Shelley is Cardano ongeveer 50 tot 100 keer meer gedecentraliseerd en verbruikt het netwerk ook veel minder stroom. 
Na Shelley werd er gewerkt aan Goguen fase. Deze fase is uitgebracht in maart 2021 en wilde weer een grote verandering brengen aan het Cardano netwerk. Met Goguen kunnen ontwikkelaars, en eigenlijk iedereen die dit graag wilt, een eigen token ontwerpen. Dit zal vergelijkbaar zijn met platformen als Ethereum (ETH) waar mensen op dit moment ook hun eigen ERC-20 token kunnen aanmaken. Daarnaast kunnen gebruikers vanaf nu ook Decentralized Finance (DeFi) applicaties te ontwikkelen, en smart contracts op te stellen via Cardano.  
Wat kunnen we verder van Cardano verwachten?
Zoals je misschien al vermoedde betekent dit dat er slechts twee fases overgebleven zijn. Namelijk de Basho en de Voltaire fase. Dit zijn dus ook nog de twee grote updates die we van Cardano kunnen verwachten. De Basho fase zal vooral de focus leggen op het verbeteren en optimaliseren van de schaalbaarheid en interoperabiliteit van Cardano. Waar de vorige fases meer gingen over de decentralisatie en het toevoegen van nieuwe functionaliteiten zal deze fase zich meer focussen op het verbeteren van de bestaande fundering van Cardano. Met deze update zal de groei en adoptie beter ondersteund worden en zal de transactiesnelheid ook een stuk beter worden.
Tot slot staat de Voltaire update op de planning. In deze fase wordt er vooral gekeken naar de mogelijkheden om het netwerk zichzelf te laten onderhouden. Dit zal ondersteund worden door de introductie van een stemsysteem en een treasurysysteem. Gebruikers van het netwerk en ADA holers krijgen hierdoor de mogelijkheid mee te bepalen over de toekomst van het project. Deze fase is dus in essentie een toevoeging aan de Shelley fase. Bij beide fases is het de bedoeling om de decentralisatie te bevorderen. 
Wanneer deze fases echt live gaan op de mainnet is nog onduidelijk, echter weten we dus wel al in welke volgorde deze uit zullen komen.
Marktsentiment
Cardano is een van de oudste projecten die er is en is daarom ook een van de grootste coins ter wereld. Een poll op CoinMarketCap geeft ook aan dat in de afgelopen 24 uur meer dan 70% van respondenten Cardano een goed project vinden. 

In de onderstaande grafiek is ook te zien dat de social media engagement afneemt voor Cardano in de afgelopen dagen.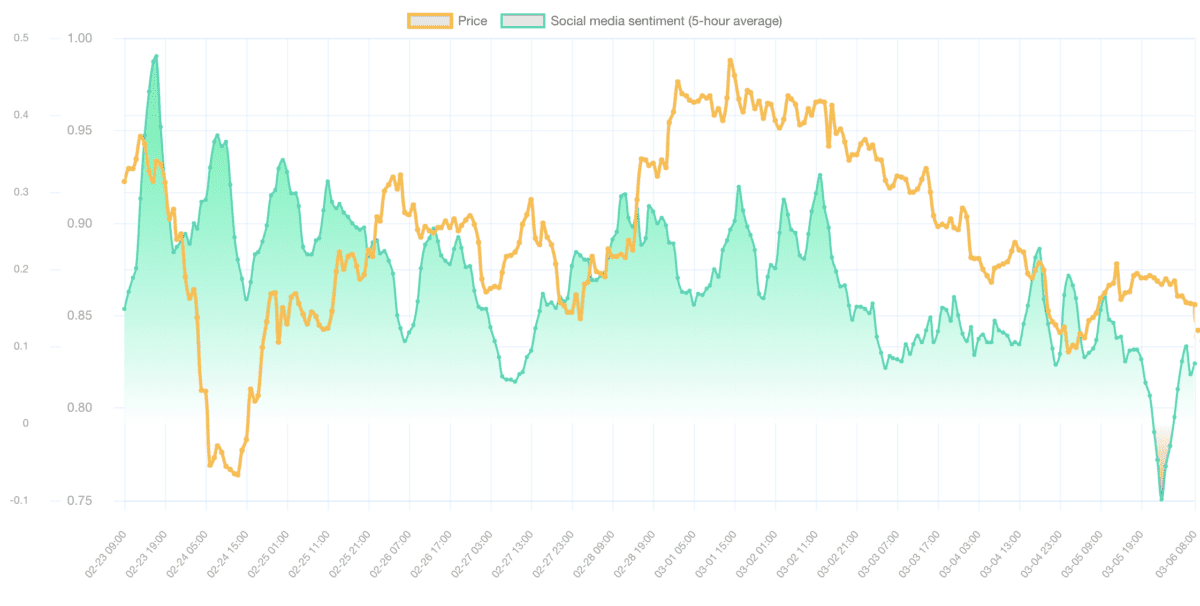 We zien echter wel weer een toename in transacties die gedaan zijn op de Cardano blockchain sinds een aantal maanden geleden. Helaas is het aantal transacties alsnog minder dan een aantal jaar geleden.

Technische analyse
De koers van ADA is al voor een hele lange tijd enkel neerwaarts aan het gaan en lijkt vooralsnog niet te willen stoppen. Op dit moment traden we op hetzelfde niveau als dat we in februari van 2021 deden. Long term HODLers zijn dus niet echt beloond. We begeven ons nog in een neerwaartse trend. Er lag flink veel steun op de $1 door oude prijsactie echter is de koers daar ook al hard doorheen geknald. Op dit moment hebben we geen nieuwe steun die dicht in de buurt ligt. 
Daarnaast zagen we in december vorig jaar ook een death cross. Hierbij daalde de 50 moving average (MA) heel hard door de 200 dagen MA heen. Dit was op basis van de snelle koersdaling ook niet heel gek. Het effect hiervan is dat de koers nog verder wist te dalen. Toen het erop leek dat de cross eraan zat te komen daalde de koers al harder. Zelfs zo hard dat de koers uit de bollinger bands schoot. Op het moment van schrijven lijkt de situatie er niet beter op geworden. Helaas ziet het plaatje er nog bearish uit.  

Is het nu tijd om ADA te kopen?
De crypto markt is volatiel en continu in beweging, om deze redenen is het belangrijk dat je volledig op de hoogte bent van de laatste ontwikkelingen voordat je een beslissing maakt om in ADA te stappen. Om je hiermee te helpen nodigen we je graag uit om een kijkje te nemen in onze premium-kanalen voor leden. Hier delen ervaren analisten dagelijks updates en nieuwe technische analyses, zo kunnen we samen bepalen wanneer het tijd is om ADA te kopen of verkopen.