De afgelopen week was een heftige voor cryptoland. Vrijwel de gehele markt was wederom rood. Met name een aantal technische indicatoren hebben belangrijke signalen afgegeven. Hier vind je de drie meest belangrijke dingen die we dankzij vorige week hebben geleerd voor Bitcoin (BTC).
1: Bitcoin zakt door moving averages
Ja, we weten het: moving averages zijn vrij simpel en ze zeggen weinig over wat de toekomst gaat brengen. Toch zijn ze vrij belangrijk. Net als gewone trendlijnen geven ze een duidelijk beeld van of een trend gaat eindigen of niet. Als we kijken naar de 100-wekelijkse moving average voor Bitcoin, dan zien we dat de BTC-dollar koers duidelijk door de moving average is gezakt. Tegen de euro doet bitcoin het momenteel beter, alhoewel ook BTC/EUR inmiddels door de support heen is. Dat gebeurde echter pas één wekelijkse kaars later. Op het moment van schrijven is de bitcoin euro prijs €29.715 op Bitvavo.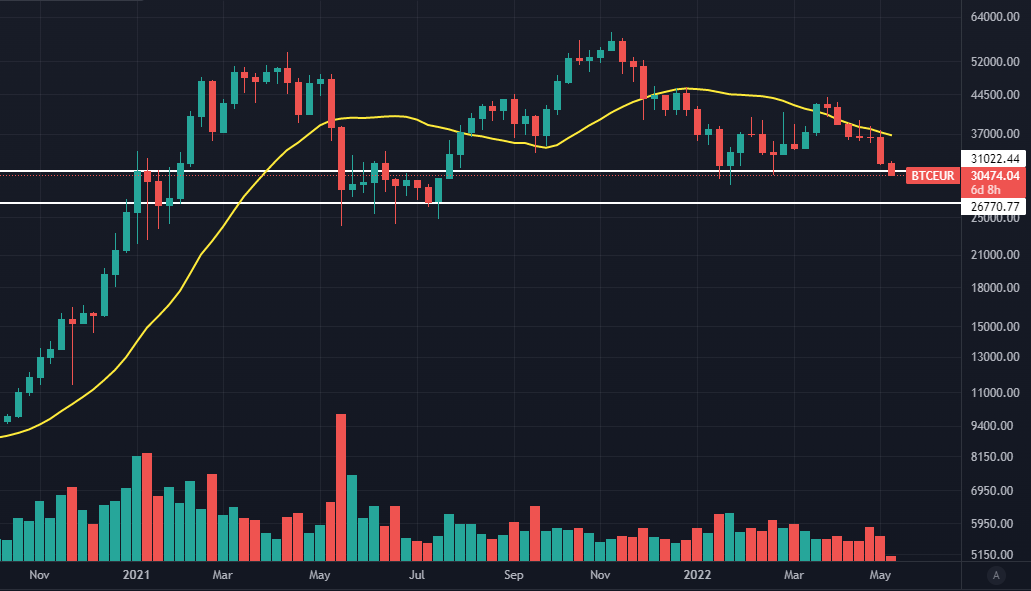 2: Candles en volume geven geen bodem aan
Ook uit de individuele candlesticks kunnen we het nodige concluderen. Zo zijn alle wekelijkse candles sinds de week van 28 maart rood, en sindsdien tonen ook de candles van kortere periodes aan dat bitcoin in een neerwaartse trend zit. Zeker de wekelijkse candles gaan vrij stapsgewijs naar beneden. Het zijn geen waterval-dalingen die duiden op uitputting, maar candles die zo nu en dan niet in staat zijn om boven de resistance uit te breken.
Ook het volume geeft aan dat de bodem nog niet in zicht is. Er ís namelijk bijna geen volume. Dat is niet logisch voor een neerwaartse trend die op zijn einde loopt. Althans, als de prijs niet wordt opgestuwd door grote kopers. Zeker bij cryptocurrencies hebben bodems vaak een enorme piek in volume. Zolang het volume laag blijft ligt het voor de hand dat de trend neerwaarts blijft.
3: Sentiment BTC extreem negatief, op support
Toch is het sentiment zó negatief dat we ons wel af moeten gaan vragen of de bodem niet erg dicht in de buurt komt. Zoals we vanmorgen al beschreven staat de Fear and Greed Index op een dieptepunt. Dat geeft doorgaans aan dat er minimaal een belangrijke bodem onderweg is. Iedereen zit aan één kant van de 'boot'. Er zullen mensen naar de andere kant van de boot gaan, dat zorgt voor prijsstijgingen.
Tegelijkertijd kan de flinke supportlijn ook negatief zijn. De allerlaatste supportlijn is namelijk nog maar 20% van de huidige prijs verwijderd. Als die breekt, dan is de eerstvolgende support de top van 2017 – dat is 11.000 euro. Dat is een harde daling.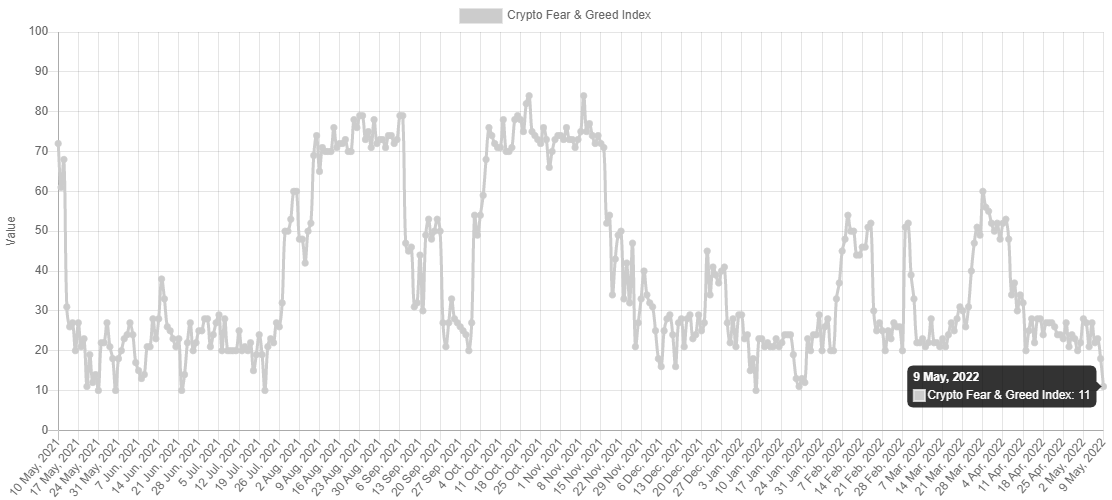 Wow! We all know the Fear & Greed Index being in extreme fear does not necessarily mean a bottom. But to get a score as low as 11 is very rare.

Arrows on the chart show previous scores of 11 or lower.

Live chart: https://t.co/Jr5151zN7I pic.twitter.com/T6he5i8OeA

— Philip Swift (@PositiveCrypto) May 9, 2022