Dat de markt voor cryptocurrencies hard is gecrasht weten we nu ondertussen wel. Of we al moeten kopen is misschien een betere vraag. Als het aan veel investeerders in de Verenigde Staten ligt wel, zij kopen namelijk juist bij tijdens alle volatiliteit, zo blijkt nu.
Veel herinvesteren, maar minder risico
Dat schrijft marktanalist The Balance. Drie van de vijf investeerders is gevlucht naar veiligere investeringen nu hun portfolio's zo hard zijn gedaald. 29% zegt niets te hebben veranderd qua handelsstrategie, en slechts 11% neemt juist meer risico. Van die laatste groep kun je verwachten dat ze juist kopen omdat het sentiment zo zwaarmoedig is.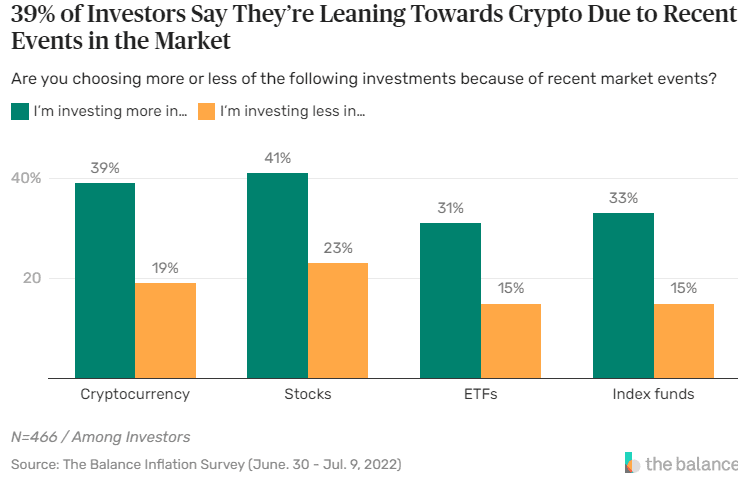 Maar liefst 39% van alle investeerders in de Verenigde Staten koopt juist cryptocurrencies bij. Bovendien koopt 41% individuele aandelen. Opvallend is dat 60% van de ondervraagden minder risico is gaan nemen, maar 41% koopt juist bij. Dat betekent vermoedelijk dat veel mensen kleinere, risicovollere altcoins hadden, maar nu coins kopen die minder risicovol zijn. Het is dus aannemelijk dat vooral Bitcoin (BTC) en wellicht grotere altcoins zijn teruggekocht.
Ook heeft The Balance gevraagd naar hoe de financiële situatie van investeerders er überhaupt voor staat. Opvallend is dat ze juist minder zijn gaan sparen door de crash. 35% spaart minder, terwijl slechts 28% juist meer spaart. Tegelijkertijd investeren veel mensen dus meer in plaats van minder. 25% steekt extra moeite in schulden terugbetalen, terwijl 24% hier minder op focust.
Hoge inflatie de boosdoener
The Balance schrijft dat het krimpende aantal spaarders komt door de torenhoge inflatie. Steeds meer mensen houden zich tegenwoordig bezig met het fenomeen – zelfs mensen die zich normaal gesproken helemaal niet mee bezighouden met economie. Jordan Peterson is hier een mooi voorbeeld van. Hij ziet Bitcoin als een manier om een oneerlijk spel te ontsnappen.
In een Crypto Insiders Premium-artikel schreven we onlangs dat het nog wel even kan duren voordat de euro stopt met in waarde dalen. Investeer jij meer of juist minder nu de markt is gedaald? En denk je dat de inflatie de komende tijd meer of minder gaat worden? Vertel het ons op Discord!