Gisteren was het een relatief rustige dag voor de nummer 1 cryptocurrency ter wereld. Een interessant nieuwtje stak met kop en schouders boven de rest uit, en dat was het nieuws rondom Mexico. Er is onlangs een wetsvoorstel ingediend waarbij, wanneer deze wordt aangenomen, bitcoin (BTC) als wettig betaalmiddel wordt aangenomen in Mexico. Dit is natuurlijk weer een grote stop in de juiste richting wat betreft de adoptie en toepasbaarheid van bitcoin.
Dit gebeurde er met de bitcoin koers terwijl jij lag te slapen
Bitcoin is met 0,9% gedaald sinds 00:00. De actuele prijs is op het moment van schrijven $19.123 op crypto exchange Coinbase. De euro prijs van bitcoin is €18.333 op de Nederlandse exchange Bitvavo. Het handelsvolume daalde in hetzelfde tijdsbestek met 11%. Over de afgelopen zeven dagen daalde bitcoin met 9,1% in waarde. In de afgelopen 24 uur steeg de koers echter met ongeveer 0,2%. De totale marktwaarde van Bitcoin bedraagt op het moment van schrijven $401,7 miljard. Vergeleken met de totale crypto marktkapitalisatie komt de bitcoin dominantie hiermee uit op 43,4%, hetzelfde niveau als 24 uur geleden.
Het handelsvolume en de bodem
Alex Krüger, analist met bijna 140.000 volgers, heeft op 2 juli een interessante observering gedeeld via Twitter. Hij postte hier een simpele grafiek en zoomde in op het volume van bitcoin. Hierbij geeft hij aan dat het een regel is dat in een dalende markt het volume het hoogst is. Wanneer de markt capituleert en het hoge volume toont is dit vaak een teken dat de markt de bodem (bijna) heeft gevonden. Dit is iets wat we ook al eerder bij bitcoin hebben kunnen zien.
As a general rule, trading volume is the highest when markets capitulate, and such capitulation creates major bottoms.

This weekly chart includes the aggregated bitcoin volume for most BTC pairs (spot & perpetuals across exchanges).

Volume hit its all time high two weeks ago. pic.twitter.com/6ONLibQiL2

— Alex Krüger (@krugermacro) July 2, 2022
Dit zagen we, zoals je op de grafiek hierboven kunt zien, al bij de bodem van 2018/2019, toen de koers naar de $3.100 zakte en bij de bodem van de corona crash in 2020. In beide gevallen was het volume het hoogst precies op of net rond het moment dat de koers de bodem maakte. Dit kan ons voor deze crash natuurlijk ook een houvast geven voor wanneer de bodem dichtbij is. Krüger geeft in dezelfde tweet aan dat het volume van bitcoin twee weken geleden een nieuwe all-time high maakte.
Het nadeel is dat we natuurlijk nog niet weten of dit de laatste piek zal zijn of dat we straks nog een hardere klap krijgen, waardoor het volume nog harder zal stijgen. Dit geeft ons echter wel een leuke indicatie over dat het einde mogelijk in zicht is.
Premium crypto analyse van de dag: DOT
Eerder deze week voorspelde onze analisten het volgende scenario voor Polkadot (DOT). DOT ziet er op het moment slecht uit en zou uiteindelijk zelfs verder kunnen dalen richting de $6 (rode zone op de grafiek). Hier zouden veel Elliott Wave tellingen ook samenkomen, waardoor dit een erg sterk patroon is.
De leden van de Discord omgeving van Crypto Insiders kregen deze analyse al toen DOT zo'n 20% hoger stond. Wil je deze analyse ook direct ontvangen zonder vertraging, neem dan een kijkje in de Discord omgeving. Hier worden ook analyses van andere coins gedeeld waaronder ADA, BTC, ETH, LINK, WAVES en nog veel meer.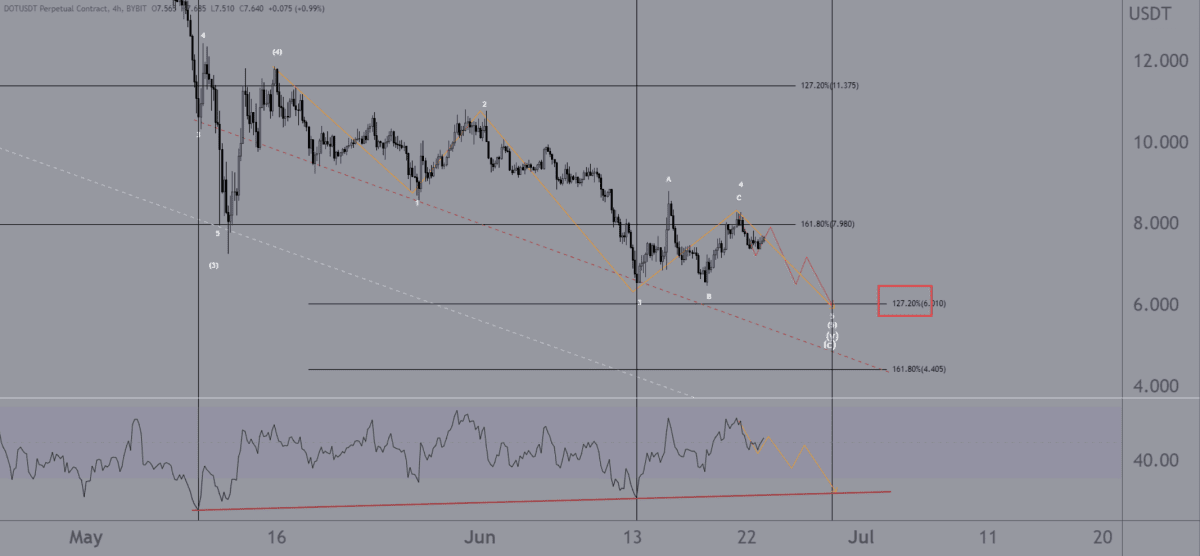 Handel samen met Crypto Insiders op Discord
Om antwoord te krijgen op de vraag of dit het juiste moment is om te kopen of verkopen verwijzen we je graag door naar onze Discord groep voor leden. Hier bediscussiëren ervaren analisten en handelaren dagelijks hun eigen in- of uitstapmomenten. Ook delen we hier als eerst onze technische en fundamentele analyses. In onze Discord community kunnen we 24/7 kennis met elkaar delen en proberen we samen met premium leden de markt voor te blijven.