Als je de afgelopen tijd in cryptocurrencies als bitcoin (BTC) hebt gehandeld, dan weet je waarschijnlijk hoe moeilijk het is om te voorspellen waar de bodem ligt van een koers. En zelfs wanneer de bodem bereikt lijkt te zijn, kan de koers daar later alsnog doorheen zakken. Ook nu is het zeer moeilijk om te zeggen of bitcoin zijn bodem heeft bereikt of de komende tijd nog dieper daalt. Deze bekende indicator geeft aan dat bitcoin mogelijk pas volgende maand bij zijn bodem aankomt.
De PI Cycle-indicator voor bitcoin
Deze Pi Cycle-indicator is akelig goed in het 'voorspellen' waar een bodem ligt voor bitcoin, al kan deze tool natuurlijk niet echt de toekomst voorspellen. De indicator is gebaseerd op de moving averages van verschillende lengtes. Er bestaan twee versies van deze indicator, één voor de top en één voor de bodem. Die voor de bodem gebruikt de 471 simple moving average (SMA) en de 150 exponential moving average (EMA). Zoals de naam al suggereert, hangt de indicator sterk samen met pi, een oneindig getal dat afgerond op 3,14159 neerkomt. De verhouding tussen de twee moving averages is namelijk exact pi. Deze PI Cycle-indicator is tot nu toe zeer accuraat geweest in het vinden van de bodem.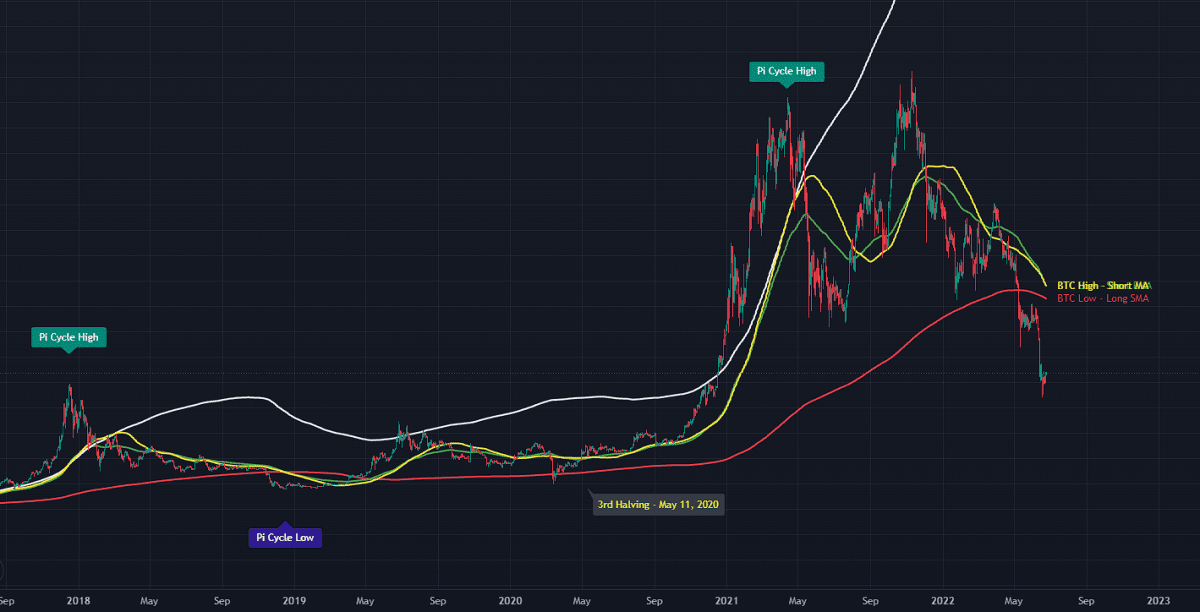 De pieken en bodems die de Pi Cycle-indicatoren hebben ingeschat waren niet ver van de werkelijke bodems. Bron: TradingView.
Wanneer bereikt bitcoin zijn bodem?
Dan nu de hamvraag waar iedereen op zit te wachten: wanneer bereikt bitcoin zijn bodem? De Pi Cycle-indicator maakt gebruik van gemiddelde trendlijnen en als je die lijn doortrekt, kun je zien waar ze mogelijk elkaar doorkruizen. Dat is precies wat crypto-analist Plan C onlangs deed met behulp van de 10-dagen SMA. De lijnen zouden dan elkaar doorkruizen op 9 juli, wat mogelijk suggereert dat bitcoin dan zijn bodem bereikt. Dat is natuurlijk een grove schatting gebasseerd op een gemiddelde trend en de markt hoeft niet per so zo uit te spelen. Desondanks is het een zeer interessante gegeven!
Cross Trajectory 🎯 #BTC

I did a 10-day SMA of the rate of change of the Pi-Cycle Bottom Indicator.

At the current trajectory we should see the cross occur on July 9th, 2022. #Bitcoin #Crypto pic.twitter.com/uVotmB2bRK

— Plan©️ (@TheRealPlanC) June 23, 2022