China hanteert al een tijdje een verbod op cryptocurrency-exchanges en initial coin offerings (ICO's). Ondanks of misschien juist dankzij dit verbod blijft de over-the-counter (OTC) handel van cryptocurrencies het goed doen in China.
Binance, een van de grootste cryptocurrency-exchanges ter wereld, wil hiervan een graantje meepikken en kondigde begin deze maand aan dat het een OTC-dienst voor bitcoin (BTC), ether (ETH) en tether (USDT) in China heeft gelanceerd.
Toen Changpeng Zhao, CEO van Binance, op Twitter de vraag werd gesteld of dat betekent dat Binance betalingen met WeChat en AliPay, de twee grootste betalingsdiensten in China, accepteert, zei hij in een inmiddels verwijderde tweet: ja!
Echter ontkende AliPay dit onmiddellijk. De Chinese betaaldienst zegt dat zij alle transacties gerelateerd aan cryptocurrencies zullen tegenhouden:

If any transactions are identified as being related to bitcoin or other virtual currencies, @Alipay immediately stops the relevant payment services.

— Alipay (@Alipay) October 10, 2019

Dovey Wan, medeoprichter van Primitive Crypto, meldt dat WeChat een dergelijk bericht heeft gepubliceerd:

wechat pay also followed up with an announcement to reassure "wechat will never support cryptocurrencies trading, and has never integrated with any crypto merchant

And it says "we welcome any whistle blower to report such behavior" 🤯🤯🤯 pic.twitter.com/Kj4HTupkKZ

— Dovey "Rug The Fiat" Wan🪐🦖 (@DoveyWan) October 10, 2019

Nu blijkt uit nieuwe data van Coin Dance, gepubliceerd op 19 oktober, dat Paxful, een Chinees OTC platform, record-brekende volumes van OTC handel heeft gemeten. Het volume ligt een stuk hoger dan het hoogtepunt van de koersen eind 2017 en is zelfs voor het eerst voorbij 10 miljoen Chinese yuan gestegen.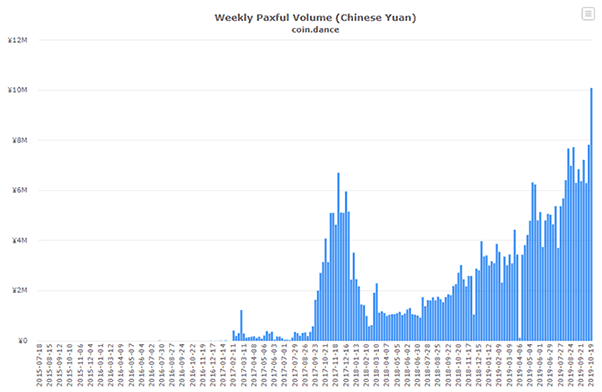 Het eigenaardige is dat Paxful gewoon betalingen met AliPay en WeChat accepteert. Daarnaast zijn er ook Chinese handelsplatformen als LocalBitcoins, LocalCoinSwap, HodlHodl en CoinCola die dat tevens doen.
In welke mate de Chinese overheid alsmede WeChat en AliPay hun verbod ook daadwerkelijk zullen hanteren is hiermee niet bepaald verduidelijkt, het lijkt erop dat bitcoin zich vooralsnog in een grijs gebied bevindt qua regelgeving.
De markt is wat saai, maar ga niet uit verveling traden! Hou je aan je plan en heb geduld. Benieuwd naar het plan van Crypto Insider David? Klik dan hier om zijn net verschenen wekelijkse column te lezen.
Wil je op de hoogte blijven van het laatste nieuws? Abonneer je dan op onze push-berichten, Facebook– of Twitter. Meediscussiëren? Meld je dan aan voor ons Telegram kanaal.