Wat een euforie en enthousiasme in de markt. Wat een frisse blik brengen de trotse nieuwkomers met zich mee. Onbevangen en overdonderd door het geweld dat er momenteel om de oren vliegt. Ja, ook ik moet af en toe toch met een grijns constateren dat we in een heerlijke run zitten.
Gaat dit dan gewoon tot aan de zomer door?
Dat vrees ik dan weer niet. Wat je momenteel ziet is nieuwkomers op de markt die van horen-zeggen massaal toestromen. Zonder plan instappen en het is zomaar raak! Neem bijvoorbeeld the graph (GRT). Hier is momenteel flink wat hype en zelfs op $2,30 instappen (nadat we eergisteren nog in de 90 cent zaten) loont. Het probleem dat hier schuilgaat is de mogelijke correctie. Fanaten die voor die run van $0,90 naar $2,70 zijn ingestapt zitten goed en zullen niet direct paniekeren. De mensen die zeer recent instappen in dit soort coins kunnen met een daling van 25% weleens flink in de stress schieten.
Dit is dan ook de reden dat wij de members van Crypto Insiders met raad en daad bijstaan om te voorkomen dat je door enthousiasme gevangen, op een coin springt die zeer recent 300% is gestegen. Je wilt vanuit een solide plan/strategie handelen. Het hoofd koel houden in deze gekke weken kan je op een later moment nog wel eens goed uitkomen!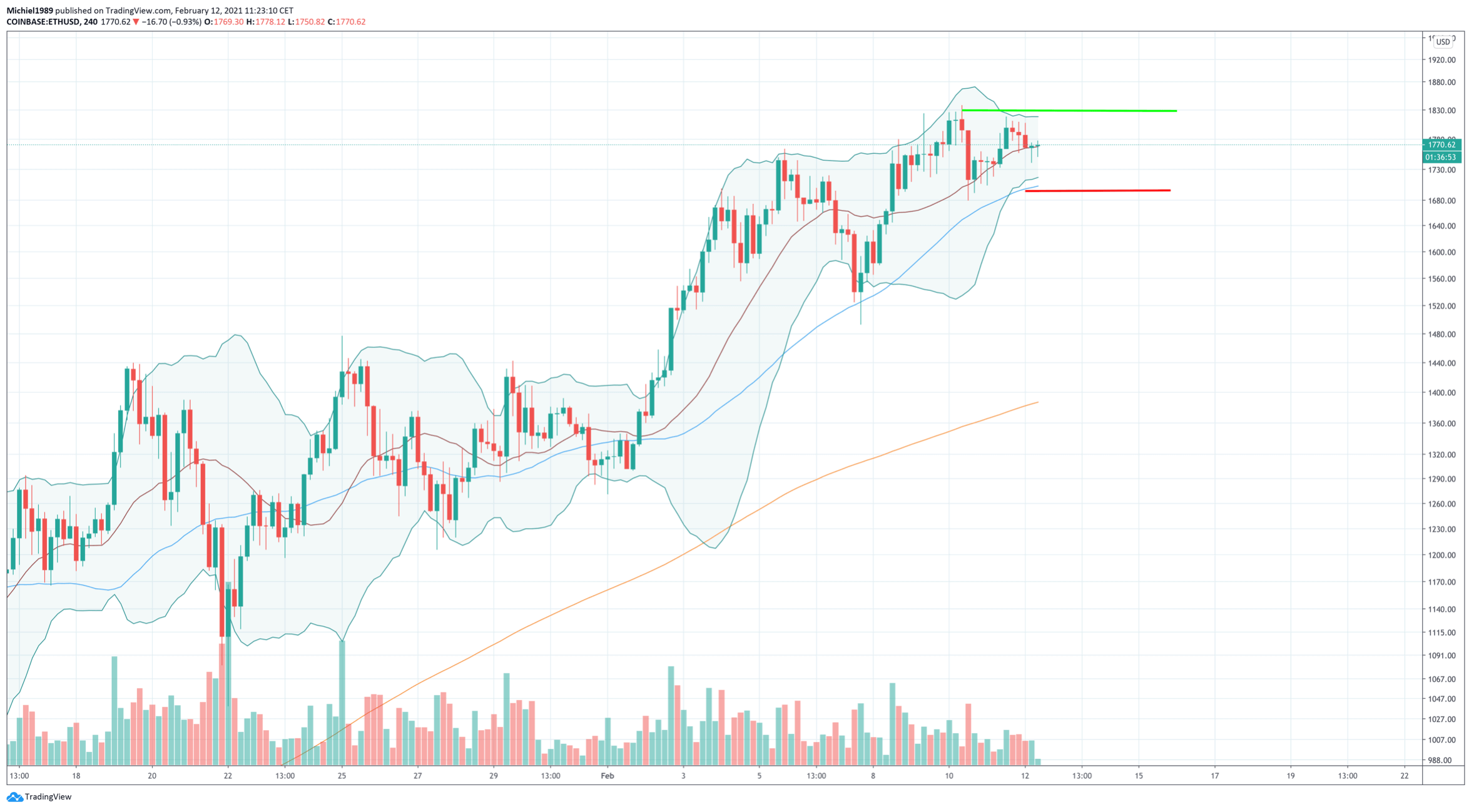 Afbeelding 1: 4-uurs grafiek van ethereum (ETH) op cryptocurrency exchange Coinbase
Hierboven zien we vrij overzichtelijk wat voor de ethereum koers het vervolgpad is. Zodra deze een impuls boven de $1.840 weet te krijgen ligt de weg naar de $2.000 compleet vrij. Een uitschieter richting de $2.500 is hierbij zeker niet ondenkbaar. Let wel, de tweewekelijkse grafiek lijkt richting een top te lopen dus in de komende 3 maanden verwacht ik absoluut dat we een week of 4 downside gaan zien.
Anderzijds zou het breken van $1.700 de complete bodem vrijgeven richting de $1.400 en mogelijk zelf nog dieper. Dit zijn momenteel de twee sleutelzones waar je de aandacht op gericht wilt hebben.
Zoals in het begin benoemd zouden de nieuwkomers met wat paniek wel een een dip verder door kunnen laten schieten. Momenteel ben ik ook, zeker zo'n dag als gister met stijgingen van 60-80% per dag, winst aan het nemen. Op die manier verzilver ik de winst en bij een dip heb ik fiat beschikbaar om in te stappen.
Is bitcoin dan niet meer interessant?

Ja en nee, uiteraard blijft de koning van de crypto een goede om in de gaten te houden. Echter ben ik van mening, en het is de afgelopen maand gebleken, dat wat meer risico met alts nemen loont. Waar ik eind december -begin januari vol in alts ben gaan zitten is er niet ééntje die niet minimaal verdubbeld is. Ofwel het momentum lag bij altcoins. Op dit moment vind ik de meeste vrij overhit en heb ik zoals gezegd goed wat winst genomen.
Zodra de bitcoin koers onder de $43.000 zou komen is dit voor alts een moment om flink te retracen. Hoelang deze move nog gaat duren maakt in dat opzicht niet uit. Zolang we flink doorstijgen neem ik meer winst. Ik verwacht in de komende 3 maanden dus een week of 4 waarin we een nieuwe bodem gaan zoeken. Een higher low rond de $36.000 zou hier goed kunnen. Ik blijf me aanpassen aan wat de prijs doet in dit stadium.
Doe voorzichtig, geniet van de rit en beloon jezelf! Word jij ook member en spreken we elkaar in de chat? De eerste 30 dagen zijn gratis!