De Bitcoin-prijs is vrijdagavond op cryptocurrency-exchange Bitstamp onder de $6.000 gedoken, wat het laagste punt sinds zes weken betekende.
De markt had eerder die dag een licht herstel vertoond, waarbij Bitcoin (BTC) nog de $6.600 aantikte en andere cryptocurrencies de prijsbeweging van BTC volgden.
Bitcoin blijft echter hangen in een ernstige neerwaartse trend, waarbij beleggers zich berusten op het feit dat de Securities and Exchange Commission (SEC) in de nabije toekomst waarschijnlijk geen Bitcoin-ETF (exchange-traded fund) gaat goedkeuren. Hoewel dit voor de meeste analisten niet als een verrassing komt, lijkt de hoop van veel beleggers op een goedkeuring door de SEC toch de reden te zijn geweest voor de rally in juli, en de daaropvolgende sell-off begin deze maand.
Tegen deze achtergrond bleek de Bitcoin-prijs niet is staat te zijn terug te keren naar de $7.000 en begon het af te dalen naar $6.350 iets na 21:45 uur. Binnen enkele minuten was BTC gedaald tot onder de $6.150 en rond 22:00 uur kostte het de grootste moeite om niet onder de $6.000 uit te komen.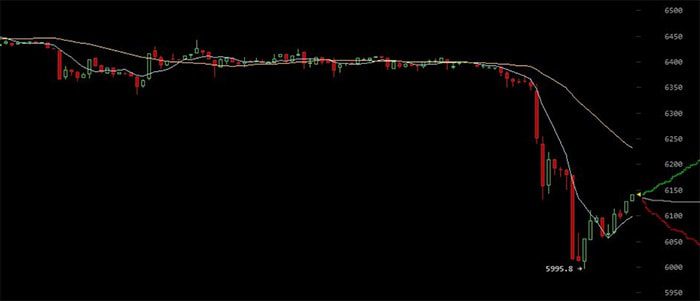 Op Bitfinex slaagde Bitcoin er uiteindelijk in om boven de $6.000 te blijven en kwam het niet lager dan $6.010, maar op Bitstamp daalde BTC om 22:09 uur tot $5.995, waardoor het voor het eerst sinds 29 juni onder de $6.000 uitkwam. Op het moment van schrijven wordt Bitcoin voor $6.099 verhandeld.
Wil je op de hoogte blijven van het laatste nieuws? Abonneer je dan op onze push-berichten, Facebook– of Twitter pagina.