Het ziet er opnieuw niet best uit voor bitcoin (BTC)! Waar de koers gisteren nog het grootste deel van de dag zijwaarts handelde, is BTC gisteravond opnieuw verder afgedaald. Hoe staan we er nu voor en wat staat ons vandaag te wachten? Je leest het in deze bitcoin marktupdate.
Bitcoin koers daalt verder af
Het is een pijnlijk gezicht, de koers die sinds 12 juni een nieuwe versnelling naar beneden heeft gemaakt. Hiermee staat de bitcoin koers over de afgelopen 7 dagen maar liefst 30% in de min! En ten opzichte van de huidige all-time high (ATH) is het beeld natuurlijk alleen nog maar slechter.
Op het moment van schrijven is de bitcoin prijs op crypto exchange Coinbase $21.280. Op het Nederlandse crypto handelsplatform Bitvavo is de bitcoin euro prijs €20.337.
Het is dus wachten, en misschien vooral hopen op een bodem. De afgelopen 24 uur daalde bitcoin iets in waarde nadat het een stuiter wist te maken vanaf $20.700. Dit prijsgebied is enorm belangrijk, dit is namelijk waar BTC in 2017 zijn ATH vormde. Voor veel traders is het vrijwel onmogelijk dat bitcoin onder deze vorige ATH terecht komt. Analist en traders Nebraskangooner waarschuwt zijn volgers echter:
"Ik vraag me af of mensen nog steeds denken dat het "onmogelijk" is voor Bitcoin om onder de vorige ATH te gaan. Ik focus me liever op het hoogtepunt van de meest recente top die rond de $14k lag. Onthoud, met BTC is alles mogelijk. Daarom zijn we hier in de eerste plaats!"
I wonder if people still think it's "impossible" for #Bitcoin to go below previous ATH.

I also prefer to focus on the high of the most recent top that was around $14k.

Remember, with #BTC anything is possible. That's why we're here in the first place! pic.twitter.com/xBT6zKu5kE

— Nebraskangooner (@Nebraskangooner) June 15, 2022
FOMC meeting belangrijk voor bitcoin
Vandaag is het voor bitcoin traders belangrijk om te onthouden dat vanavond om 20:00 Nederlandse tijd de Federal Open Market Committee (FOMC) meeting plaatsvindt. Vervolgens zal de Federal Reserve bekendmaken hoeveel het de rente zal gaan verhogen.
Aanvankelijk was de verwachting dat dit een verhoging van 0,5% zou gaan zijn. Door de aanhoudende inflatie is de verwachting nu dat dit 0,75% zal worden. Volgens econoom Alex Krüger is dit nieuws al grotendeels ingeprijsd. Met andere woorden, de reactie van bitcoin handelaren vlak na het nieuws kan minder heftig zijn dan verwacht.
"Aangezien dit volledig is geprijsd en gezien de seismische marktbewegingen sinds vrijdag, kan ik mij woensdag een rally voorstellen." aldus Alex Krüger op Twitter.
Brengt BTC alsnog een bezoek onder de $20.000?
Kortom, er is voorzichtige hoop dat de FOMC meeting voor een lokale bodem kan zorgen. Handelaar Kaleo hoopt desalniettemin ook dat bitcoin alsnog onder de $20.000 dumpt, waarschijnlijk zodat hij daar lekker goedkoop BTC kan oppikken. Maar ook hij is uiteindelijk voor de korte termijn redelijk positief:
"In de hoop dat we tot de FOMC-meeting van morgen nog naar de high-teens gaan, waar de markt een glimp opvangt van beter dan verwacht nieuws met renteverhogingen, enz. en uiteindelijk een bodem bereikt."
Hoping we just dump to the high teens until tomorrow afternoon's FOMC meeting, where the market catches some glimpse of better than expected news w/ rate hikes, etc. and finally catches a bottom. pic.twitter.com/7C1PRbRjyA

— K A L E O (@CryptoKaleo) June 15, 2022
Dit is wat de Crypto Insiders Premium leden denken
Dagelijks houden we interessante polls in onze premium Discord groep om het sentiment binnen onze community te peilen. Gisteren vroegen we hen: "Denk jij dat Bitcoin onder de 18k zal duiken?" Let op, deze poll werd dus gisterochtend gehouden. De resultaten vind je hieronder.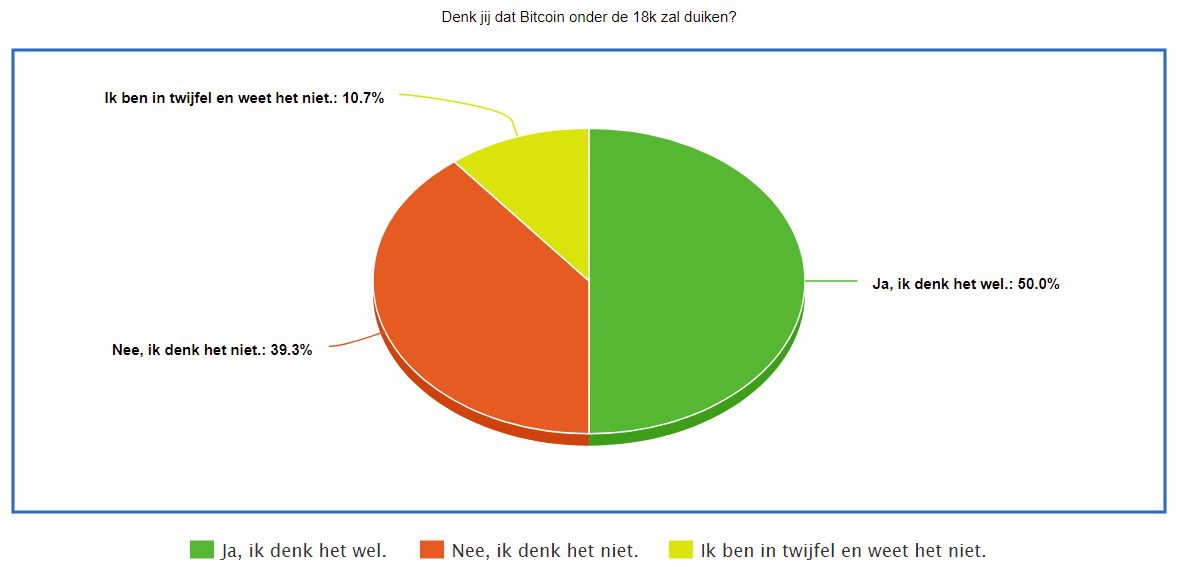 Crypto Insiders Premium voor bitcoin analyses
Wil jij diepgaandere bitcoin analyses ontvangen? Dan verwijzen wij je graag door naar onze Discord community voor leden. Stel vragen aan analisten, klets met onze fanatieke community en ontvang dagelijks technische en fundamentele analyses van bitcoin, maar ook andere crypto. Via Discord kunnen we 24/7 kennis met elkaar delen en proberen we samen met onze leden de markt voor te blijven. In de premium omgeving van Crypto Insiders worden later vandaag nog diepgaandere analyses gedeeld.
Disclaimer: Beleggen brengt risico's met zich mee. Onze analisten zijn geen financieel adviseurs. Raadpleeg altijd een adviseur bij het maken van financiële beslissingen. De informatie en tips die op deze website worden verstrekt zijn gebaseerd op eigen inzichten en ervaringen van onze analisten en dienen alleen voor educatieve doeleinden.