Bitcoin (BTC) kon afgelopen week met zo'n 10% stijgen, maar bleef in de afgelopen 24 uur tussen $21.500 en $21.800 hangen. Daar zat afgelopen nacht nog wel een flinke piek tussen, de bitcoin koers tikte toen bijna $22.400 aan. Echter corrigeerde bitcoin onmiddellijk terug naar hetzelfde bereik. De BTC prijs komt op het moment van schrijven uit op $21.750 op Binance en €21.550 op Bitvavo.
Daarmee staat de BTC koers 0,7% in de plus vandaag. Het handelsvolume steeg met 15,6% in de afgelopen 24 uur. De totale marktkapitalisatie komt uit op $416 miljard, de dominantie op $39,5% en de Fear & Greed Index op 25. Zoek jij hulp met handelen en ontvang je graag exclusieve analyses? Probeer dan ons Premium-lidmaatschap 30 dagen gratis!
Bitcoin Fear and Greed Index is 25 — Fear
Current price: $21,770 pic.twitter.com/Wkn47FpH8Y

— Bitcoin Fear and Greed Index (@BitcoinFear) September 12, 2022
Bitcoin nieuws van gisteren
Bitcoin in rising wedge patroon, wanneer volgt uitbraak?
Na de recente opmars van bitcoin, lijkt de koers momenteel te consolideren rond het niveau van $21.500 level. Dit gebeurt in een rising wedge patroon. Een rising wedge patroon is een bearish patroon en ontstaat vaak na een sterke opwaartse trend. Vaak zien we dit patroon ontstaan voordat de koers naar beneden uitbreekt. Op de grafiek is het patroon kenbaar gemaakt met behulp van de witte trendlijnen. De analisten uit onze Discord omgeving verwachten dus een uitbraak omlaag, tot ongeveer $20.000.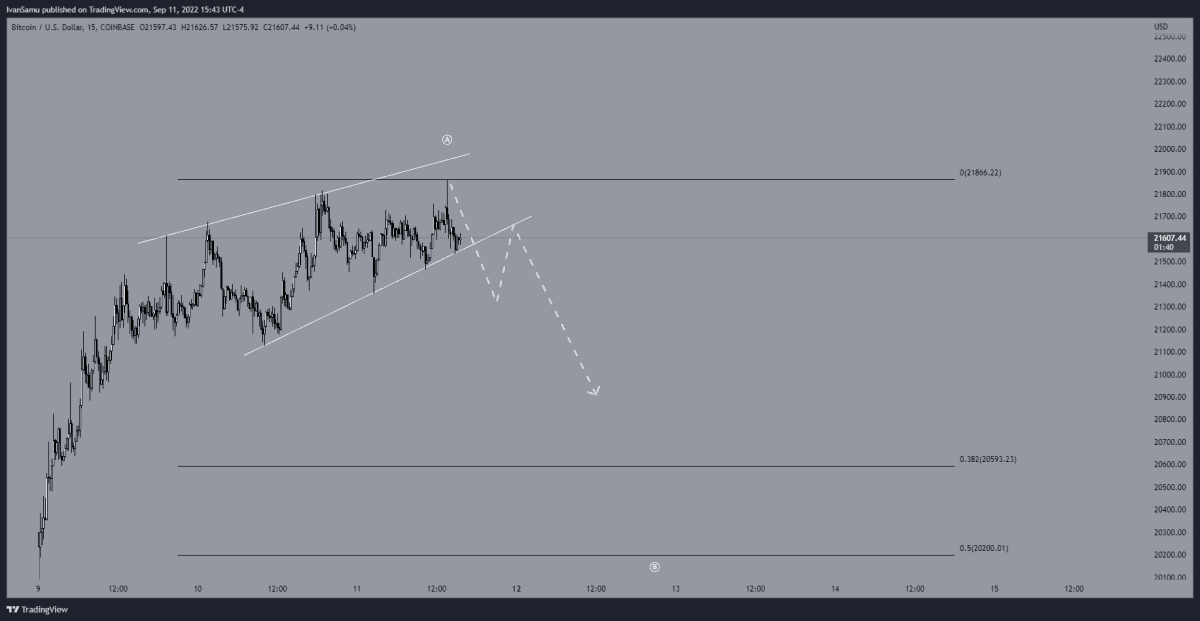 De kracht van de koers kan bepaald worden aan de hand van de Relative Strength Index (RSI). Op het moment zien we de koers nieuwe toppen maken, terwijl de RSI dit niet doet. Dit betekent dat de kracht van de koers vermindert en we dus een daling kunnen verwachten. Heb je vragen over deze analyse of wil je dergelijke analyses van bitcoin en andere crypto eerder ontvangen? Neem dan een kijkje in onze Discord omgeving.
Aantal BTC "wholecoiners" stijgt tot recordniveau
Een wholecoiner is iemand die één of meer bitcoin bezit. Het aantal wholecoiners kan een indicatie geven hoe sterk de algemene investeerder in bitcoin gelooft. Door een blijvende prijsstijging zal het bezitten van één bitcoin over tijd steeds moeilijker worden.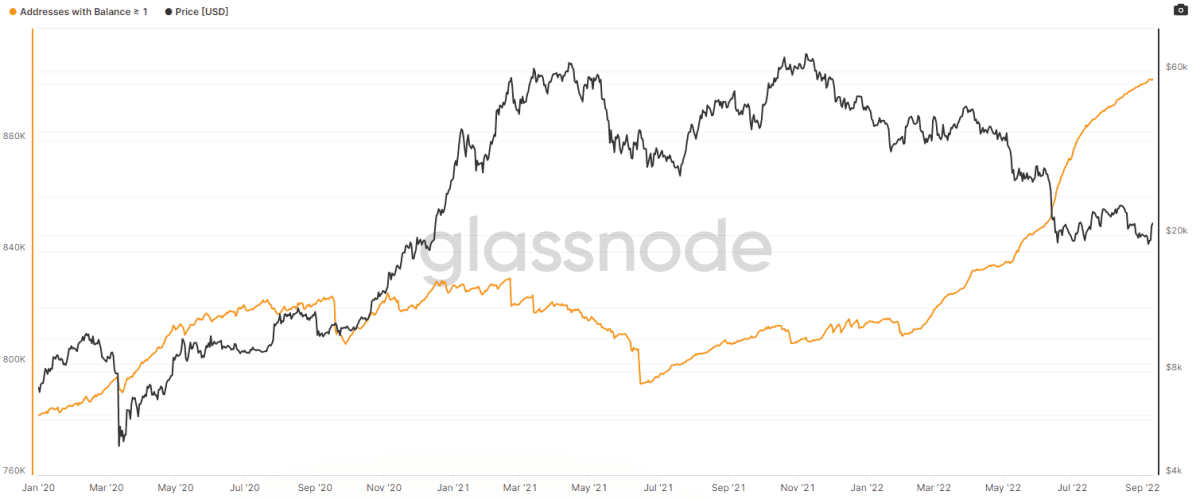 Opvallend is dat gedurende de hele bull-markt van 2021 het aantal wholecoiners relatief stabiel is gebleven. De afgelopen maanden is het aantal van zo'n 800.000 wholecoiners naar bijna 900.000 wholecoiners gestregen. Het is een grotere stijging dan dat we na de crash van 2020 zagen. Vooralsnog lijkt de huidige positieve trend zich voort te zetten en bereikte het aantal wholecoiners nieuwe records de afgelopen weken.
Handel samen met Crypto Insiders
Zoek jij hulp met handelen? Heb je vragen en wil je technische analyses voor direct ontvangen? Word lid en probeer een Premium-lidmaatschap 30 dagen gratis. Hier delen onze analisten 24/7 hun marktkennis en de nieuwste analyses. Hier kan je ook direct in contact komen met verschillende marktexperts en crypto-enthousiastelingen die klaar staan om jou te helpen!
Disclaimer: Beleggen brengt risico's met zich mee. Onze analisten zijn geen financieel adviseurs. Raadpleeg altijd een adviseur bij het maken van financiële beslissingen. De informatie en tips die op deze website zijn verstrekt is gebaseerd op eigen inzichten en ervaringen van onze analisten en dienen alleen voor educatieve doeleinden.