Goedemorgen!
Er is veel gebeurd in de tijd dat we voor het laatst naar bitcoin (BTC) hebben gekeken. Ondanks dat de koers op het moment van schrijven gelijk staat met de koers waarop bitcoin stond bij het publiceren van de vorige analyse, heeft de prijs toch grote sprongen gemaakt. In het weekend zagen we de koers een nieuwe lokale bodem maken. Hier werd zelfs de $17.600 aangetikt. Uiteindelijk wisten we over de volgende dagen enkel nog maar te stijgen en staan we weer comfortabel boven de $20.000
Bitcoin is met 4% gestegen sinds 00:00. De actuele prijs is op het moment van schrijven $21.043 op crypto exchange Coinbase. De euro prijs van bitcoin is €19.990 op de Nederlandse exchange Bitvavo. Het handelsvolume daalde in hetzelfde tijdsbestek met 12%. Over de afgelopen zeven dagen daalde bitcoin met 7% in waarde. In de afgelopen 24 uur steeg de koers echter met ongeveer 4,8%. De totale marktwaarde van Bitcoin bedraagt op het moment van schrijven $401,7 miljard. Vergeleken met de totale crypto marktkapitalisatie komt de bitcoin dominantie hiermee uit op 43,4%, hetzelfde niveau als 24 uur geleden.
Lange termijn trend van 10 jaar doorbroken
Om een beeld te krijgen van de markt is het soms beter om het groot plaatje te pakken. Hier past het gezegde "when in doubt zoom out" perfect bij. Dit wil eigenlijk zeggen, mocht je twijfelen of mocht de daling toch wel heel heftig lijken, zoom dan even uit op je grafiek om een beeld te krijgen van de prijsgeschiedenis in plaats van het korte termijn plaatje.
Zo heeft ook het Twitter-account van Bitcoin Archive dat gedaan. Op deze grafiek is heel mooi een opwaartse trend te zien voor de bitcoin koers van over de afgelopen tien jaar waar de pieken met elkaar verbonden zijn en de bodems ook.
Some random lines on the #Bitcoin chart… 😉 pic.twitter.com/SBsRixio0e

— Bitcoin Archive 🗄🚀🌔 (@BTC_Archive) June 18, 2022
Op het moment zien we echter dat de recente prijsactie even onder de onderste trendlijn kwam. Hierdoor zou je misschien denken dat de steunlijn doorbroken is en we naar lagere steunniveaus moeten zoeken. Echter als we naar het verleden kijken zien we dat de koers hier vaker aan de onderkant is uitgebroken. Deze punten bleken later juist de perfecte koopmomenten te zijn.
Hoewel de geschiedenis zich natuurlijk nooit herhaalt, zien we vaak wel dat deze rijmt. Het zou dus mogelijk opnieuw een mooi moment zijn om nog in te stappen voor bitcoin.
Bitcoin voorspellingen van de analisten van Crypto Insiders
Gisteren hebben onze analisten weer een nieuwe analyse gedeeld over bitcoin in de Discord omgeving van Crypto Insiders. Hierin zagen we dat de entry van onze vorige analyse perfect is geraakt en dat we naar boven richting ons target kunnen stijgen.
Ook reageerde de koers duidelijk op de door ons opgestelde dynamische support lijnen. Door deze analyse hebben we een korte en middellange termijn doelstelling kunnen maken.
Voor de volledige analyse en alle waardes en prijsniveaus die bij de analyse horen kan je een kijkje in de Discord omgeving nemen. Hier staat alles duidelijk beschreven. Ook kan je via deze weg in contact komen met onze analisten die al je vragen kunnen beantwoorden.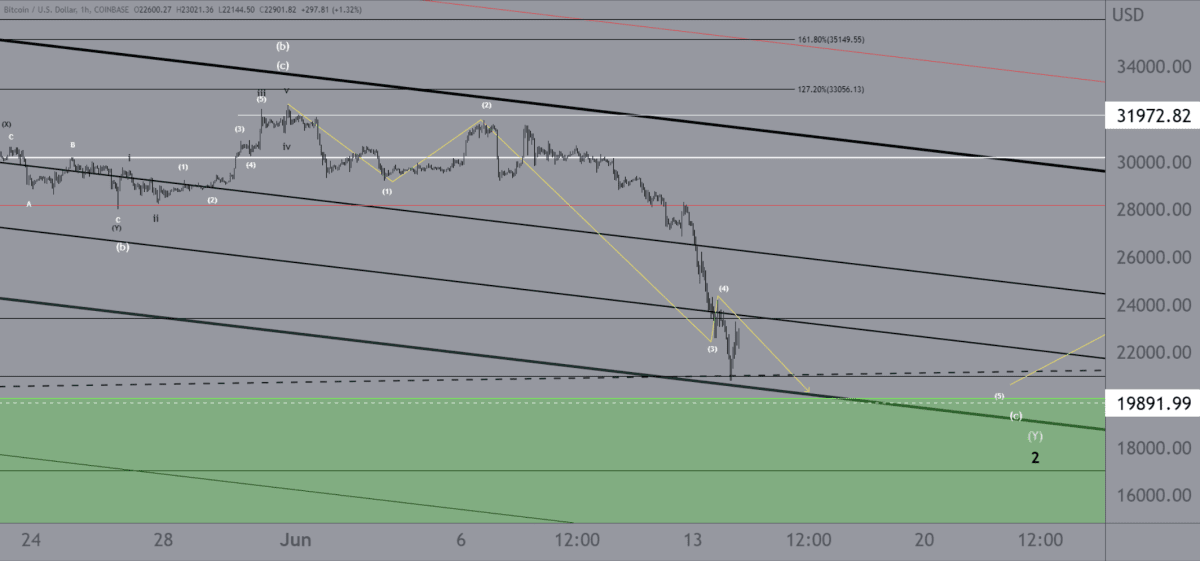 Dagelijks actuele analyses ontvangen?
Ook de analisten van Crypto Insiders hebben hun eigen analyses gedeeld in de Premium Omgeving van Crypto Insiders voor leden. Hier wordt o.a. bitcoin dagelijks besproken en zal je op de hoogte gehouden worden van alle ontwikkelingen rondom de koers en het project zelf. Ook analyseren onze analisten verschillende andere cryptocurrencies. Er staan op het moment al verschillende technische analyses voor je klaar! Neem een kijkje in onze Discord omgeving voor leden.