Goedemorgen crypto-fanaten! Gister was de spanning in onze Discord community al om te snijden, want hoe zou de bitcoin (BTC) koers gaan reageren op de grote renteverhogingen die zijn aangekondigd vanuit de Federal Reserve?
Dit gebeurde er met bitcoin toen jij lag te slapen
Bitcoin is de afgelopen 24 uur 4% gestegen. De bitcoin euro prijs op de Nederlandse crypto exchange Bitvavo is op het moment van schrijven €20.862. Sinds 6 uur vanochtend staat onze bitcoin koers teller op -2,5% nadat de koers na een korte stuiter een kleine pullback maakt.
Het wereldwijde bitcoin handelsvolume steeg de afgelopen 24 uur tijdsbestek met 22%, dit heeft hoogstwaarschijnlijk te maken gehad met de enorme volatiliteit rondom de rente verhogingen vanuit de Federal Reserve. Voor diegene die iets willen weten over de verwachtingen voor morgen. Zet je Senseo-machine maar vast aan want we gaan vandaag koffie dik kijken met niemand minder dan crypto analist Dave the Wave!
Analist komt met nieuwe bitcoin  voorspelling
Dave the Wave, een cryptocurrency analist met 115.000 Twitter-volgers, is voornamelijk bekend geworden door zijn voorspelling van de 2021 crypto crash. Op Twitter deelt hij veel interessante analyses, zo ook de onderstaande analyse van de bitcoin koers. Een duidelijke analyse van BTC in deze tijd is ook zeker geen overbodige luxe.
Dave gebruikt verschillende technische indicatoren bij het maken van zijn analyses. Zo viel het hem op dat de Moving Average Convergence Divergence (MACD) van zowel de wekelijkse als maandelijkse grafiek op hetzelfde niveau is als dat we zagen bij de bodems in 2014 en 2018.
Price now down through the weekly MACD line corresponding to lowest price last time round..

The same is confirmed on the monthly. pic.twitter.com/a9LVPXr59e

— dave the wave🌊🐫 (@davthewave) June 15, 2022
Op de grafieken zien we echter dat de MACD zelfs nog wat lager zou kunnen zakken, echter zal de koers, net als bij de vorige bodems, zijwaarts bewegen. Als we inderdaad de analyse volgen en vergelijkbare prijs actie krijgen als in 2014 en 2018 dan zullen we de komende maanden enkel nog zijwaarts gaan voordat we weer naar boven zullen uitbreken.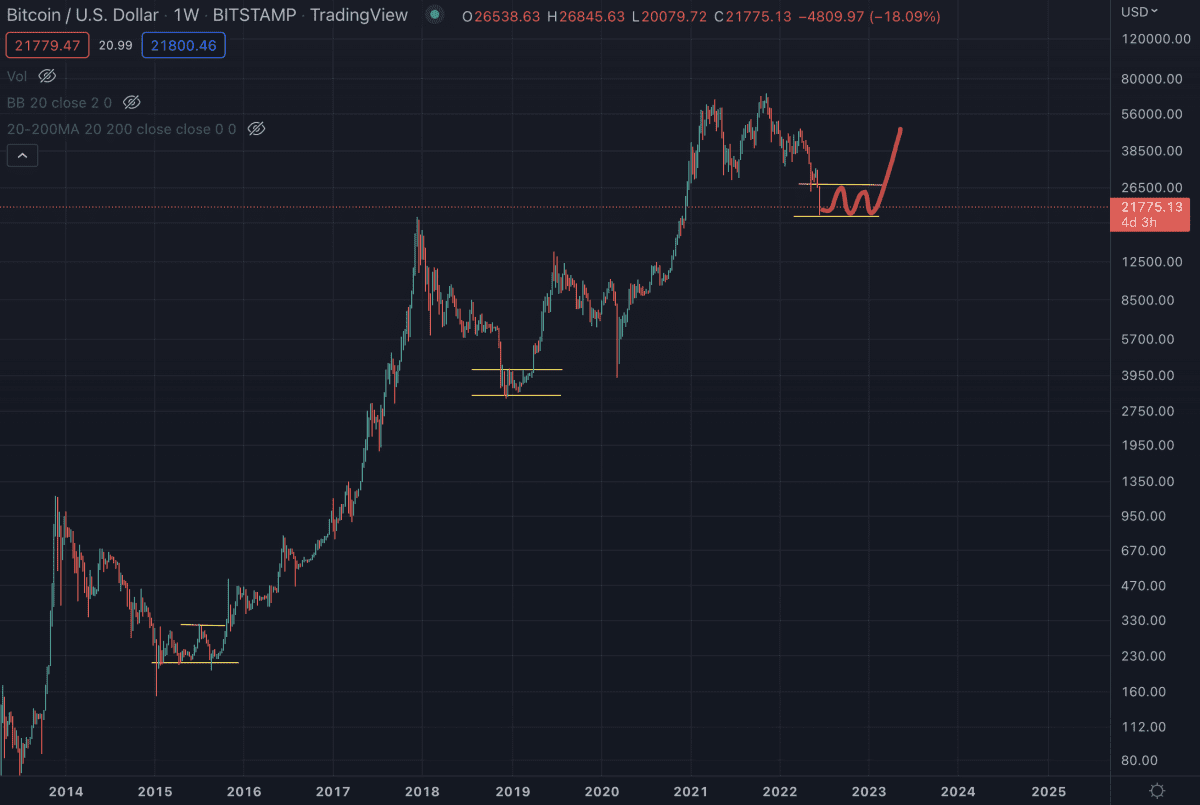 Bitcoin prijsvoorspellingen van de analisten van Crypto Insiders
Eerder deze week voorspelde onze analisten in Discord het volgende scenario. Onderstaande grafiek is op het moment van schrijven (15 juni 2022) nog van toepassing. Hier is de verwachting nog steeds dat bitcoin op basis van Elliott Wave analyse mogelijk wat verder weg kan zakken aangezien we bezig zijn met een wave 5. Deze wave 5 zal tevens ook het einde zijn van de neerwaartse prijsactie aangezien de grotere waves compleet zijn.
Daarnaast is de neerwaartse dynamische trendlijn (dikkere lijn op de grafiek) hier ook erg belangrijk voor de bulls. Mochten we hier doorheen breken kunnen het zomaar nog eens rode weken worden voor bitcoin. Vooralsnog zien we de groene zone op de grafiek nog als duidelijk steunzone.
Mocht je nou vragen hebben naar aanleiding van deze analyse, stel deze dan gerust in onze Discord community voor leden.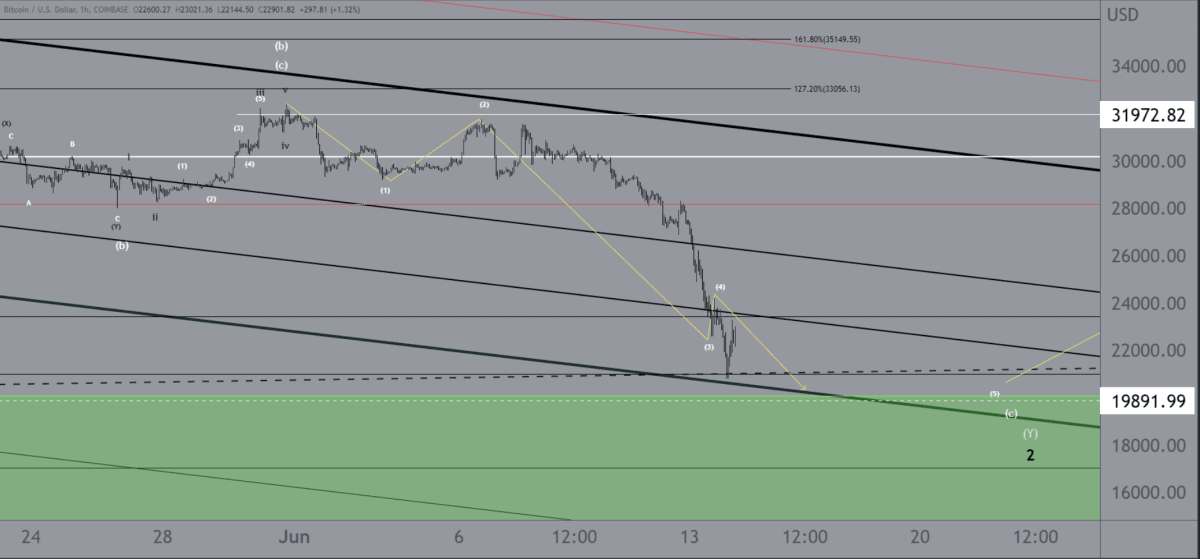 Handel samen met Crypto Insiders
Wil jij graag dit soort koers analyses van crypto eerder zien? Dan verwijzen wij je graag door naar onze Premium dienstverlening, hier wordt de bitcoin koers dagelijks besproken. Ook bediscussiëren ervaren analisten en handelaren hier dagelijks hun eigen handelsplannen en koers analyses van andere crypto-projecten. Via Discord kunnen we 24/7 kennis met elkaar delen en proberen we samen met onze leden de markt voor te blijven.
Disclaimer: Beleggen brengt risico's met zich mee. Onze analisten zijn geen financieel adviseurs. Raadpleeg altijd een adviseur bij het maken van financiële beslissingen. De informatie en tips die op deze website worden verstrekt zijn gebaseerd op eigen inzichten en ervaringen van onze analisten en dienen alleen voor educatieve doeleinden.