Bitcoin (BTC) lijkt de week na twee weken van stijgingen licht in het rood af te gaan sluiten. De koers bevindt zich hiermee nog altijd in gevecht met de 200-weken moving average (MA). Wat zijn de belangrijke prijsniveaus om in de gaten te houden de komende week? Je leest het in deze bitcoin marktupdate.
Huidige bitcoin prijs: €22.611 op Bitvavo
Zoals gezegd kleurt de candle voor deze week vanavond, zodra de week wordt gesloten, zoals het er nu voorstaat licht rood. De afgelopen week daalde bitcoin met een kleine 2% waarbij bij het prijsniveau van $22.500 steun gevonden werd. Op het moment van schrijven is de bitcoin prijs op crypto exchange Coinbase $23.010, ongeveer 1% lager dan 24 uur geleden. Op de Nederlandse crypto beurs Bitvavo is de bitcoin prijs in euro €22.611.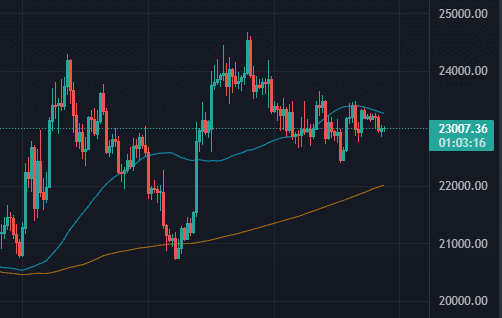 Met het oog op de huidige situatie zijn er een aantal prijsniveaus die men in de gaten kan houden. Deze prijsniveaus kunnen als resistance of support dienen in de komende dagen. Zo zien we ten eerste rond $22.500 een belangrijke support waar bitcoin deze week dus steun vond. Dit is tevens waar we de belangrijke 200-weken MA vinden, een MA waar bitcoin zelden lang onder handelde. Omhoog is het de $24.000 die gebroken dient te worden, willen de bulls verder doorstomen.
Analist deelt bullish BTC grafiek
Met bitcoin die deze week eigenlijk vooral zijwaarts handelde, zijn er hier en daar wat voorzichtige positieve signalen. On-chain analist Will Clemente deelde bijvoorbeeld een grafiek van de marktkapitalisaties van USD coin (USDC) en tether (USDT), gedeeld door de totale crypto marktkapitalisatie. Deze ratio kan een beeld geven van hoe de verhouding tussen stablecoins en de rest van de crypto ligt. Nu deze ratio daalt, lijkt er dus meer waarde richting cryptocurrencies te stromen.
Op de grafiek van Clemente is bovenaan de ratio uitgestippeld met onderaan de bitcoin prijs.
"Blijft dalen uit het historische bodemgebied, waarbij de grenzen van het kanaal gerespecteerd worden."
USDC+USDT market cap / Total crypto market cap ratio

Continues to roll off of the historical bottoming area, respecting the channel bounds. pic.twitter.com/Dct3cpnbJM

— Will Clemente (@WClementeIII) August 6, 2022
Uiteraard kan men geen conclusie trekken uit een enkele grafiek. Toch is het een interessante ontwikkeling om in de gaten te houden. Wil jij diepgaande analyses ontvangen over bitcoin, leren handelen en vragen kunnen stellen aan analisten en crypto coaches? Binnen onze Discord is voor ieder wat wils! Wat denk jij, kunnen de bulls de komende week standhouden? Laat het ons weten. Via deze link vind je de Crypto Insiders Discord.