De Nederlandse analist PlanB heeft een grafiek gedeeld waarin hij kijkt naar de gerealiseerde prijs van bitcoin. En wat blijkt? Door de dalende bitcoin koers van de afgelopen maanden blijft de 200WMA reddingsboeien uitdelen om de trend van de lange termijn intact te houden. Hoe lang kan dit goed gaan?
Bitcoin koers daalt 2,74%
Voor we naar zijn grafiek kijken, richten we ons eerst op de korte termijn. De huidige bitcoin prijs is 22.250 euro volgens cryptobeurs Bitvavo. De afgelopen 24 uur is de waarde van bitcoin met 2,74% gedaald. Dat is jammer, want in de hele maand juli zat bitcoin juist in een goede flow.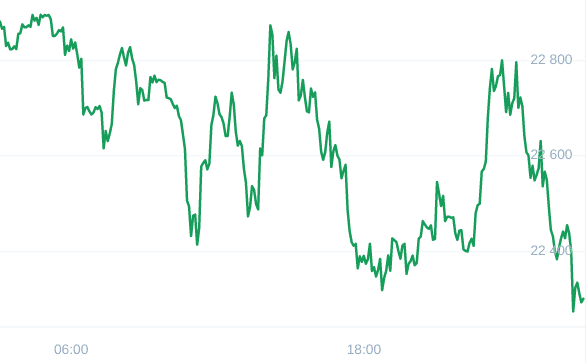 Rendement op bitcoin koers
Voor hodl'ers zijn het koersgeweld en de volatiliteit van bitcoin op de korte termijn niets meer dan ruis. Als je uitzoomt zie je immers een almaar stijgende koers.
Sinds 2010 is bitcoin verhandelbaar en vanaf dat moment gaf de koers een gemiddeld jaarlijks rendement van 1.576%. Kijken we naar het totale rendement van begin 2010 tot eind 2021 (volle jaren) dan is de bitcoin koers gestegen met 18.912%.
Echte koers van bitcoin
PlanB kijkt in zijn laatste grafiek ook naar de lange termijn. Hij gebruikt hiervoor niet de normale bitcoin koers, maar de gerealiseerde prijs.
"If you don't believe it or don't get it, I don't have the time to try to convince you, sorry." – Satoshi Nakamoto pic.twitter.com/stTAXwPncO

— PlanB (@100trillionUSD) July 30, 2022
Met de gerealiseerde prijs kijk je naar tegen welke waarde elke losse bitcoin is gekocht. Dit tel je allemaal bij elkaar op en deel je door het aantal bitcoins in omloop.
De grafiek van PlanB laat zien dat de gerealiseerde bitcoin prijs de zwarte lijn raakt. Deze vertegenwoordigt het bewogen gemiddelde van de afgelopen 200 weken. Het bewogen gemiddelde wordt in het Engels moving average genoemd en omdat dit de afgelopen 200 weken betreft wordt dit afgekort tot 200WMA.
Het verleden laat zien dat als de gerealiseerde prijs blauw wordt, deze een aantal weken rondom de zwarte lijn beweegt, maar uiteindelijk bleek het punt van aanraken vooralsnog altijd een ondergrens te zijn.
Herstel bitcoin koers na 200WMA
Diezelfde zwarte 200WMA-lijn kunnen we ook plakken op de normale bitcoin koers. Hieronder staat elke candle voor één maand, terwijl de zwarte lijn nog steeds het bewogen gemiddelde van de voorgaande 200 weken vertegenwoordigt.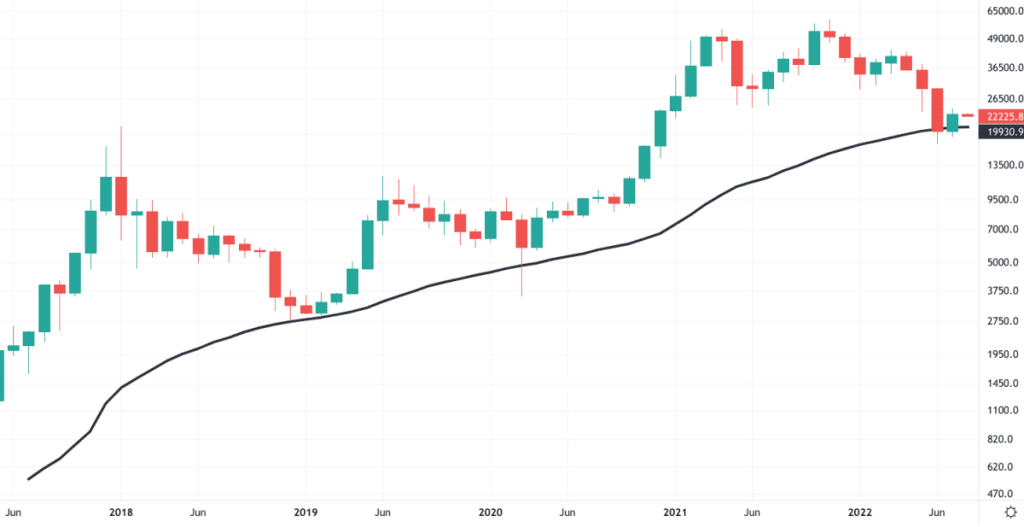 In de geschiedenis van bitcoin is er maar een maand waarvan de candle onder de 200WMA eindigde, dat was afgelopen juni (bij rode candles kijk je naar het laagste punt van de body, bij groene naar de bovenkant).
Bitcoin heeft hier een mooie bounce gemaakt en steeg in juli meer dan 19%. Op dit moment is de 200WMA 19.930 euro terwijl bitcoin op het moment van schrijven 22.250 waard is.
De kracht van de lange termijn laat zich hiermee wederom gelden.