De bitcoin koers is op het moment van schrijven met 1,71% gedaald en wordt op cryptobeurs Binance verhandeld voor 21.200 dollar. Vrijdag 26 augustus verlopen opties ter waarde van 1 miljard dollar. Wat betekent dit voor de bitcoin koers?
Bitcoin koers support en resistance
In de grafiek hieronder zie je de bitcoin koers waarbij elke candle voor 1 uur staat. De lijnen van support en resistance worden gevormd door gebruik te maken van de Fibonacci-reeks. Mocht je deze indicator niet kennen, onderaan dit artikel vind je een uitleg.
De blauwe golf die door de grafiek beweegt is het bewogen gemiddelde van de afgelopen 100 uur (candles).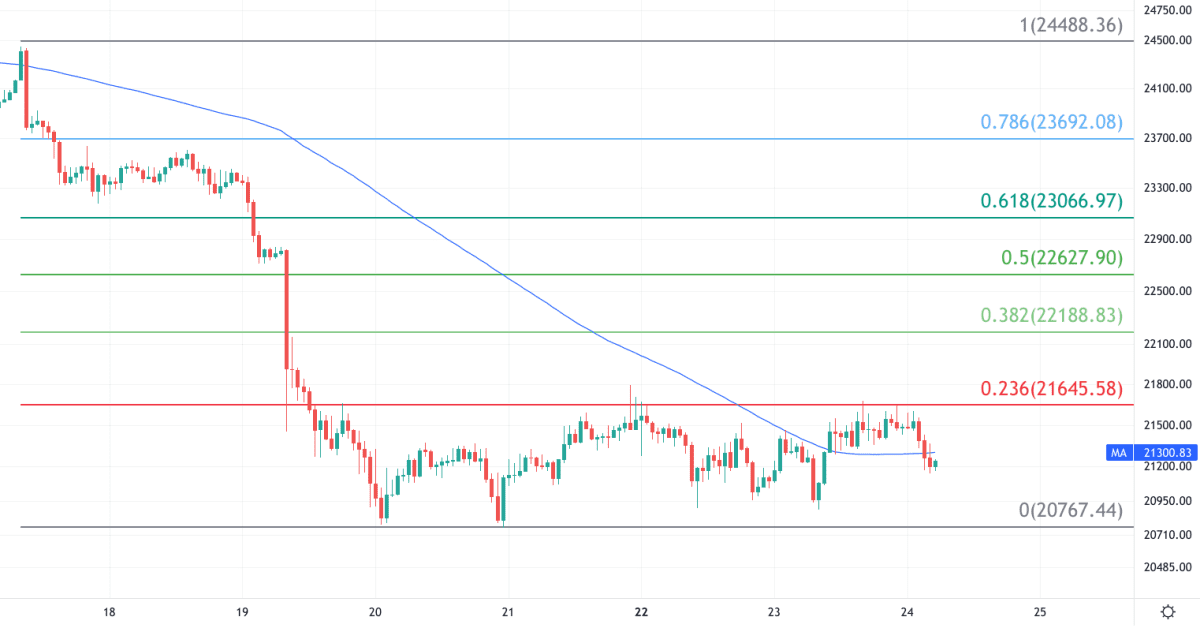 Het lijkt erop dat het 23,6% Fibonacci-level als een sterke weerstand fungeert. Bitcoin is nu 21.200 USD en dat is 100 dollar onder het bewogen gemiddelde van de afgelopen 100 uur. Een paar dagen leek het of bitcoin dit gemiddelde te boven kwam, maar het zou zomaar weer een weerstand voor bitcoin kunnen betekenen.
Mocht die blauwe lijn beslecht worden, dan ligt het volgende weerstandsniveau pas op 21.645 dollar. Dit niveau heeft bitcoin een paar keer getest de afgelopen dagen, maar het is niet gelukt om hier doorheen te breken. Mocht dat wel lukken, dan ligt de weg naar 22.000 dollar open.
Lukt het bitcoin niet om aan de bovenkant uit te breken, dan zegt Fibonacci dat de volgende steunpunt ligt op 20.767 dollar. Laten we hopen dat bitcoin hier niet onder zakt, want dan ligt de weg vrij voor de psychologische grens van 20.000 dollar.
Vrijdag 1 miljard dollar aan bitcoin opties
Wat zou zo'n daling of stijging kunnen veroorzaken? Vrijdag verlopen er opties die gezamenlijk 1 miljard dollar waard zijn. Een pessimist zou kunnen denken dat er voor 1 miljard dollar aan bitcoin gedumpt wordt op die dag, maar er is wel iets meer nuance nodig hier.
Het aantal opties laat zien dat er meer traders gokken op een hogere prijs (call) dan op een lagere prijs (put), 560 miljoen tegenover 450 miljoen. Maar van de call-opties zijn er maar 12% geplaatst onder de 22.000 dollar waardoor de meeste hiervan waarschijnlijk waardeloos zullen zijn. Althans, afgaande op de huidige bitcoin koers van 21.200 dollar.
Je zou dus kunnen stellen dat er meer call-opties zijn maar dat de put-opties beter gepositioneerd zijn.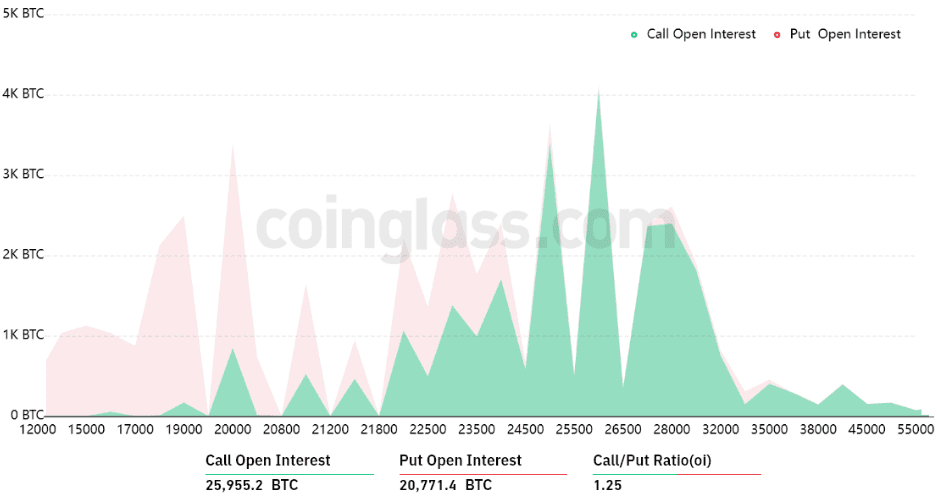 Mogelijke scenario's bitcoin koers
Maar wat moet je met deze info? Er is een aantal scenario's mogelijk vrijdag, deze worden geschetst door Marcel Pechman van Cointelegraph:
Tussen 20.000 en 21.000 USD: Het nettoresultaat is in het voordeel van de bears met 140 miljoen dollar.
Tussen 21.000 en 22.000 USD: Het nettoresultaat is in het voordeel van de bears met 100 miljoen dollar.
Tussen 22.000 en 24.000 USD: Het netto resultaat is evenwicht tussen bulls en bears.
Het wordt nog een lastige klus voor de bitcoin bulls om de koers vrijdag boven de 22.000 dollar te krijgen. Maar stel dat het niet lukt dan kunnen we kijken naar wat vorige week gebeurde. Vorige week werd voor 210 miljoen dollar aan long-futures geliquideerd, en bitcoin daalde vervolgens op vrijdag 19 augustus met 8,3%.
Als vrijdag weer veel longs worden geliquideerd, is het de vraag hoeveel kruit de bulls nog in het vat hebben om de koers omhoog te schieten.