Hoewel Bitcoin (BTC) op zondag 9 september een plotselinge prijsstijging van $6.200 naar $6.400 maakte en sindsdien enige vorm van stabiliteit rond de $6.350 heeft laten zien, heeft de rest van de markt voor cryptocurrency moeite gehad om te herstellen. Op 15 augustus bereikte de totale marktwaarde het laagste punt van het jaar op de $191 miljard. Met een afname van $200 miljard naar $196 miljard lijkt een nieuw jaarlijks dieptepunt in zicht.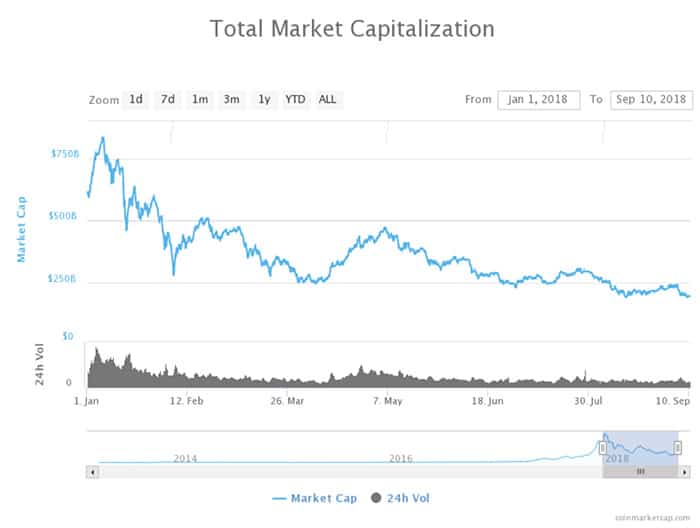 De snelle stijging in prijs en volume van zowel Bitcoin als Ethereum (ETH), dat zondag een winst van 4% boekte, suggereerde dat de cryptomarkt oververkochte omstandigheden laat zien, wat op de korte termijn zou kunnen leiden tot een corrigerende rally. Het is mogelijk dat Bitcoin de grens van $6.400 overschrijdt en misschien zelfs een momentum kan vinden rond de $6.500. Veel technische analisten hebben echter aangegeven dat het niet waarschijnlijk is dat de downtrend op de korte termijn gekeerd wordt. Een van hen tweette het volgende:
Volgens Murphy is de beste manier om een omkering van de markt aan te tonen de '3 line fan'. Op alle drie de lijnen moet een resistance level een support level worden. Ik ben geen grote fan van diagonalen maar ik heb dit idee in het verleden met groot succes gebruikt. In mijn ogen hoeven we voorlopig geen ommekeer te verwachten.
According to Murphy, one of the most powerful tools of spotting a market reversal is the 3 line fan.

All three lines must act as support turned resistance.

Not a big diagonals fan, but I've used this idea with great success in the past. Don't expect a reversal soon IMO pic.twitter.com/Nl5ouRKwGk

— Altcoin Psycho (@AltcoinPsycho) September 10, 2018

Momenteel nemen veel traders een afwachtende houding aan in de exchange-markt voor cryptocurrency, aangezien het onwaarschijnlijk is dat Bitcoin op korte termijn een grote stappen omhoog zal maken. De cryptomarkt zal, net als in augustus, naar alle waarschijnlijkheid stabiliteit moeten vinden in de lagere prijsklasse, voordat aan een nieuwe rally begonnen kan worden.