De bitcoin (BTC) koers heeft vanmiddag een aardige spurt laten zien nadat het aankwam bij een opwaartse trendlijn. Toch blijft het nog altijd afwachten op een verdere uitbraak in een periode waarin bitcoin in een steeds strakker bereik is komen te handelen. In dit artikel blikken we vooruit op de nieuwe maand.
Februari is vaak een goede maand voor bitcoin
Te beginnen met een al wat oudere tweet van on-chain analyseplatform Coinglass. Daaruit blijkt namelijk dat de maand februari over het algemeen een groene maand is voor de moeder der aller cryptocurrencies. Van de afgelopen 9 jaar was februari 7 keer goed voor positieve resultaten.
#Bitcoin Monthly Returns(%)
February seems to be Bullish most of the time.
👉https://t.co/X5PsVkpePm pic.twitter.com/MtXIGhAYOV

— Coinglass (@coinglass_com) January 20, 2022
In 2013 steeg BTC nog 61,8% in waarde in februari. Ook in 2015 tot en met 2019 waren de resultaten positief met stijgingen van soms wel 20%. Alleen in 2014 en 2020 kreeg februari een rood tintje.
Het alom bekende gezegde "in het verleden behaalde resultaten bieden geen garanties voor de toekomst" is natuurlijk altijd van toepassing. Uiteindelijk hebben we geen glazenbol en moeten we afwachten wat de toekomst zal brengen. Wel kunnen we natuurlijk de huidige situatie beoordelen.
BTC koers in symmetrische driehoek
Op de 4-uurs grafiek zien we dat bitcoin sinds 22 januari, toen de koers de $34.000 als support testte, in een lichte opwaartse trend terecht is gekomen (we laten hierbij de korte dip op 24 januari even buiten beschouwing). Wat we echter tegelijkertijd zien is dat de highs minder hoog worden. Kortom, bitcoin vormt een symmetrisch driehoekspatroon, een teken dat noch de bulls, noch de bears de controle hebben.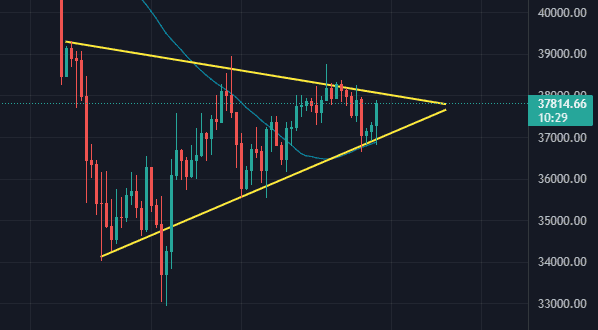 Gisternacht zakte bitcoin nog even terug tot aan de support-lijn van dit patroon bij op dat moment $36.500 op Coinbase. Precies op deze trendlijn vinden we de 4-uurs 50-moving average (MA). Hier vond de koers vandaag steun met in de afgelopen uren weer een stijging van bijna 3%. De Bitvavo bitcoin prijs is op dit moment €33.742. Of we nu wel uit de bovenzijde breken blijft zoals gezegd afwachten.
Een uitbraak, zowel naar boven als naar onder, zal waarschijnlijk hoe dan ook voor meer volatiliteit gaan zorgen. Zal deze februari weer in het rijtje van groene februari maanden eindigen? Praat mee in ons Telegram-kanaal en deel jouw verwachtingen!