Bitcoin worstelt om zijn weg uit de $6000 regio te vinden en het heeft de $7500 grens, sinds de corrigerende rally op 4 april, niet kunnen testen. De hele cryptocurrency markt, zowel de grote als de kleine cryptocurrencies, zijn in de afgelopen 48 uur gedaald.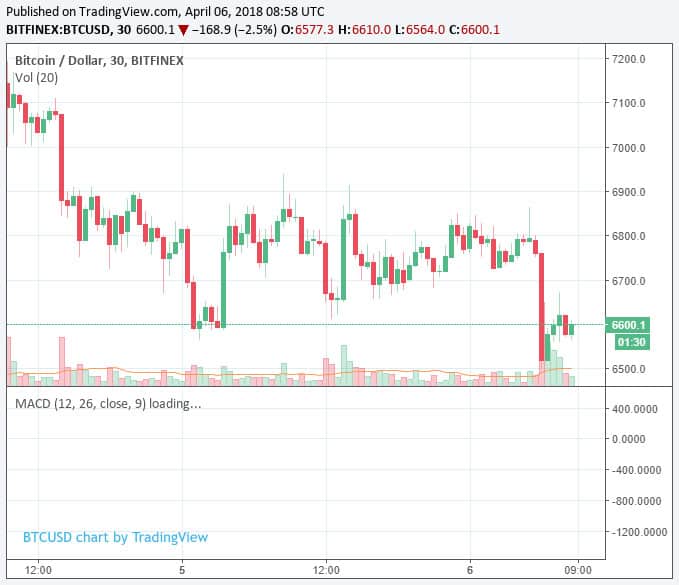 Sinds de eerste val van $7.500 naar $6.500, heeft Bitcoin het momentum niet kunnen terugwinnen om zich te herstellen naar de $7.000 regio. Hoewel de Relative Strength Index (RSI) oververkochte condities toont, heeft de markt niet de intentie getoond om een ​​nieuwe rally naar de $7.800 grens te voeren. Handelaren hebben deze grens sinds maart voor ogen als een belangrijke test voor Bitcoin.
Negatieve factoren
De val in het momentum van Bitcoin viel samen met een golf van negatief nieuws, waaronder het besluit van de Reserve Bank of India (RBI) – de centrale bank van India – om banken die aan de RBI verbonden zijn, te verbieden om met cryptocurrencies te gaan handelen. Hoewel dit geen verbod op cryptocurrency-handel of -uitwisseling is, zou het de aanstelling van partners en bankdiensten omtrent cryptocurrency-uitwisselingen kunnen bemoeilijken.

In tegenstelling tot veel rapporten die deze week zijn gepubliceerd, zal de beslissing van de RBI geen diepgaande invloed hebben op de Indiase markt voor cryptocurrency, aangezien exchanges nog altijd actief zijn als zelfregulerende bedrijven. Nog belangrijker is dat de Indiase regering nog steeds geen duidelijke houding heeft ten aanzien van de cryptomarkt en dat het beleid van de federale overheid anders kan zijn dan dat van de centrale bank.

Wereldwijd heeft de Indiase cryptocurrency exchange-markt echter een klein marktaandeel op de internationale Bitcoin- en cryptocurrency-markten. Het is daarom onwaarschijnlijk dat de aankondiging een grote impact zal hebben op de wereldwijde cryptomarkten.