Op vrijdagavond zag Bitcoin een onverwachte stijging in het handelsvolume en stuiterde snel van het $5800-prijsniveau af.

Bitcoin zakte donderdag onder de $5.800, en velen verwachtten verdere dalingen. Ran Neu Ner, gastheer van de 'Crypto Trader'-show van CNBC Africa, voorzag een daling in de komende weken tot $5.350. De recente stijging heeft Bitcoin echter tot $6.400 gebracht, waardoor er stabiliteit in de buurt van dit niveau is gevonden.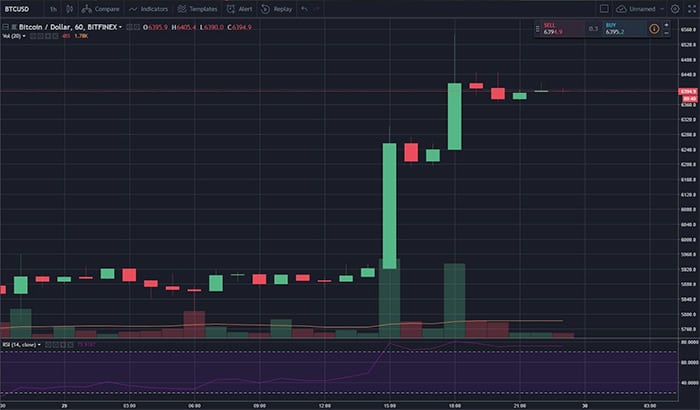 Ondanks dat het een zeer welkom stuk prijsactie was, vroegen gebruikers zich al snel af waarom dit gebeurde. Kijkend naar nieuwsbronnen, lijkt er geen enkele katalysator te zijn voor deze stijging.

Sommigen schrijven het toe aan het aflopen van futures-contracten, of de vele bullish nieuwsberichten van deze week. Hoewel de prijs je anders zou doen zeggen, heeft de afgelopen week een behoorlijk positief nieuws gehad. Positief institutioneel beleggingsnieuws van Circle, Blockchain of Andreessen Horowitz zijn slechts een van de vele voorbeelden van het positief nieuws, maar soms beweegt de markt irrationeel.

Velen in de cryptocurrency-gemeenschap zijn nog steeds onzeker over de toekomst van Bitcoin, wat zorgt voor de vraag: "waar zou de prijs van Bitcoin nu naartoe kunnen gaan?"
Arthur Hayes, CEO van BitMEX, een populaire 'leveraged trading exchange', heeft nog steeds zijn ogen gericht op de $50.000 eindejaarsvoorspelling, die hij eerder dit jaar maakte. Hayes, een voormalig handelaar en alumni van Wharton, heeft naam gemaakt in de cryptocurrency-industrie na een ambtstermijn op de Aziatische 'Wall Street'.

Hij heeft onlangs zijn intrede gedaan op CNBC 'Fast Money', dat is uitgegroeid tot een begrip voor bijna-dagelijkse verschijningen van cryptocurrency-persoonlijkheden en analisten.

Terwijl hij werd geïnterviewd, merkte Hayes op dat het nog steeds redelijk was voor Bitcoin om nieuwe recordhoogtes te bereiken, ondanks de recente dalingen. De CEO verklaarde:
Nou, ik denk dat iets dat in een jaar oploopt tot $ 20.000 een correctie tot ongeveer $6.000 kan hebben.
Later voegde hij eraan toe dat de markt voor cryptocurrency misschien "één positieve regelgevende beslissing verwijderd is, wellicht een ETF goedgekeurd door de SEC, om tegen het einde van het jaar door $20.000 te breken en zelfs richting de $50.000 te klimmen."

Echter, in vergelijking met de voorspellingen van andere experts in de cryptocurrency-industrie, staat de voorspelling van Hayes boven alles. Tom Lee, mede-oprichter van FundStrat, heeft tegen het einde van het jaar continu gepleit voor een $25.000 Bitcoin, slechts de helft van de voorspelling van de BitMEX CEO.

Misschien is hij overmatig optimistisch, wat sommigen vinden, maar anderen vinden deze uitspraak realistisch. Hayes vervolgde zijn uitspraak door uit de doeken te doen dat hij gelooft dat de tijdspanne voor grote prijsbewegingen zal verkorten.

Hij schreef de krimpende tijdshorizon voor prijsactie toe aan de toename van deelnemers aan deze snelgroeiende markt, met de uitwerking ervan:
In 2013 tot 2015 hebben we vanaf $1.200 de $200 weer gezien. In 2015 tot 2017 gingen we van $200 naar $20.000. Dus we hebben dit soort bewegingen eerder gezien. Ik denk dat de tijdspanne gaat verkorten omdat er veel meer mensen bij de markt zijn betrokken die kapitaal en middelen hebben geïnvesteerd om hierin te handelen.
De toegenomen liquiditeit en de grote piek in interesse waren andere factoren die Hayes ertoe brachten te geloven dat "de tijd tussen een agressieve bear-markt en een agressieve bull-markt" zal verkorten.