Gister op 12 april is binnen 30 minuten tijd de waarde van Bitcoin (BTC) met $1.000 gestegen door zodoende de $8.000 te passeren. De rest van de cryptocurrencies staan momenteel ook veilig en solide in het groen.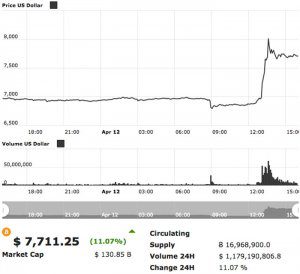 De flinke groei heeft geen specifieke oorzaak of reden. Uiteraard wordt er driftig gespeculeerd. Zo zou bijvoorbeeld de goedkeuring van Bitcoin binnen de wet van Sharia hebben gezorgd voor de piek:

Positive Fud

Additional 1.8 billion people will now be able to buy #bitcoin #bitcoin is declared halal and holy for Islamic Community. Expect a bounce as soon as Saudi Arabia, Qatar & Abudhabi Sovereign Funds enters Crypto Markets 😂https://t.co/ZKcdBCkkZ7

— Trading Room (@tradingroomapp) April 12, 2018

Ook Ethereum (ETH) ondervond een niet te missen prijspiek. De cryptomunt hangt rond $465 (op moment van schrijven), na een periode van ongeveer maand te hebben geschommeld rond de $400. De prijs van Ethereum is binnen 24 uur met 12 procent gestegen.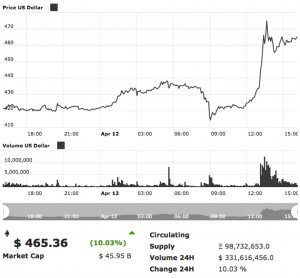 De totale market cap is dan ook voor het eerst deze maand boven de $300 miljard uitgekomen.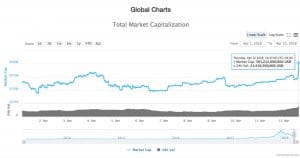 Van de top 10 cryptocurrencies is EOS, procentueel gezien het meest gestegen (met 30 procent!) binnen een dag tijd.
Andere cryptocurrencies uit de top 10 altcoins hebben, procentueel gezien, ook flinke prijsstijgingen te pakken. 9 van de 10 (inclusief BTC) zijn met meer dan 10 procent gestegen binnen een tijdsbestek van 24 uur. Zo is IOTA 14 procent gestegen wat neerkomt op een waarde van ongeveer $1.18. NEO is gestegen met 13 procent ($60).