Alhoewel alle ogen vandaag gericht zullen zijn op de Ethereum (ETH) "merge," zal het toch interessant zijn om te zien hoe de rest van de markt vandaag reageert op dit evenement. De merge is, als alles goed verloopt, minder dan een uur nog van ons vandaan. Praat erover mee in onze Discord omgeving!
Bitcoin (BTC) kelderde dinsdag hard na de Amerikaanse consumentenprijsindex, maar houdt sindsdien vooralsnog vlak boven $20.000 stand. Toch dipte bitcoin gisterenavond even naar $19.800 vanaf $20.200, maar herstelde vervolgens direct naar $20.300. Afgelopen nacht zakte bitcoin weer naar $20.000, maar dipte er ditmaal niet onder.
Op het moment van schrijven komt de bitcoin koers op $20.030 uit op Binance en €20.110 op Bitvavo. De BTC prijs staat daarmee vandaag 1,2% in de min. Het handelsvolume daalde in de afgelopen 24 uur met 24%. De totale marktkapitalisatie komt uit op $385,5 miljard en de dominantie op $38,9%. De Fear & Greed Index komt uit op 28:
Bitcoin Fear and Greed Index is 28. Fear
Current price: $20,267 pic.twitter.com/xwURZvpHVJ

— Bitcoin Fear and Greed Index (@BitcoinFear) September 15, 2022
Bitcoin nieuws van gisteren
Blijft bitcoin boven $20.000 of zien we nieuwe lows?
Analist Il Crypto Capo was de laatste maanden al een stuk meer bearish dan andere analisten, maar bleek achteraf vaak toch gelijk te hebben. Vooralsnog blijft hij zeer bearish over bitcoin. Alhoewel hij eerst een flinke bounce verwacht terug naar $22.000 – $23.000, verwacht hij in dat bereik een zware afwijzing.
Max pain. https://t.co/lKvWQT4rIU pic.twitter.com/oJnfU7RpF9

— il Capo Of Crypto (@CryptoCapo_) September 14, 2022
Bitcoin zou dan vervolgens hard kunnen dalen, mogelijk naar nieuwe lows helemaal richting $16.000. Houd er rekening mee dat niet iedereen net zo bearish is als deze analist en dat men niet per se op de absolute bodem hoeft te mikken. Het is wellicht verstandig om sowieso eerst af te wachten hoe de koers op de Ethereum merge straks reageert.
Bitcoin funding rate negatief
De funding rate voor bitcoin geeft aan hoeveel een investeerder moet betalen door long of short te gaan. Positieve funding rates geven aan dat long investeerders dominant zijn en bereid zijn short handelaren te financieren. Een negatieve funding rate geeft aan dat short handelaren dominant zijn. Een positieve funding rate impliceert dat investeerders optimistisch zijn over de prijsontwikkeling van bitcoin.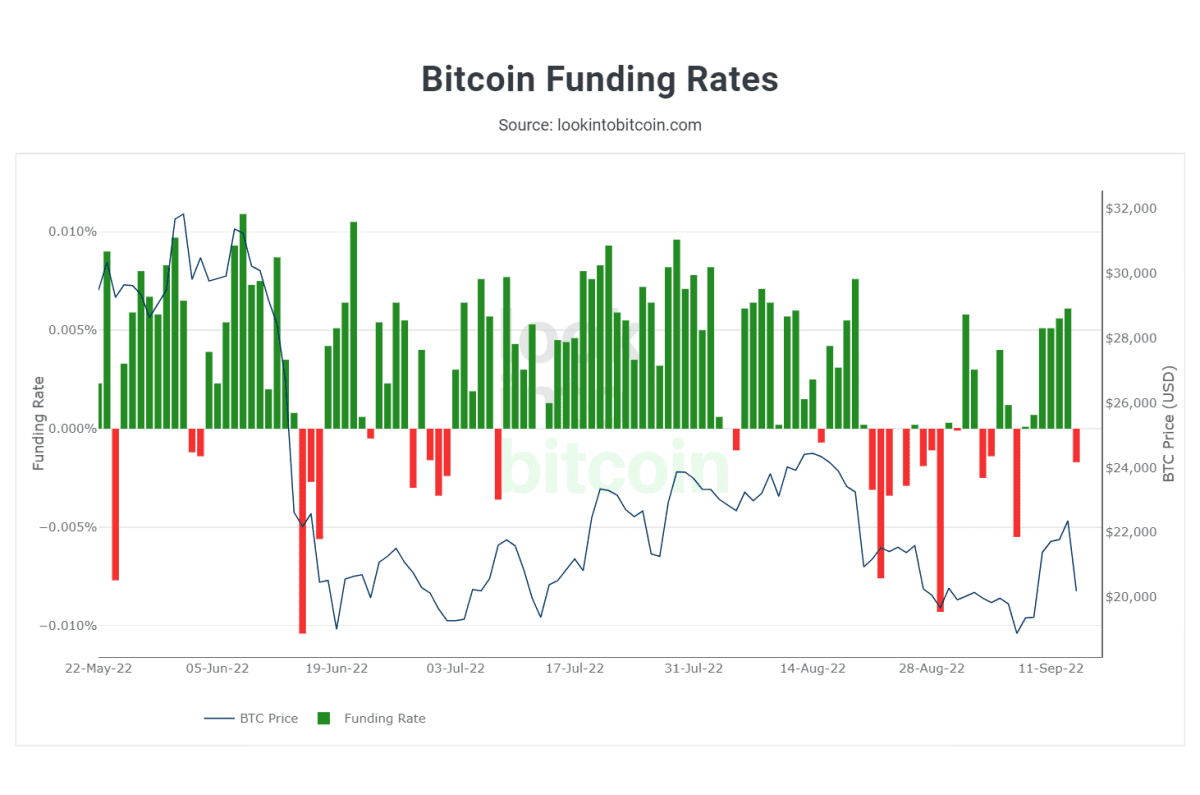 Op de bovenstaande grafiek figuur zien we dat Bitcoin op 14 september weer voor het eerst in een week tijd een negatieve funding rate toont. Dit wijst er op dat het vertrouwen onder investeerders op de korte termijn in de prijsontwikkelingen van bitcoin laag is.
Handel samen met Crypto Insiders
Zoek jij hulp met handelen? Heb je vragen en wil je technische analyses voor direct ontvangen? Word lid en probeer een Premium-lidmaatschap 30 dagen gratis. Hier delen onze analisten 24/7 hun marktkennis en de nieuwste analyses. Hier kan je ook direct in contact komen met verschillende marktexperts en crypto-enthousiastelingen die klaar staan om jou te helpen!
Disclaimer: Beleggen brengt risico's met zich mee. Onze analisten zijn geen financieel adviseurs. Raadpleeg altijd een adviseur bij het maken van financiële beslissingen. De informatie en tips die op deze website zijn verstrekt is gebaseerd op eigen inzichten en ervaringen van onze analisten en dienen alleen voor educatieve doeleinden.