De bitcoin (BTC) koers zakte vanochtend weer behoorlijk door de hoeven. Het prijspunt van $20.000, wat velen dachten dat de bodem zou zijn, ging verloren en kortstondig werd bitcoin zelfs voor minder dan $19.000 verhandeld. Het is compleet realistisch dat bitcoin nog verder zal dalen, maar waar ligt dan eindelijk een keer de bodem?
Bitcoin naar $15.000?
Het sentiment in de markt is op dit moment, niet bepaald verrassend natuurlijk, extreem slecht. De paniek zit er weer goed in. Het vooruitzicht is om die reden ook niet per se om over naar huis te schrijven.
Volgens crypto analist Rekt Capital zou het zelfs zomaar eens kunnen dat bitcoin vanaf dit punt nog eens 50% zal kunnen dalen. Helemaal tot de $15.000. Volgens hem is dat aannemelijk omdat de koers van bitcoin historisch gezien kort, maar krachtig zo'n 15% tot 30% onder de 200 dagen moving average crasht. Hier zijn we op dit moment nog niet.
#BTC tends to wick -14% to -28% below the 200-MA, historically

Right now, BTC is -15% below the 200-MA

But if $BTC were to repeat the March 2020 downside wicking depth below the 200-MA…

BTC would revisit the ~$15500 price point#Crypto #Bitcoin pic.twitter.com/vuPESk8wUx

— Rekt Capital (@rektcapital) June 18, 2022
Wat denkt de Crypto-Insiders community?
We vroegen onlangs ook aan de Crypto-Insiders gemeenschap wat zij verwachten dat de bodem wordt. De resultaten van deze poll liegen er niet om en zijn een mooie vertegenwoordiging van het huidige sentiment in de markt. Een overgrote meerderheid verwacht dat de bodem nog veel lager ligt dan de prijs waarop bitcoin nu verhandeld wordt.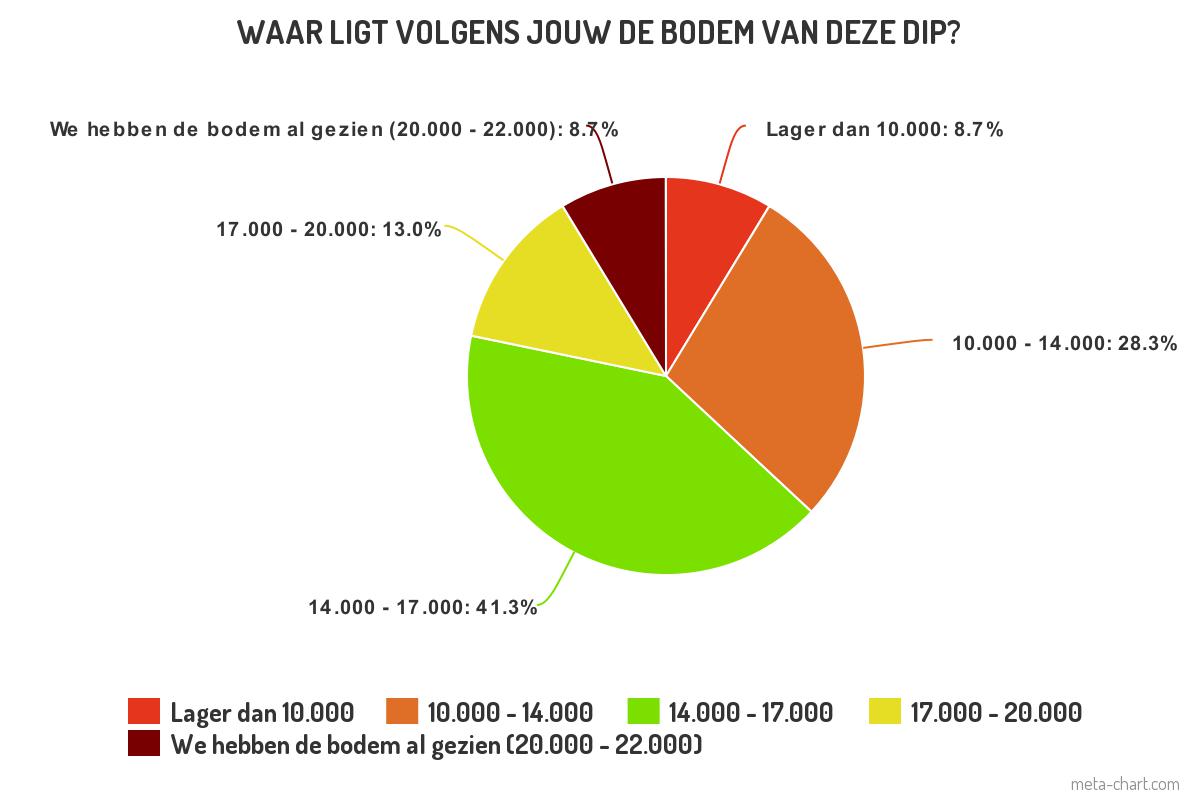 8,7% gaf aan dat zij verwachten dat de bitcoin bodem al bereikt is rond de $20.000. Inmiddels weten we dat dit scenario niet helemaal meer op gaat. Bitcoin is namelijk al vrij ver onder de $20.000 terecht gekomen.
13% van de Crypto-Insiders community verwacht de bodem tussen de $17.000 en $20.000. Dat is op het moment van schrijven de zone waar we ons in bevinden.
Een meerderheid is echter nog een stuk pessimistischer. 41,3% geeft aan dat zij geloven dat de bodem tussen de $14.000 en $17.000 gevormd zal worden. Dit is de grootste groep. 
28% verwacht een bodem tussen de $10.000 en de $14.000. 8,7% ziet het echt helemaal niet meer zitten. Zij verwachten een bitcoin bodem die lager zal liggen dan $10.000. Uiteraard zijn al deze scenario's nog mogelijk. Niemand heeft een glazen bol, dus zullen we moeten wachten totdat de tijd het zal uitwijzen.