Na opnieuw een bloedstollend weekend omtrent de onzekerheid rond Poetins militaire opmars richting de Oost-Oekraïense regio's en de opeenvolgende consequenties voor de prijs van bitcoin (BTC), is de koers naar beneden uitgebroken rond de $36.600 zone. De afgelopen uren schijnen een sprankje licht, gezien de koers kracht probeert op te zoeken om het $38.000 level te doorbreken.
Meer dan 70% zegt te investeren in een bearmarkt
Een bullish vooruitzicht dus op de korte termijn, welke op de lange termijn voortgezet kan worden als het aan een consumenten survey van Deutsche Bank ligt. Dit kleinschalige onderzoek van begin december vorig jaar laat namelijk optimistische inzichten zien. Een survey welke cruciaal is voor dit onderzoek suggereert dat noch handelaars, noch beleggers hun crypto portfolio's zullen afstaan in het geval van een bear markt.
Deutsche Bank had begin december 3.250 Amerikaanse consumenten geënquêteerd, waarvan er 680 in crypto belegde of handelde. Het was de bedoeling dat de enquête representatief zou zijn voor de volkstelling in de V.S. en daarbij verschillende geslachten, leeftijden, inkomens, regio's en rassen of etnische groepen zou omvatten. 80% van deze groep gaf aan in de afgelopen zes maanden geïnvesteerd te hebben in crypto.
Het gedeelte waaruit blijkt dat investeerders bullish zijn over crypto's stamt voort uit een geschetst scenario van een extreme bear markt. Zoals in de bar chart uit het onderzoek hieronder te zien is, zegt minder dan 10% van de betreffende groep investeringen te minderen of crypto's te verkopen in zo'n bear markt. Sterker nog, meer dan 70% zegt zelfs significante of kleinschalige investeringen te maken in een bearish scenario.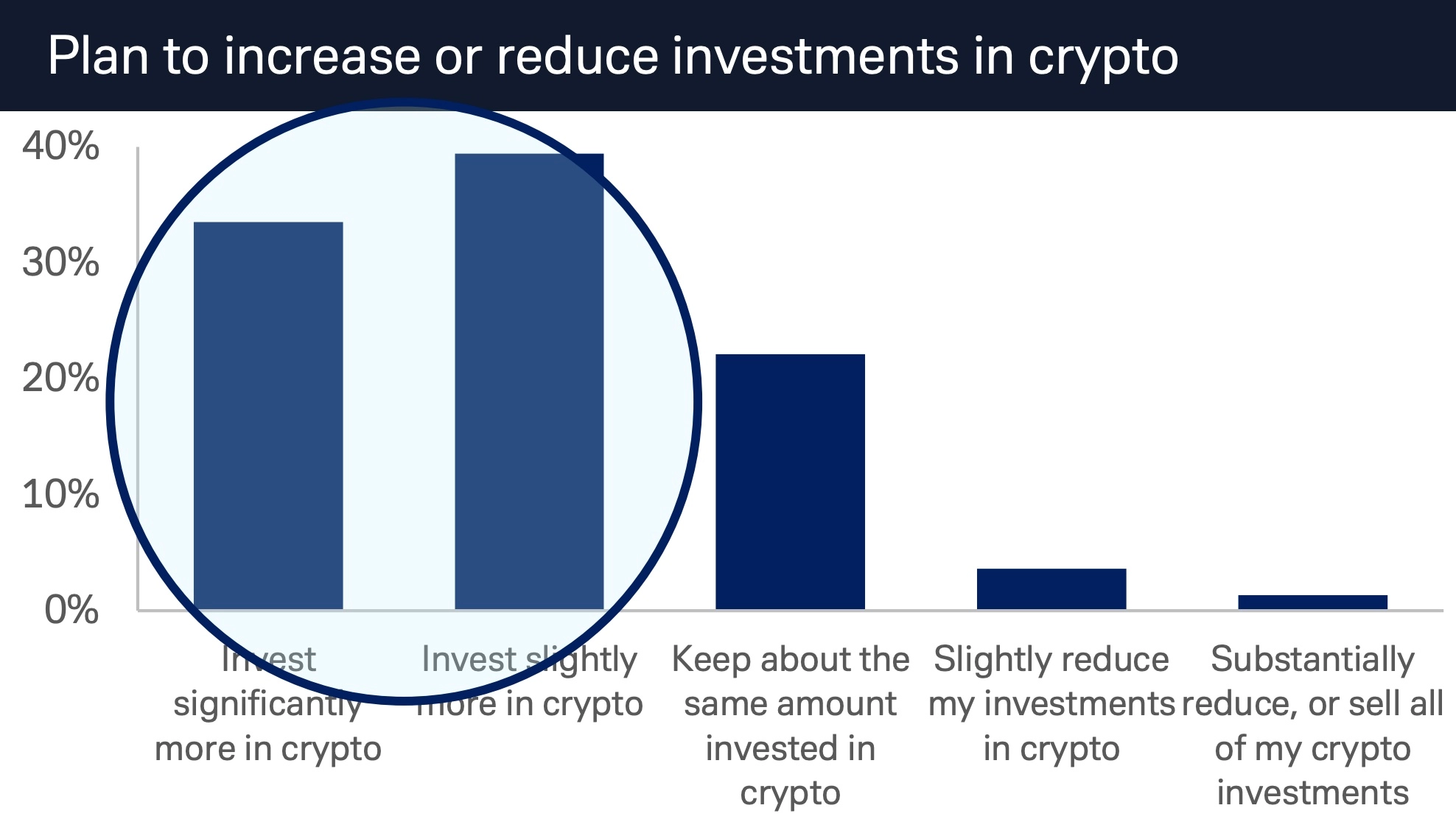 Optimistische conclusie mag je over discussiëren
De implicatie die hieruit getrokken kan worden is dat het gros van de investeerders willen bijkopen in een bear markt. Toch is het verstandig dit onderzoek met een korreltje zout te nemen. Hoewel de resultaten en inzichten een optimistisch beeld schetsen, zijn er een twee elementen welke je in het achterhoofd moet houden.
Ten eerste is de steekproef van het onderzoek vrij klein. 80% van 680 ondervraagden kan lastig een vertegenwoordiging schetsen van de Amerikaanse crypto investeerders, waardoor de betrouwbaarheid van de resultaten in twijfel getrokken kan worden. Ten tweede is het onderzoek begin december uitgevoerd. Dat is de periode waarin bitcoin nog een relatief hoge prijs had ten opzichte van nu.
Het huidige negatieve sentiment kan invloed hebben op de werkelijke acties van de ondervraagden uit het onderzoek. Desalniettemin illustreert dit onderzoek het sentiment van crypto investeerders in barre tijden. Hoewel aan de betrouwbaarheid van de implicaties kan worden getwijfeld, een stukje positiviteit is altijd welkom binnen de crypto sector.