Peter Brandt, een ervaren trader en een populair analist, meldt op 5 december in een nieuwe analytische video dat hij denkt dat de koers van bitcoin (BTC) voorbij de $100.000 kan stijgen.

#Cryptomaniacs – Go to this link immediately for
1. My latest Factor #Bitcoin live video, explaining the path I think #BTC could take to $100,000
2. A one-time 83% discount on a 3-mo. subscription to all @BitcoinLive1 content
3. $49 offer ends Monday https://t.co/jxjGUeypMm

— Peter Brandt (@PeterLBrandt) December 8, 2019

Brandt is met zijn 40 jaar ervaring vooral bekend in de crypto-sector van het voorspellen van de crash begin 2018, nadat bitcoin zijn all-time high­ (ATH) van $20.000 had bereikt.
In zijn nieuwste video meldt Brandt dat hij denkt dat de BTC-koers naar $100.000 zal stijgen, of zelfs hoger, op de lange termijn. Hij beschrijft een tweetal scenario's waarin hij verwacht dat de koers naar nieuwe hoogtepunten zal stijgen
Volgens Brandt zit bitcoin momenteel in een historische bull trend. In zijn eerste scenario is hij bearish op de korte termijn. Brandt zegt dat de koers van bitcoin vier parabolische bewegingen sinds 2011 heeft doorbroken waarop een sterke correctie volgde. Dat gebeurde wederom in juni dit jaar.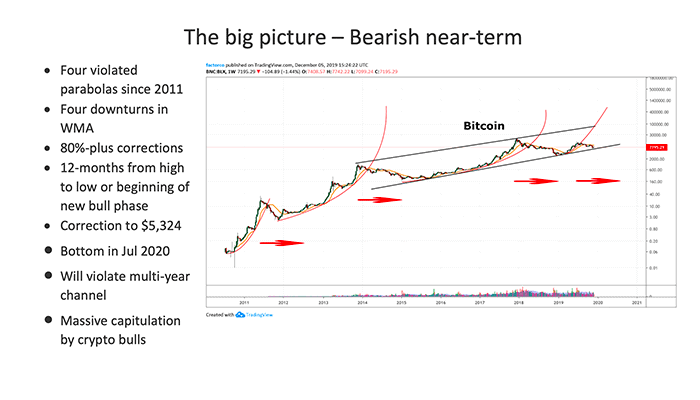 In dit scenario ziet Brandt de koers dalen naar $5.324 omdat de er een grote kans is dat de bulls massaal gaan capituleren. Er zal dan een bodem bereikt worden ergens in juli 2020. Vervolgens zal de koers naar nieuwe hoogtepunten gaan stijgen.
Als tweede beschrijft Brandt een scenario waarin hij onmiddellijk bullish is. Als de koers niet lager daalt dan zijn huidige waarde, dus niet eerst naar $5,230, dan zouden we al in de komende maanden een nieuwe ATH voor bitcoin kunnen zien.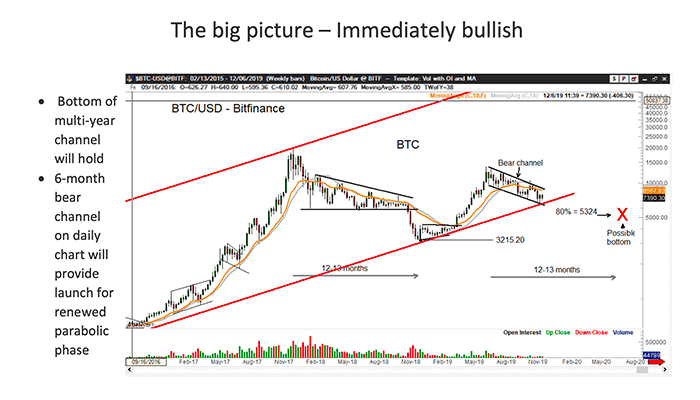 Brandt benadrukt dat deze scenario's mogelijk zijn, maar lang niet verzekerd zijn. Mocht geen van de bovenstaande twee scenario's uitkomen dan is er een kans dat de koers helemaal naar $3.200 of zelfs lager zal dalen.
Dat was het dieptepunt van december 2018. Brandt zegt dat een stijging naar $100.000 dan wel erg onwaarschijnlijk wordt en geeft toe dat hij op dat punt zelf ook zou capituleren.
In september deed Brandt een dergelijk voorspelling. Toen zei hij dat hij verwacht dat BTC naar $5.500 zal dalen tegen februari volgend jaar en dan zal beginnen aan een stijging richting $50.000, maar hij gaf toen geen uitleg waarom. Dat doet hij dus in zijn nieuwste video wel, die via deze link bekeken kan worden.
Onlangs was ook Bloomberg bullish over bitcoin in 2020. Volgens een nieuw onderzoek is er een grote kans dan bitcoin door $10.000 zal breken volgend jaar.
Tim Draper zei onlangs vertrouwen te hebben in zijn voorspelling dat de koers naar zelfs $250.000 zal stijgen eind 2020. Hij meldde toen dat hij zijn voorspelling niet baseert op het populaire stock-to-flow model van Plan B.
Wil je op de hoogte blijven van het laatste nieuws? Abonneer je dan op onze push-berichten, Facebook– of Twitter. Meediscussiëren? Meld je dan aan voor ons Telegram kanaal.