Bitcoin (BTC) heeft een eigen emoji op Twitter gekregen. De oprichter en CEO van Twitter, Jack Dorsey, toonde de nieuwe aanwinst op 2 februari middels een tweet. In deze tweet spoort Dorsey Unicode aan om hetzelfde te doen.
Wanneer je nu #bitcoin of #BTC in een tweet schrijft, verschijnt de nieuwe Bitcoin emoji vanzelf in een tweet. De ontwikkeling wordt door veel vooraanstaande figuren binnen de crypto-wereld met open armen ontvangen. Het zou de cryptocurrency namelijk meer bekendheid geven aangezien Twitter ruim 300 miljoen gebruikers heeft.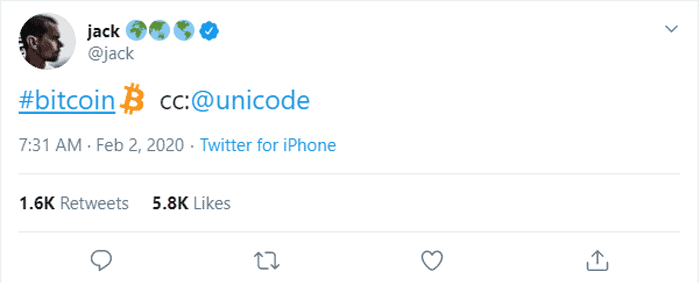 In de tweet spoort Dorsey Unicode aan om ook een emoji toe te voegen. Unicode is de standaard binnen de computerindustrie voor het consistent coderen en weergeven van tekst. Het is onder andere bekend van zijn grote assortiment aan emoji's die vrijwel overal gebruikt kunnen worden.
Vooralsnog heeft Unicode echter nog geen Bitcoin-symbool aan dit assortiment toegevoegd. De mede-oprichter van Lightning Labs, Elizabeth Stark, reageert op Dorsey's tweet:

#bitcoin emoji pls. 😎

has anyone submitted a proposal to @unicode?@jenny8lee @emojination

— elizabeth stark (@starkness) February 2, 2020

Volgens haar zou Unicode al twee voorstellen hebben afgewezen. Een hoop vooraanstaande figuren binnen de crypto-gemeenschap sporen nu aan om #bitcoin trending te maken. Waaronder TRON CEO Justin Sun:

— Justin Sun🌞 (@justinsuntron) February 2, 2020

En de cryptocurrency-exchange Binance:

Join in. Let's get it trending!

— Binance (@binance) February 2, 2020

Wie weet zorgt deze aandacht er nu voor dat Unicode eindelijk een Bitcoin-emoji toevoegt!
Dat Dorsey een Bitcoin-fan is was al langere tijd bekend. Zo is hij ook CEO van Square Crypto. Dit bedrijf werkt op dit moment aan een ontwikkelingskit voor de schalingslaag voor het Bitcoin-netwerk, Lightning Network (LN) genaamd. Hiermee zullen ontwikkelaars makkelijker (LN) kunnen integreren in nieuwe oplossingen.
Onlangs was er ook wat minder crypto-vriendelijk nieuws vanuit de hoek van Twitter. Het platform blokkeerde namelijk de XRP Tip Bot. Hiermee konden gebruikers XRP (XRP) versturen via het platform. De Nederlandse ontwikkelaar Wietse Wind heeft echter al een oplossing voor het probleem gevonden.
Wil je op de hoogte blijven van het laatste nieuws? Abonneer je dan op onze push-berichten, Facebook– of Twitter. Meediscussiëren? Meld je dan aan voor ons Telegram kanaal.