Bitcoin heeft een geschiedenis van dramatische koersschommelingen, maar wanneer deze geschiedenis vertaald wordt naar een logaritmische grafiek wordt het duidelijk dat de koers van Bitcoin (BTC) een bepaald patroon volgt.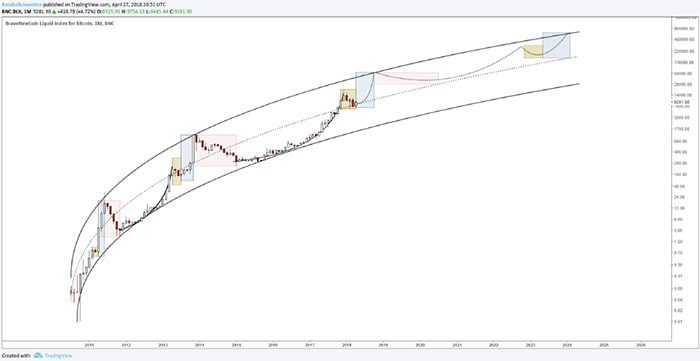 Volgens het patroon liggen er nog behoorlijke sprongen in het verschiet voor de koerswaarde van Bitcoin. Dit zou betekenen dat de koers niet alleen ver voorbij de $20.000 zou stijgen, maar zelfs voorbij de $50.000 op korte termijn, naar de $250.000 en uiteindelijk zelfs naar de $1 miljoen.
Prateek Goorha, econoom en sociale wetenschapper met een interesse in blockchain, heeft twee blogposts geschreven waarin hij deze voorspelling analyseert. De onderzoeker noemt het fenomeen de "parabolische supertrend" van Bitcoin. Goorha vergelijkt de koers van Bitcoin met het gedrag van bacteriën. Elke grote stijging in de Bitcoinkoers heeft drie fases: een fase van stasis, een exponentiële fase van snelle groei en een fase van verval.
Tijdens de eerst fase moeten de bacteriën nog wennen aan de omgeving en er is dan weinig of geen groei te zien. Vervolgens komen de bacteriën in de exponentiële fase waarin de bacteriekolonie door celdeling snel zal groeien. Uiteindelijk komen de bacteriën in de derde fase waarin de populatie weer afneemt naarmate de hulpbronnen opraken.
Als men deze cyclus toepast op de Bitcoinkoers dan is fiatgeld de hulpbron. Zodra er een sell-off periode aanbreekt dan is er een tekort aan de hulpbron en neemt de koersprijs af. Uiteindelijk past de markt zich aan en stopt de daling. Vervolgens start de volgende fase wanneer het aantal gebruikers weer gaat groeien en nieuwe hulpbronnen het systeem ondersteunen. Dus voordat Bitcoin in een periode van dalingen een nieuw dieptepunt bereikt, start de volgende fase alweer.
Een voorbeeld is de eerste bubbel van Bitcoin. Toen steeg de koers van $0,95 naar $32 om vervolgens weer terug te vallen naar $2; dat is een daling van 94%. Toch bleef het dieptepunt tweemaal zo hoog als de vorige stabiele koerswaarde. Hetzelfde kon men zien eind 2013. Toen schoot de Bitcoinkoers van $100 naar $1200 en viel het uiteindelijk weer terug naar de $200 waar de koerswaarde bleef hangen.
Of zich er weer een dergelijke trend gaat voordoen voor Bitcoin zal nog moeten blijken. Ondanks de koers van Bitcoin na de piek van december 2017 behoorlijk gedaald is, ligt de waarde het grootste deel van 2018 boven die van 2017. In 2017 lag de koers het grootste deel van het jaar ver onder de $6.000.
Wil je op de hoogte blijven van het laatste nieuws? Abonneer je dan op onze push-berichten, 
Facebook
– of 
Twitter
 pagina.
[ci-widget-v2]