Volgende week is het zover: op zaterdag 8 oktober staat in het Belgische Gent de grote Future of Bitcoin Conference op de agenda. Deze conferentie staat natuurlijk volledig in het teken van bitcoin (BTC). Er zal een groot aantal sprekers aanwezig zijn die de meest actuele onderwerpen in de crypto wereld zullen bespreken. Voor de crypto-enthousiasteling ongetwijfeld de moeite waard.
Via Crypto Insiders is het zelfs mogelijk om gratis kaarten voor dit unieke evenement te winnen. Lees verder om kaarten te winnen
De toekomst van bitcoin
Heet bitcoin een toekomst? Dat is de grote vraag die tijdens de conferentie op 8 oktober tot in de kleinste details besproken zal worden. Over de jaren heen is bitcoin steeds populairder geworden en ondertussen heeft bijna iedereen met een internetverbinding weleens van de cryptomunt gehoord. 
Toch zijn er nog een hoop zaken onzeker. Niet iedereen is even overtuigd van bitcoin als betaalmiddel of oppotmiddel. Sommige overheden stellen zelfs dat bitcoin eigenlijk alleen bruikbaar is voor criminelen die onder de radar wensen te blijven. Daarnaast neemt het klimaat een steeds belangrijkere rol in binnen discussies over bitcoin.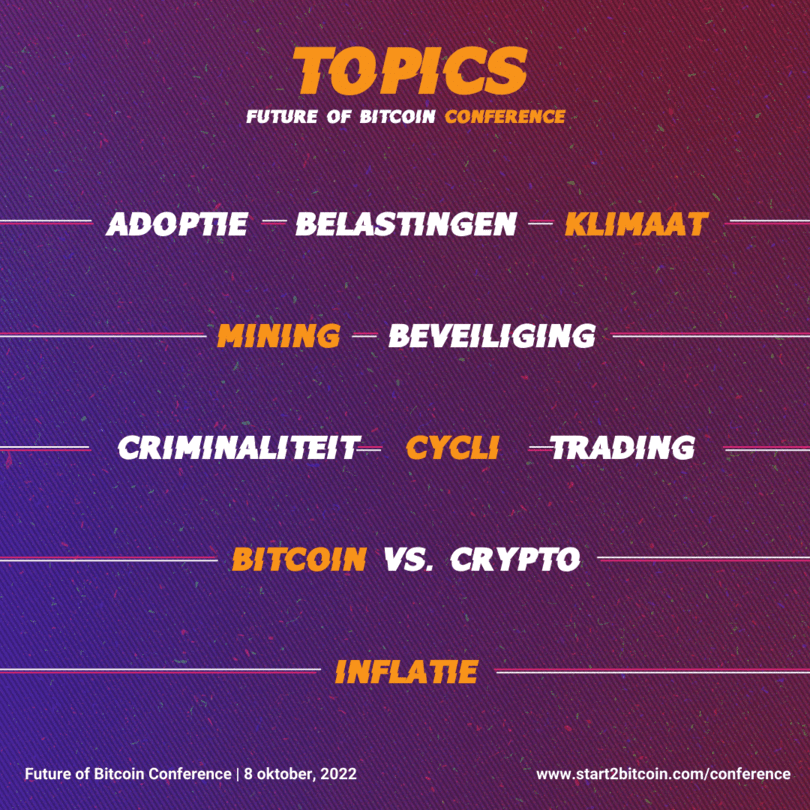 Temidden van alle zaken die nu spelen, zij het macro-economische, geopolitieke of ecologische ellende, hoe ziet de toekomst voor bitcoin er straks uit? Na afloop van de Future of Bitcoin Conference zal iedereen die aanwezig is geweest antwoord kunnen geven op deze brandende vraag.
Het lijkt erop dat het de grootste crypto-gerelateerde conferentie van de Benelux zal worden. Experts op alle gebieden die met bitcoin te maken hebben zullen in de Ghelamco Arena aanwezig zijn waaronder: Willem Middelkoop, professor Rudy Aernoudt, een topman bij MasterCard, een succesvolle bitcoin miner en nog veel meer.
Iedereen is welkom!
De Future of Bitcoin Conference is voor iedereen die geïnteresseerd is in bitcoin toegankelijk. Zelfs voor mensen die juist nog erg sceptisch zijn blijven de deuren uiteraard niet gesloten. Immers, dialoog staat op de conferentie centraal. 
Voorkennis is absoluut geen vereiste, dus mocht je pas een paar dagen geleden voor het eerst van bitcoin hebben gehoord, zelfs dan is de Future of Bitcoin Conference een uitgelezen kans om je kennis over bitcoin te verrijken.
Mocht jij dit unieke evenement niet willen missen en wil jij antwoord op alle vragen over bitcoin waar je mee zit? Dan kun je al vanaf 79 euro een kaartje voor de conferentie bemachtigen. Als je iets dieper in de portemonnee tast kun je ook voor 169 euro een 'whale pass' kopen. Hiermee krijg je naast toegang tot het evenement ook nog eens een luxueus 3-gangen diner waar alle sprekers ook aanwezig zullen zijn.
Win kaarten
Zoals gezegd geeft Crypto Insiders twee kaartjes weg voor dit Bitcoin event. Vul hieronder je naam en e-mailadres in en je dingt automatisch mee in de race voor twee kaartjes!