Het Cardano (ADA) netwerk draait op volle toeren. Het wordt zelfs zo erg belast dat de druk op het netwerk de 100% nadert. Is dit een goed of slecht teken, zeker nu transacties vertraagd worden door de bezetting?
Cardano netwerk druk op ATH
Cardano kreeg de afgelopen maanden te maken met een aantal grote ontwikkelingen van projecten die op het netwerk bouwen. Het gevolg is dat er veel transacties verzonden worden en dus is de druk steeds hoger geworden. Om te meten hoeveel druk het netwerk ervaart kunnen we kijken naar de transactieblokken.
Zodra gebruikers een transactie verzenden via de blockchain, moet deze opgenomen worden in een transactieblok. Deze blokken mogen een maximale grootte hebben. In het geval van Cardano is dat op dit moment 72KB. Hoe meer van deze ruimte wordt benut, hoe groter de druk. En als we naar de huidige gegevens kijken dan zien we dat die vraag inderdaad aanzienlijk is.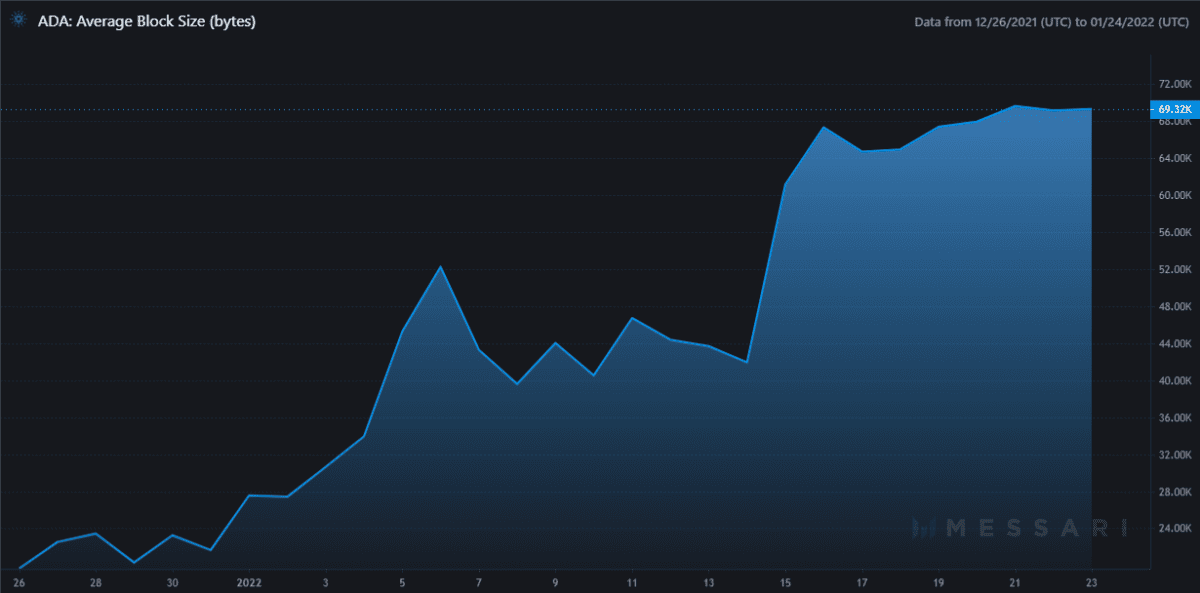 Het huidige gemiddelde van 68,32KB betekent dat de transactieblokken voor 96,3% gevuld worden. Kortom, de druk op het netwerk is ongekend groot, en dat al drie dagen lang.
Goed of slecht voor Cardano?
Je kan je afvragen of dit een slecht teken is voor het netwerk. Het kan immers niet alle transacties aan waardoor sommige transacties vertraagd zijn en verschillende decentralized finance (DeFi) platformen vrijwel onbruikbaar worden. Toch moet men niet vergeten dat Cardano nog in ontwikkeling is. Hier en daar stellen supporters dan ook dat dit een positief signaal is omdat er klaarblijkelijk al veel vraag is. Wel is het ook zo dat door de huidige problemen, veel gebruikers mogelijk afkeer krijgen van Cardano en het netwerk in de toekomst links laten liggen.
Cardano gaat morgen schalen
Het team achter Cardano stelt het netwerk constant in de gaten te houden en zo te bepalen of er meer ruimte in de transactieblokken nodig is. Onlangs hebben de ontwikkelaars zo'n update doorgevoerd. Die zal morgenavond van kracht gaan. Het zal interessant worden om te zien of dit ook meteen een effect heeft. Cardano heeft daarnaast in 2022 grootse plannen om op te schalen.