Nu bitcoin (BTC) en veel andere cryptocurrencies terrein winnen op het gebied van adoptie rijst de vraag; hoe staat het met de crypto-adoptie in de wereld? Statista zocht het uit en zette de resultaten op een rijtje!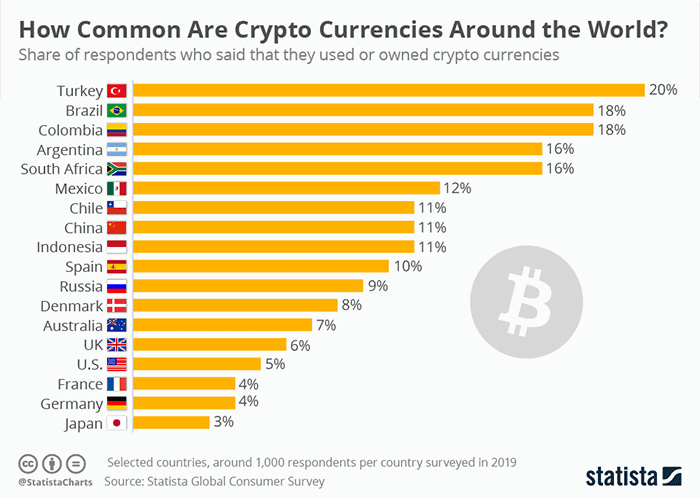 Op de eerste plek staat Turkije. Maar liefst 20% van de respondenten zegt in het verleden in aanraking te zijn gekomen met cryptocurrencies door ze gebruikt te hebben of ze simpelweg in een cryptocurrency wallet te hebben gehad. Dat Turkije bovenaan staat is misschien niet helemaal onverwachts. Het land wordt namelijk geteisterd door een steeds verder in waarde afnemende fiat-valuta, en het vertrouwen in de banken wordt daardoor ook steeds lager. In veel vergelijkbare situaties zie je dat mensen naar crypto grijpen om hun geld te beschermen.
Op de tweede en derde plek vinden we Brazilië en Colombia, twee Zuid-Amerikaanse landen. Brazilië wordt net als Turkije geteisterd door een hoge inflatie. Zo was de inflatie in april op zijn hoogste punt in vier jaar tijd. In diezelfde maand werden er ruim 100.000 bitcoins ($500 miljoen) verhandeld door Brazilianen.
De overheid van Colombia heeft een zeer vriendelijke houding tegenover cryptocurrencies. Een ander gegeven waardoor crypto-adoptie zo hoog ligt in dit land is mogelijk de miljoen Venezolanen die naar het land zijn gevlucht. Cryptocurrencies als bitcoin lenen zich perfect voor het internationaal versturen van geld. Vluchtelingen en immigranten gebruiken crypto dan ook vaak om geld naar de familie in hun thuisland te versturen.
Tenslotte zien we Argentinië en Zuid-Afrika op plek vier en vijf staan. Met 16% is de crypto-adoptie in deze twee landen aanzienlijk. In Argentinië is dit vooral te danken aan de hoge inflatie maar ook aan het feit dat bijvoorbeeld tickets in het openbaar vervoer met crypto gekocht kunnen worden.
In Zuid-Afrika blijft de interesse ook groot, ondanks de recente maatregelen van de overheid om crypto tegen te gaan. Toch blijven Zuid-Afrikanen crypto gebruiken om bijvoorbeeld internationale betalingen te doen en als investeringsoptie.
Heb je gisteren de nieuwe wekelijkse bitcoin (BTC) koersanalyse van David gemist? Lees deze dan alsnog door hier te klikken!
Wil je op de hoogte blijven van het laatste nieuws? Abonneer je dan op onze push-berichten, Facebook– of Twitter. Meediscussiëren? Meld je dan aan voor ons Telegram kanaal.