Nadat de prijs van Bitcoin (BTC) in de vroege uurtjes van woensdag 22 augustus nog een piek bereikte van boven de $6.800, kelderde de waarde naar een dieptepunt van net boven de $6.300, vrijwel onmiddellijk nadat het (te verwachten) nieuws uitkwam dat de Amerikaanse Securities and Exchange Commission (SEC) opnieuw een aantal Bitcoin-ETF's (exchange-traded funds) afgekeurd heeft. De BTC-prijs herstelde zicht op 23 augustus echter snel tot rond de $6.450 en heeft dat niveau gedurende die dag weten vast te houden.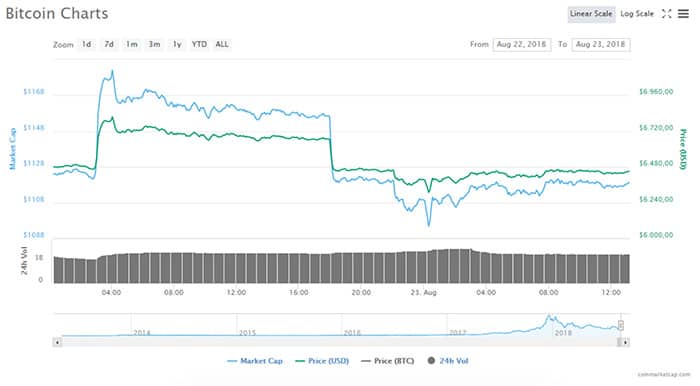 Hoewel het nieuws van de afgekeurde Bitcoin-ETF's niet als een verrassing gekomen zou moeten zijn, leidde het er kennelijk wel toe dat Bitcoin in de afgelopen 24 uur daalde met meer dan 3% en trok daarbij ook andere cryptocurrencies en tokens met zich mee: Ethereum (ETH) staat op het moment van schrijven, over de afgelopen 24 uur gezien en volgens gegevens van CoinMarketCap, op een verlies van 4,6% en andere altcoins zoals Ripple (XRP), Bitcoin Cash (BCH), EOS (EOS) en Litecoin (LTC), leden verliezen van respectievelijk 5,1%, 5,7%, 5,6% en 4,2%.
Bitcoin heeft in de maand augustus tot nu toe het hoogste niveau van stabiliteit vertoont sinds 14 maanden en heeft zich sinds woensdag 8 augustus, toen het onder de $7.000 zakte, eveneens ten gevolge van nieuws van de SEC, een relatief stabiele periode rond de $6.500 meegemaakt. Hoewel de BTC-prijs nog altijd volatiel is in de regio van $6.000 handhaaft het wel stabiliteit in het bereik van $6.000 en $6.500.
Het onmiddellijke herstel van BTC na de afkeuring van aantal Bitcoin-ETF's door de SEC, was een positief teken van marktstabiliteit en bewustzijn, aangezien de meeste beleggers er al vanuit gingen dat de betreffende ETF's niet goedgekeurd zouden worden. Structureel en begripsmatig gezien verschillen de op 22 augustus afgekeurde ETF's ook van de door de Chicago Board Options Exchange (CBOE) en VanEck & SolidX Bitcoin Trust voorgestelde ETF's. Die hebben volgens velen veel meer kans van slagen vanwege de jarenlange staat van dienst van zowel de CBOE en VanEck, alsmede door de structuur van die ETF's, die zijn uitgerust met verzekeringen, toezicht op transacties en een transparant prijsvormingssysteem.
Zoals Arthur Hayes, CEO van BitMEX, eerder al aangaf, is het mogelijk dat Bitcoin eerst een bodem in de regio van $5.000 moet vinden, voordat een nieuwe rally begonnen kan worden. Maar of dat nou rond de $5.000 of $6.000 maakt volgens investeerders zoals Hayes niet heel veel uit, zolang Bitcoin maar een periode van stabiliteit kan laten zien, voordat het een rally op de middellange termijn begint.